A Thermomix is the perfect gift any time, but Christmas 2013 says: "Now is the Time"
Now is the time to think out of the box. Hands up. How many of you know I sell the Thermomix machine? I am pretty certain most of my readers do not know this… but, I could be wrong. As a Consultant for Thermomix Canada for the past six years, I have never posted a promotional post about this machine. I promote other products, events, or people I believe are doing incredible work aligned with my food philosophy, yet I have not written a promotional post for my favourite kitchen machine. Now is the time.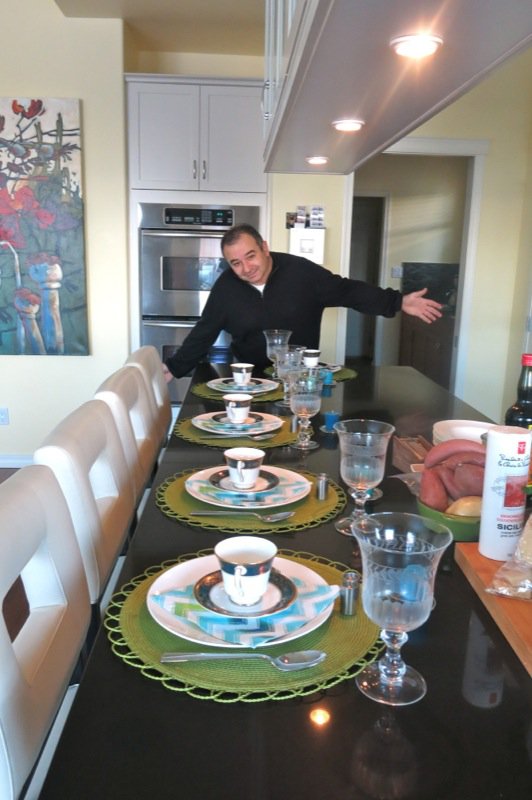 Vanja isn't usually present during my demonstrations, but he is a huge behind the scenes support. Helps pick up the groceries, tastes my recipes, and too often than I would like to admit, helps clean up afterward. Much less often now, thankfully.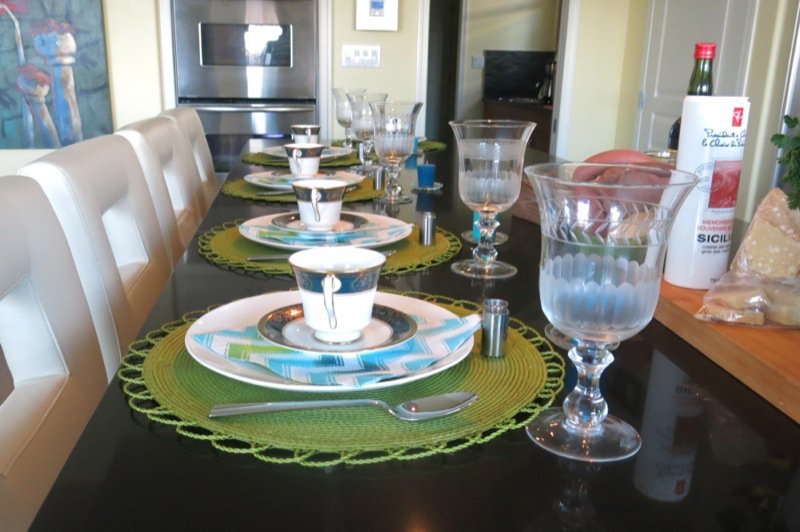 To understand the machine, you must participate in a demonstration. That is what sold me on my machine. Seeing the machine in action, tasting the food, and understanding the possibilities. It is a very powerful machine, and the demonstration is instrumental in assisting one with understanding how to use the machine when they buy it. I usually only do a demonstration for one person or one couple at a time. This was an unusual setting as there were 4 at this demonstration which is rare, and I actually encourage only those interested in learning about the machine to attend. Much better to present to a couple than a crowd. More to eat, too!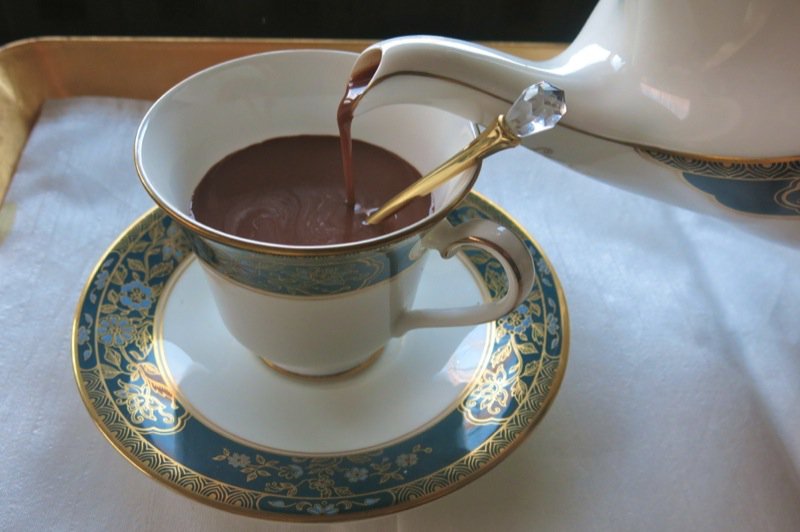 The menu changes according to the client, somewhat. I always start with Lemonade, unless it is very cold. In cold weather, I start with hot chocolate. The lemonade is made in seconds, and the chocolate in a couple of minutes.The lemonade demonstrates the machine's ability to juice fruit perfectly. The Thermomix machine also tempers chocolate, so introducing a hot chocolate drink provides an opportunity to talk about the incredible confections that can be created with ease using this machine. I usually make the lemonade, as well. I cannot resist it any time of the year, and the ability of the machine to turn granulated sugar into powder in 3 seconds still wows me every time.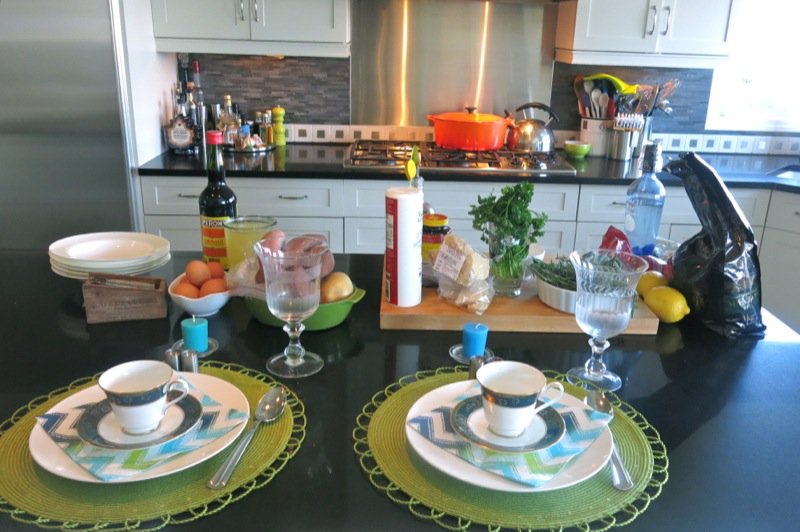 We make focaccia together after a drink is in hand. I make bread almost every day, effortlessly with this machine. It is an incredible money saver for those with severe gluten intolerance, as gluten-free bread can be 6 to 8 dollars a loaf. The machine mills grains and legumes and even as little as 5 mls of spice seeds. I actually mill my own wheat before making my bread and use 1/2 freshly milled whole wheat flour and 1/2 white flour, as the freshly milled whole wheat flour is very dense and moist. I make breads with that, as well, but not every day. For the demonstration, I make an Italian focaccia as it goes perfectly with the soup we make to accompany it.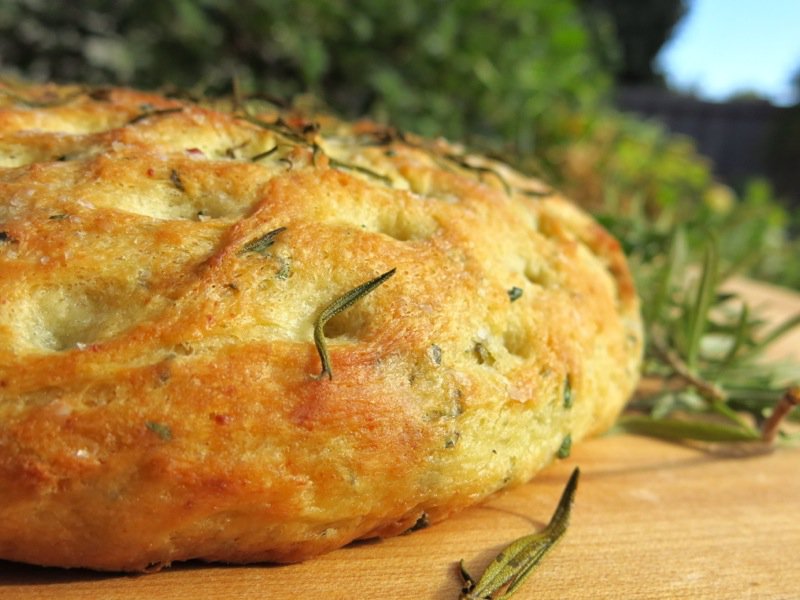 The person attending the demonstration makes the bread and the soup. This is a great bread for the demonstration as we grate Parmesan in the Thermomix in 3 seconds to add to the bread. The machine heats and proofs the yeast, combines and mixes the ingredients, and kneads the dough. I do bake it in the oven. The machine can actually steam dough, but doesn't bake! There are limits to everything.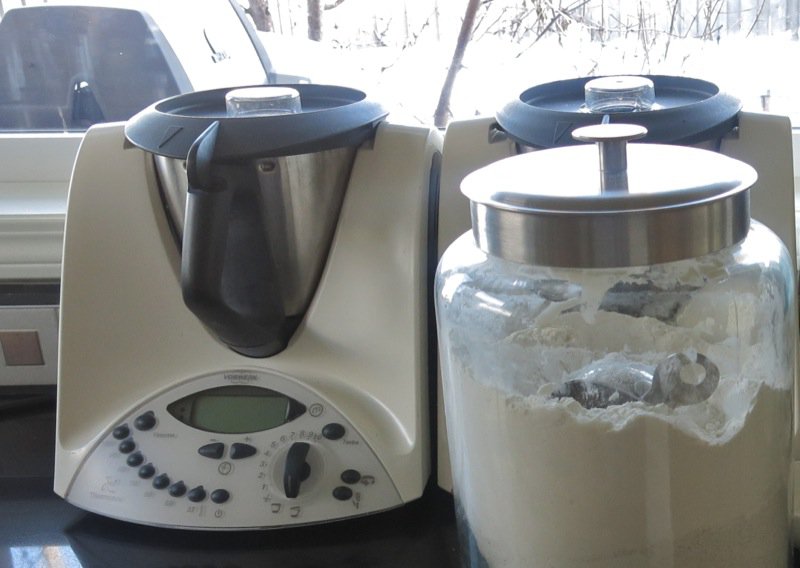 While the bread is in the oven, we make soup. This demonstrates the machine's ability to chop and mince vegetables, heat exceedingly quickly, sauté, boil, and purée. I never throw groceries out any more. If anything is appearing to be over ripe or about to go "off" in the soup it goes. Making soup is so effortless with the Thermomix, and being the soup lover I am, there is a soup every day, of some kind, for me, at the very least. For my clients, I make the Yam Soup as it demonstrated the ability of the machine to purée skins and nuts to a velvet texture otherwise not experienced by most. I actually stop cooking the vegetables when they can just be mashed, and not easily, by a fork, to maintain as many nutrients as possible, then purée the mixture into subliminal heaven. Garnished with freshly grated nutmeg and a fruity olive oil or homemade yogurt (also made in the Thermomix), I almost forget I have guests to impress.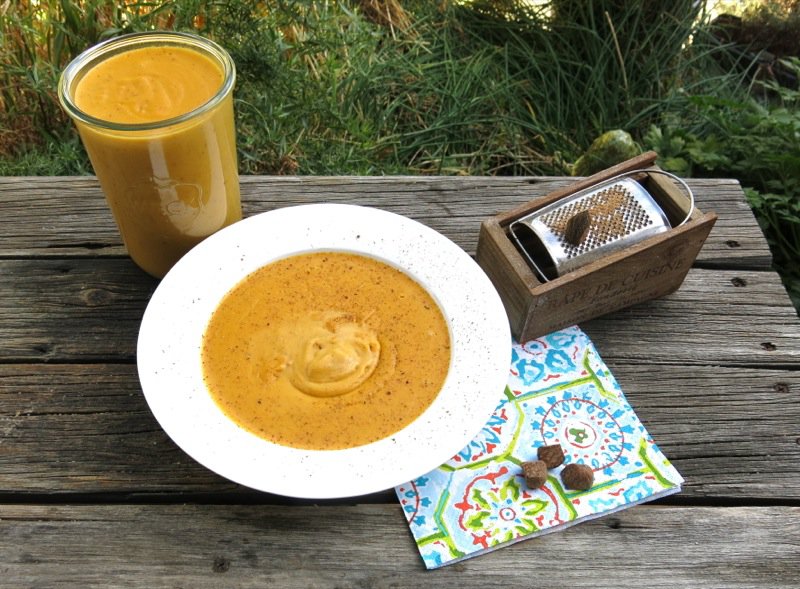 I actually do my demonstrations "just like on TV" and my family never complains. I have focaccia dough rising in my microwave (the warmest spot in my kitchen) and when I go to proof the dough we just made, I pull out the proofed dough ready for the oven and it is baked and out of the oven exactly when the soup is ready to serve. My family then eats the second focaccia with our evening meal and that is always a treat, and a sign that mom had a demonstration today. (Sometimes, I will gift the dough to the person attending the demonstration if there have been too many demonstrations happening at our house.)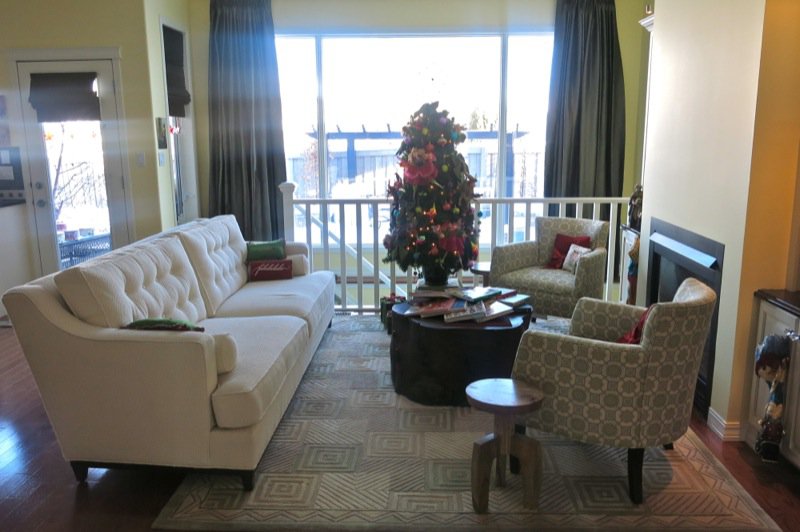 As the soup does take 10 minutes to cook, there is a little time for discussion, browsing through the cookbooks and talking about what else the Thermomix can do. Usually, never enough time to discuss all of that, but there is time as there is a lot of information, and everything takes time to incubate.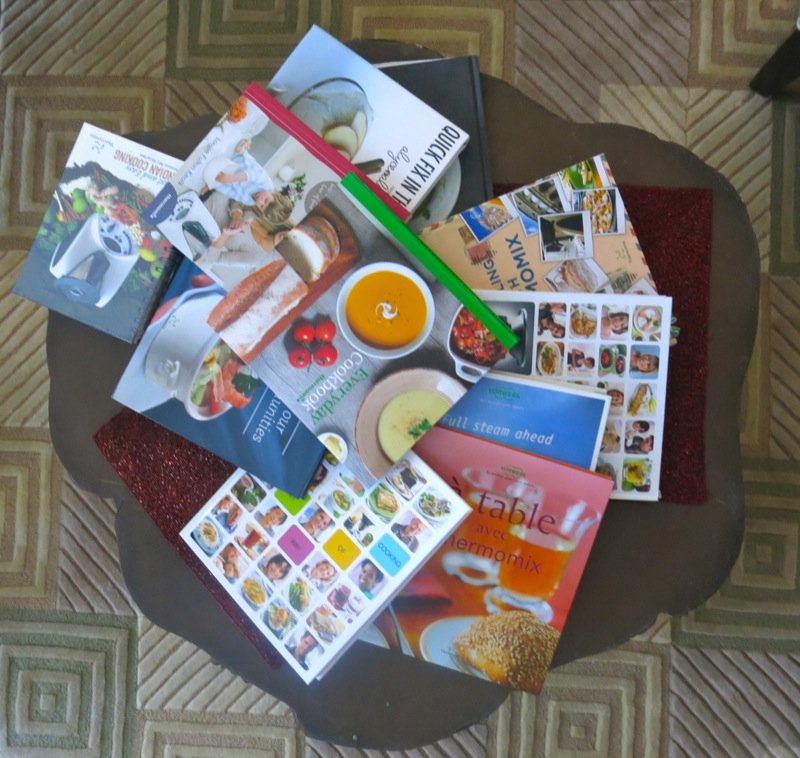 After the soup and focaccia, I make ice cream. It takes a whole 30 seconds and I have enough raspberries that I grow in my little urban garden for my entire family and a multitude of Thermomix demonstrations. I am the one that revels in the leftover ice cream. Never tire of it. There is simply nothing as vibrant. I can compare it to the world class ice cream of Berthillon. Only there have I found anything comparable. You can imagine how delighted I am to make my own at home any time. And, you can see, I make a lot of homemade ice cream!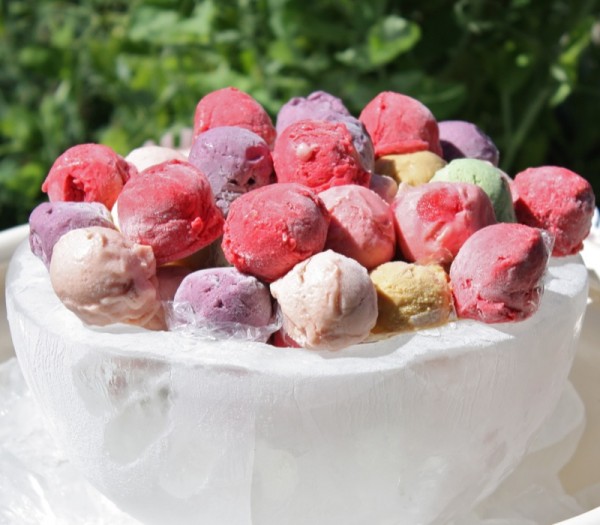 But, what sold me on the machine… I mean, the place where I met nirvana – was the Italian Zabaglione. To this day, I still make it with too much Marsala. God forgive me.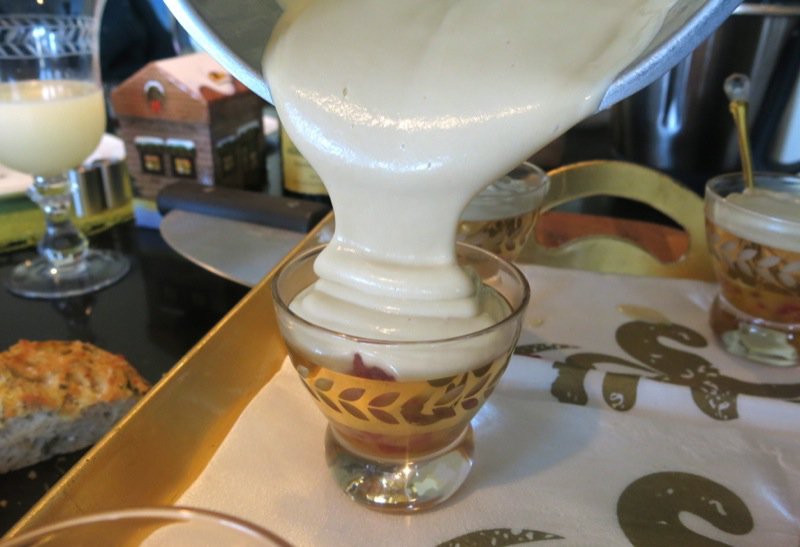 If you have ever had a warm cooked eggy Sabayon or Zabaglione, chances are, you have not forgotten it. There are special copper pans for making this dish in. It is a conquest for most pastry chefs. I can do it in 8 minutes with my Thermomix machine. It isn't cheating, because I couldn't do it any other way.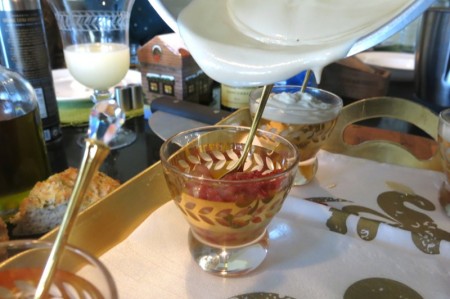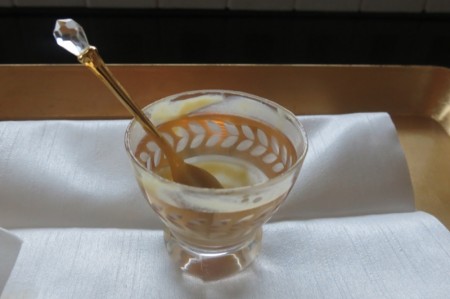 There has only been one time that I have had a demonstration and that person didn't buy the machine. Only one time, and that wasn't a serious demonstration, really. I didn't expect to sell that day; however, the machine sells itself, so I am never surprised when someone buys one. They are expensive. Yes, they are. One pays for quality and longevity. I am not allowed to divulge the price of the machine publicly, but I never give a demonstration without discussing the price, the payment plans and other specifics regarding the purchase of a machine, first. With that out of the way, everyone comes prepared to learn, to experience, to enjoy the food and to make a decision about whether this is the machine for them.
Honestly, for me, it is like my dishwasher, or my cel phone. I cannot imagine life without it. The world's smallest and smartest kitchen mills grains, makes granulated sugar into powdered sugar, kneads dough, juices, sautés, stir fries vegetables beautifully, boils, purées, chops, minces, whips, steams, it weighs food, turns itself off, cooks to 120°C or 250°F, washes itself (with a little help), stirs constantly and has a safety lid lock. There is almost nothing that the machine cannot do. I still need my oven for baking, my stove top for frying, but that is about it. This is the one machine that does absolutely everything else. And so much more.
Nothing to disclaim: This is a blatant promotion of a product I love, use every day, at least once, and sell. If someone chose to buy a Thermomix machine from me, it would benefit both of us. And, I offer "full meal service" to my clients (meaning, full support). Just take a look at the testimonials and all of the other information under Thermomix on the black menu bar at the top page of this post.
Thinking of an OUT OF THE BOX Christmas idea? This little ditty would just love to come out of the box under your Christmas tree! I just thought: Now is the time, having never done this before. Now, I'd better get back to my baking!