Tender Greens bathed in Tasty Textures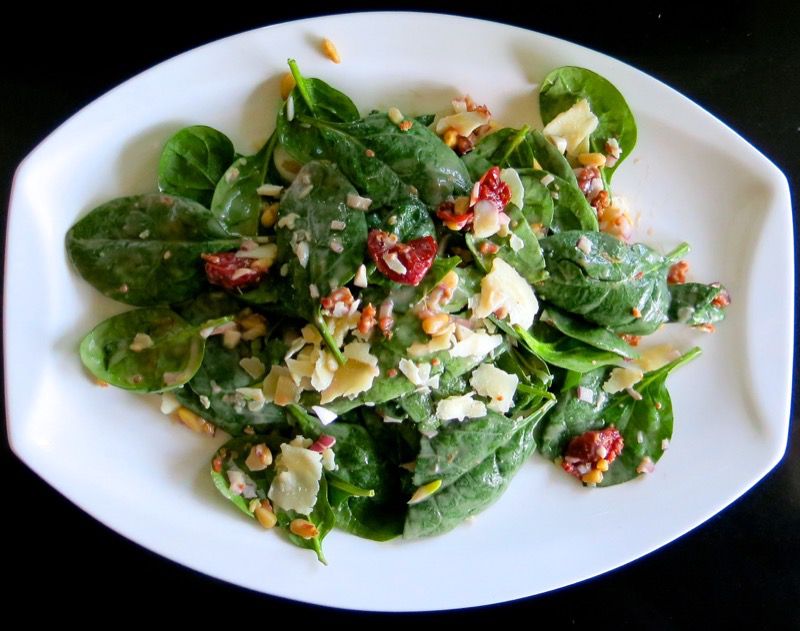 It may not be pretty, but I promise you, this salad is a full meal deal and a jubilant mix of flavours: sweet, salty, and tart!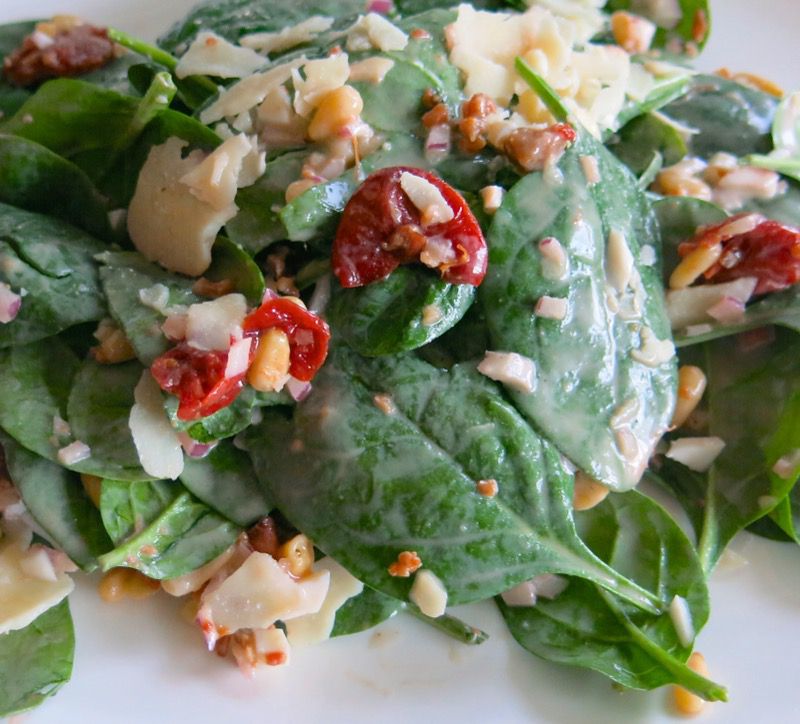 The preserved sour cherries add the unexpected pucker perfect umami-whammy.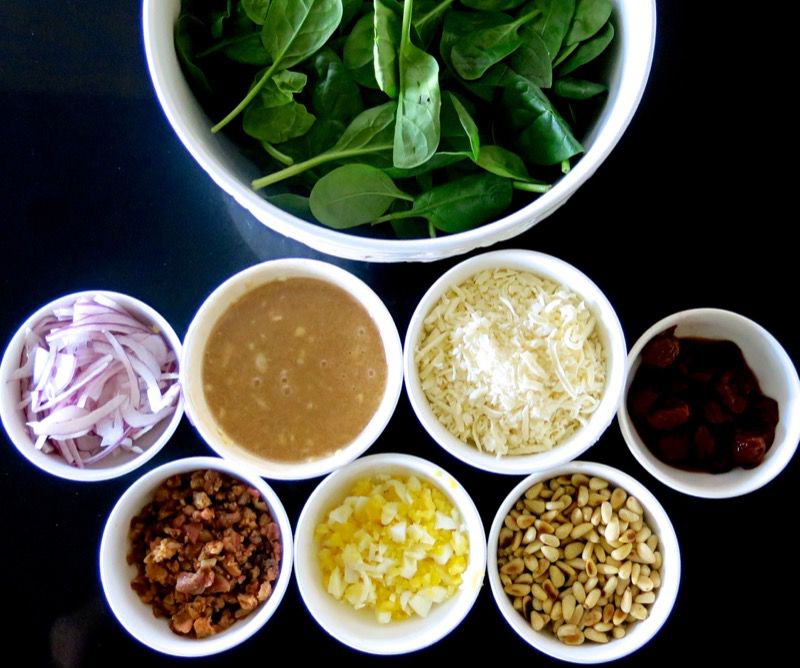 I was having company, and had a huge basket of spinach for the salad. What else? I had hard boiled eggs on hand. I had preserved sour cherries on hand. After that, I gathered the other ingredients, also in the pantry, that would add dimension to the salad. Red onion, absolutely; bacon, as with the traditional spinach salad, yes; toasted pine nuts are a personal favourite; then cheese and a dressing.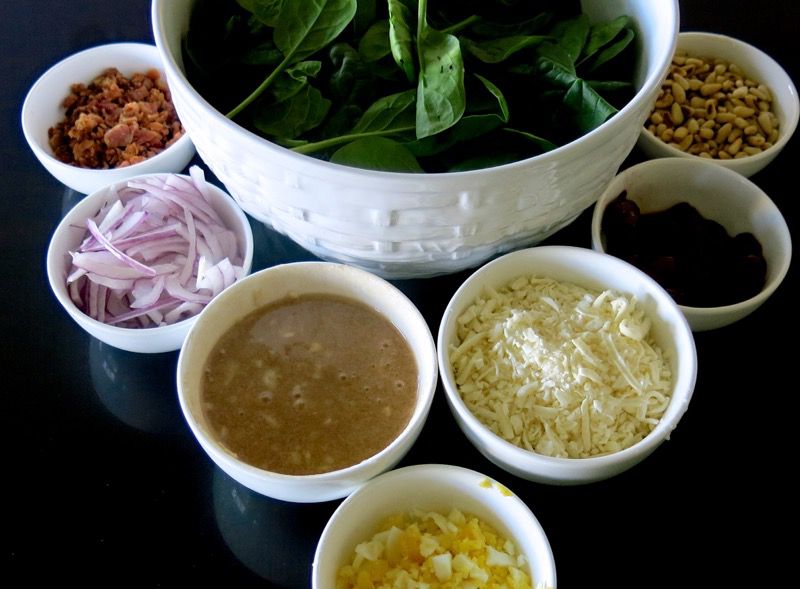 Everything for this salad can be prepped and ready to go early in the morning.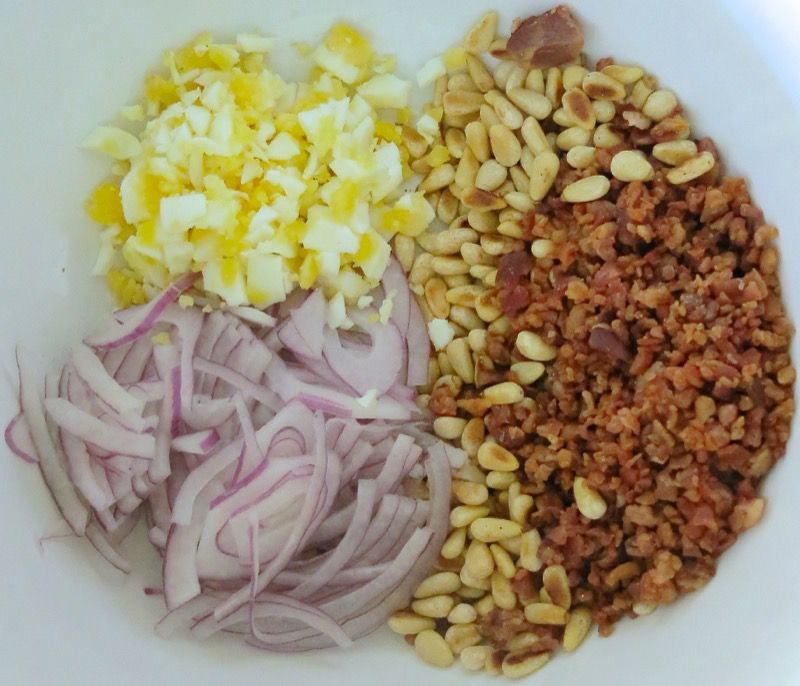 Into the bottom of the serving bowl: red onions, toasted pine nuts, bacon lardons, hard boiled egg.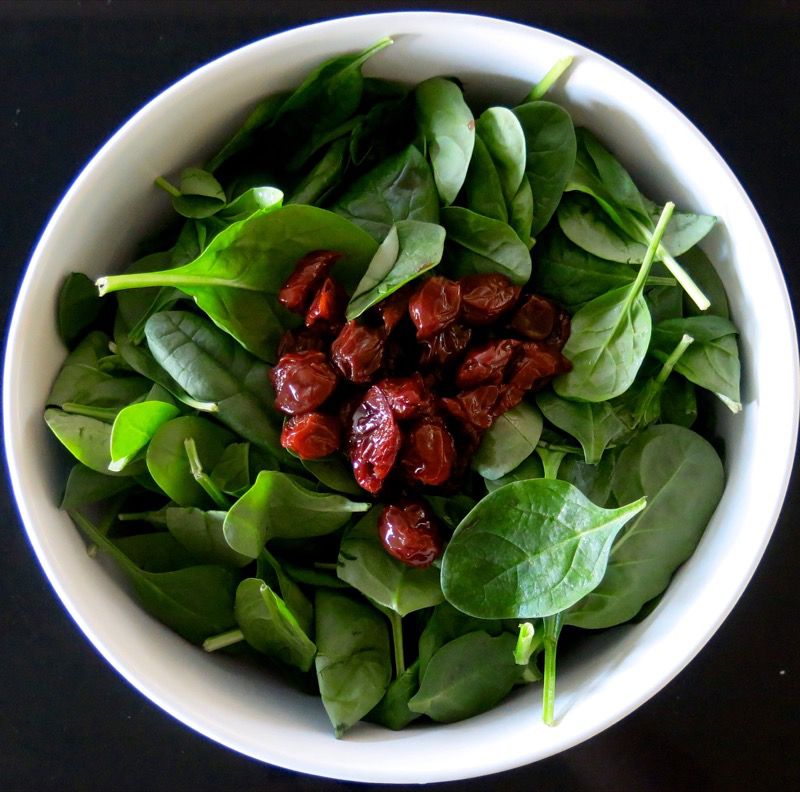 Bowl filled with tender baby spinach leaves and topped with preserved sour cherries.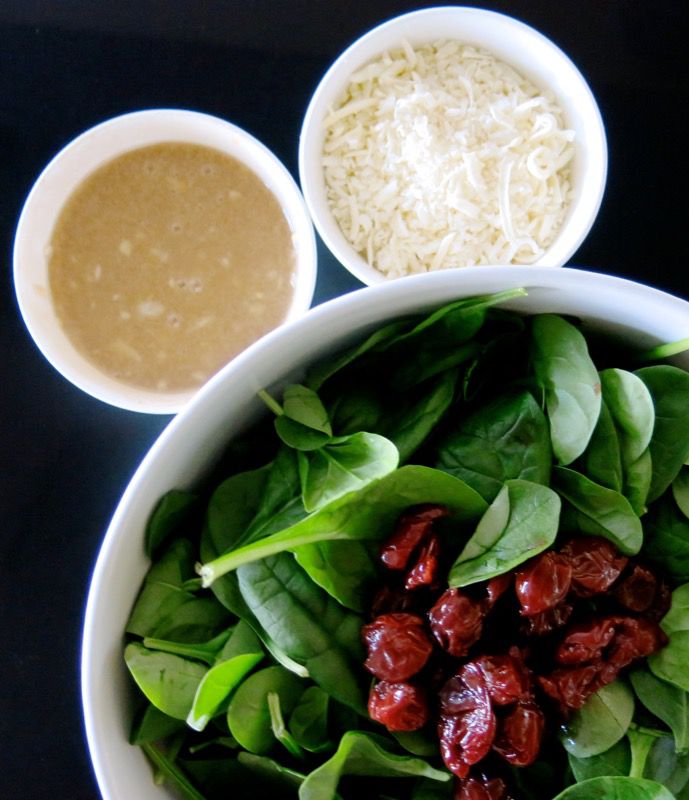 Dressing and cheese on the side ready for the toss just before the meal is served. Bottom of the bowl tossed into the leaves with the cherries.
Making the Dressing for the Spinach Salad with Preserved Sour Cherries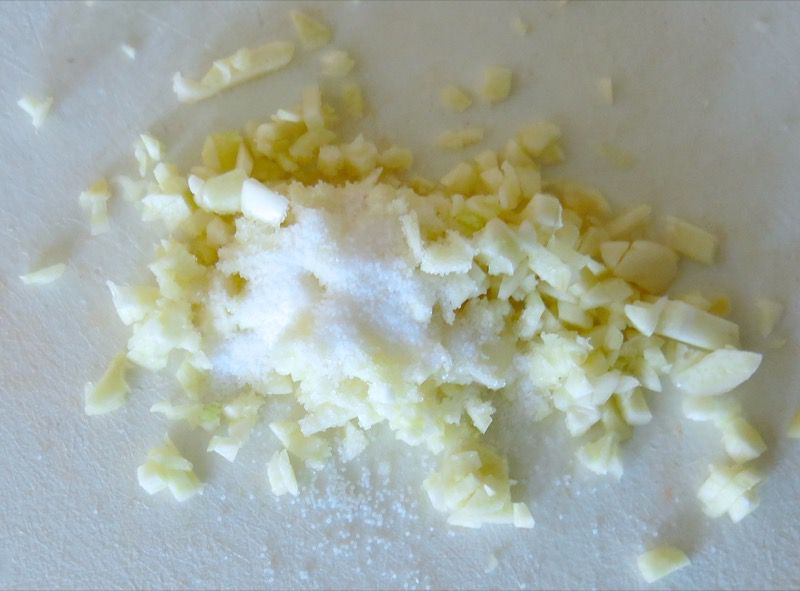 I have a garlic fetish. I adore it and use it in almost everything. I am particularly smitten with the zing that salt adds to minced garlic if mashed into it. This simple combination with mayonnaise makes my preferred version of aioli. That's the route I took with the dressing. Two to three large garlic cloves are minced and topped with a teaspoon of salt.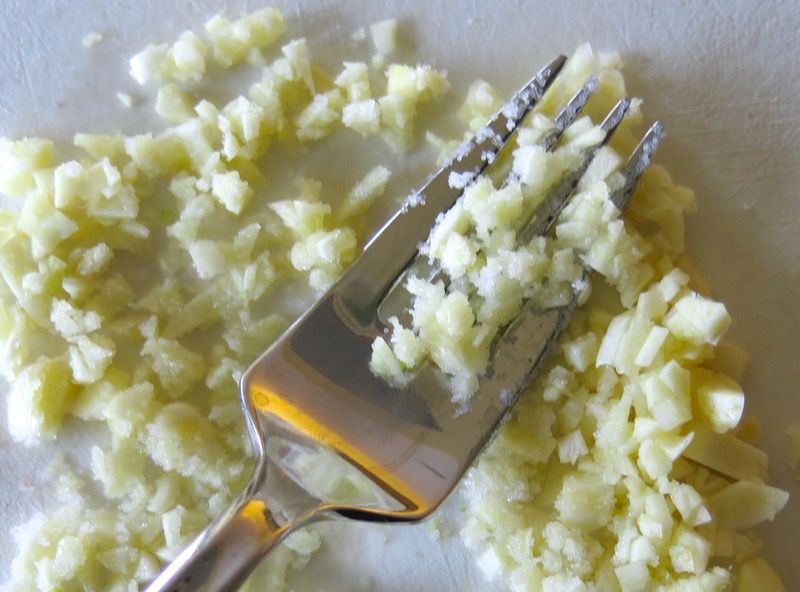 The garlic and salt are then combined with the tines of a fork until the garlic is emulsified.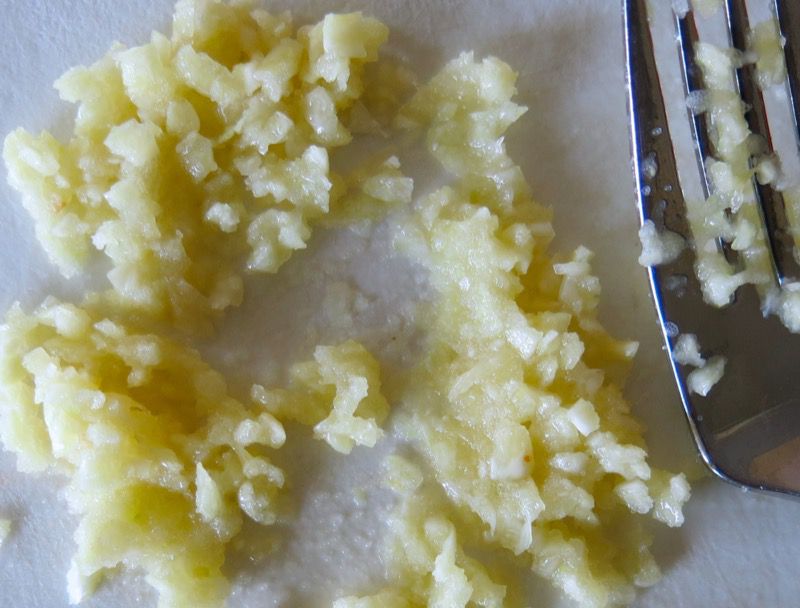 Above, you can see the emulsion.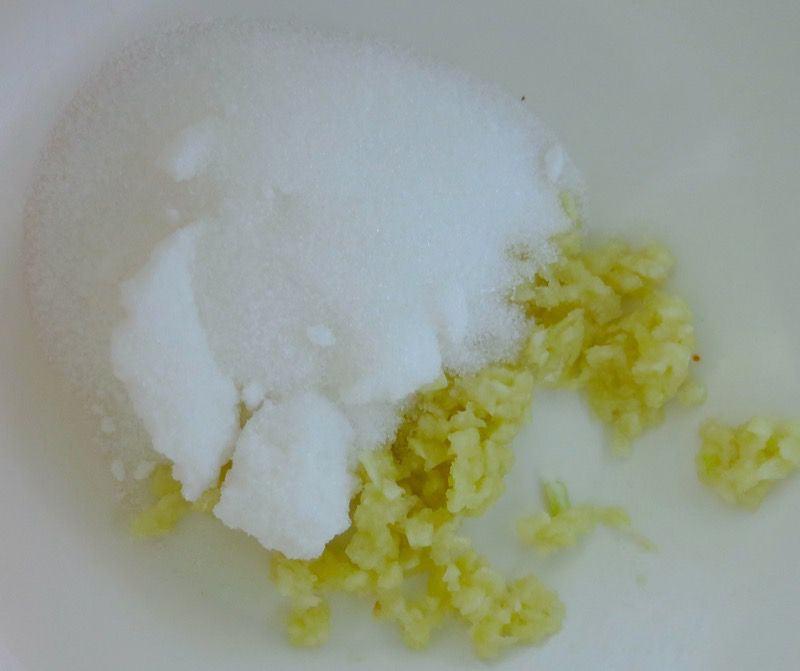 I knew I was adding mayonnaise, but also knew the balance between sweet and savory must be achieved in this dressing, so added sugar.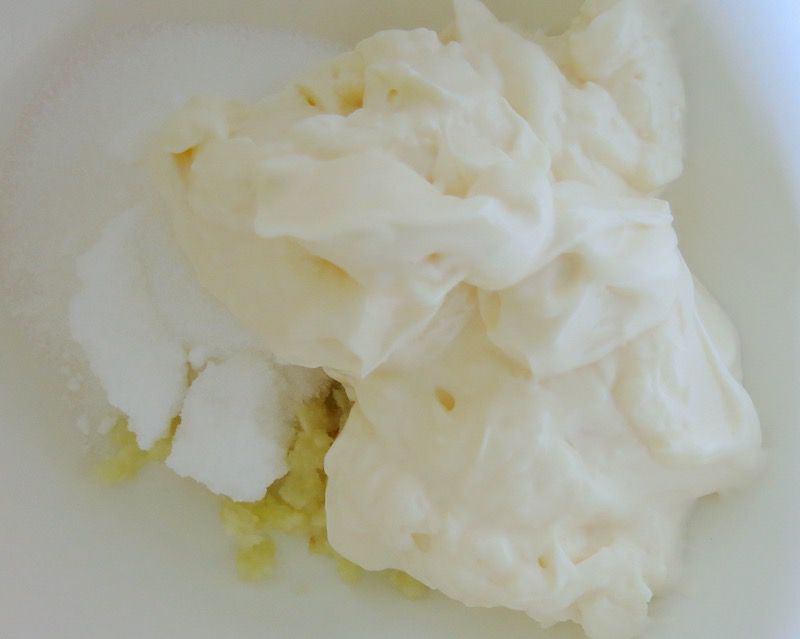 These ingredients, combined, pack a powerful punch. Work to round out the balance with the garlic and fat and sugar and salt at this phase.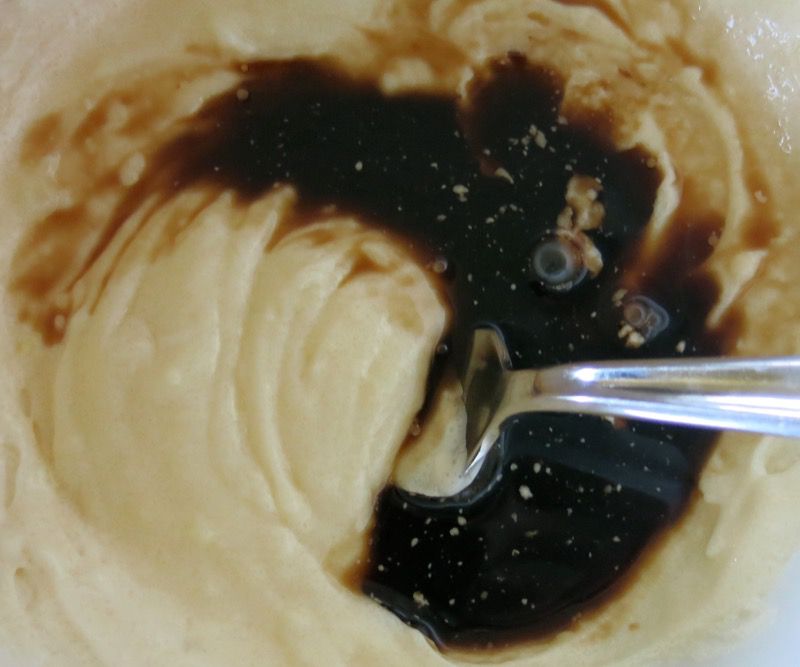 Stir in the balsamic and add freshly ground black pepper. Again, adjust the sugar, garlic, salt to fat and acid ratio, as necessary to get the balance you like for this dressing. The recipe is a great starting point.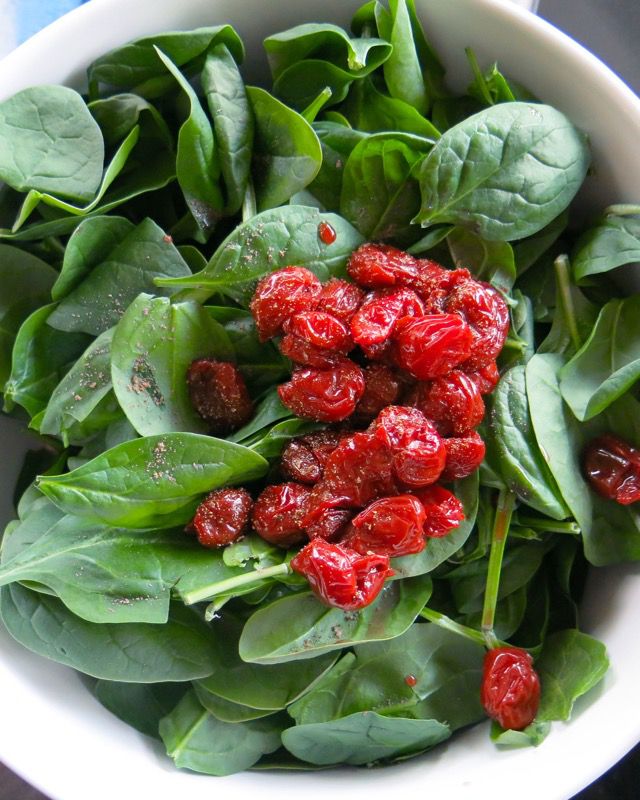 Toss all dry ingredients gently together in the bowl.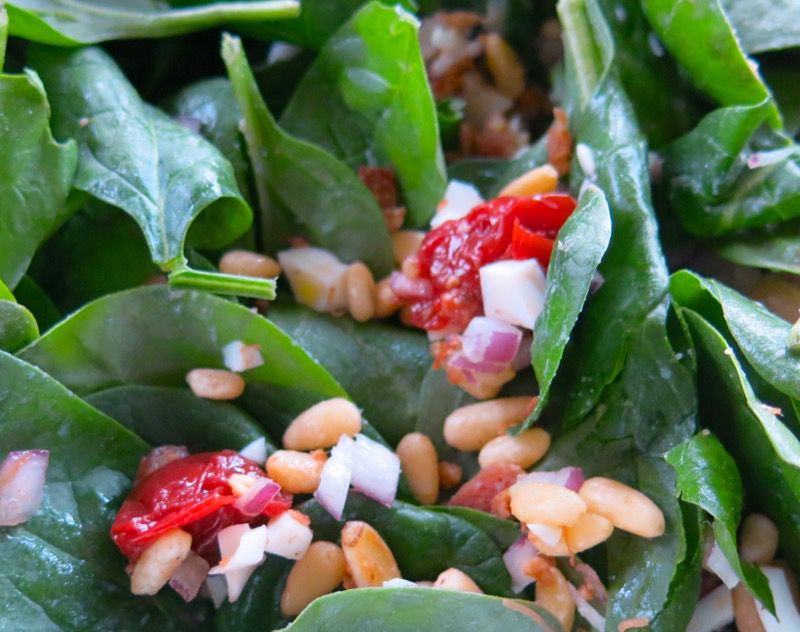 The heavier ingredients do tend to migrate to the bottom of the bowl, so work to get them dispersed amongst the tender greens.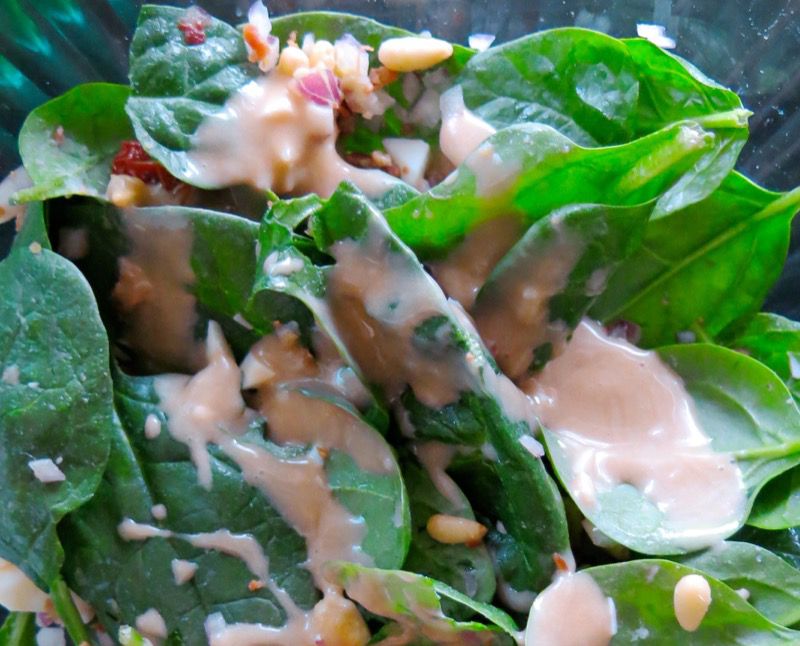 Add the dressing, a little at a time; gently toss to coat each leaf. Too much dressing, and the salad will become compact and heavy, like a wet cat in the rain.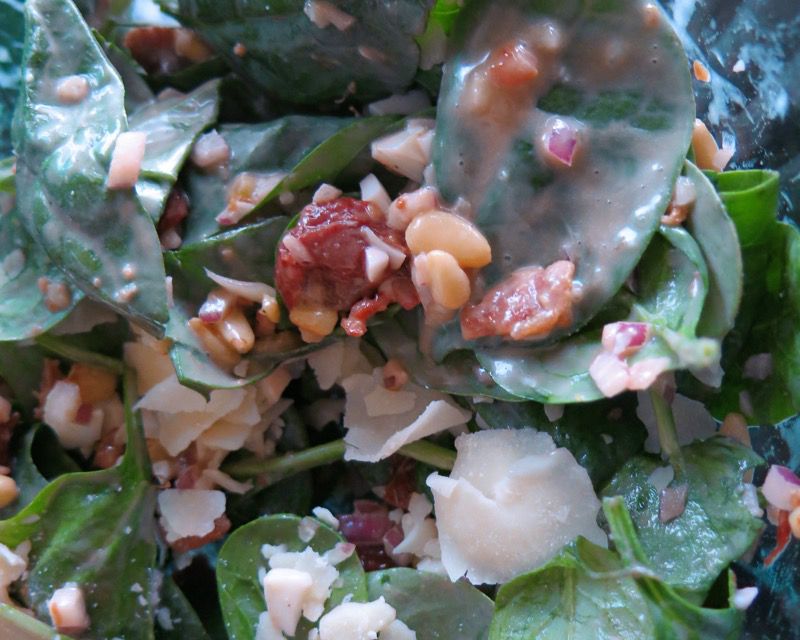 Sprinkle with the cheese, and gently toss.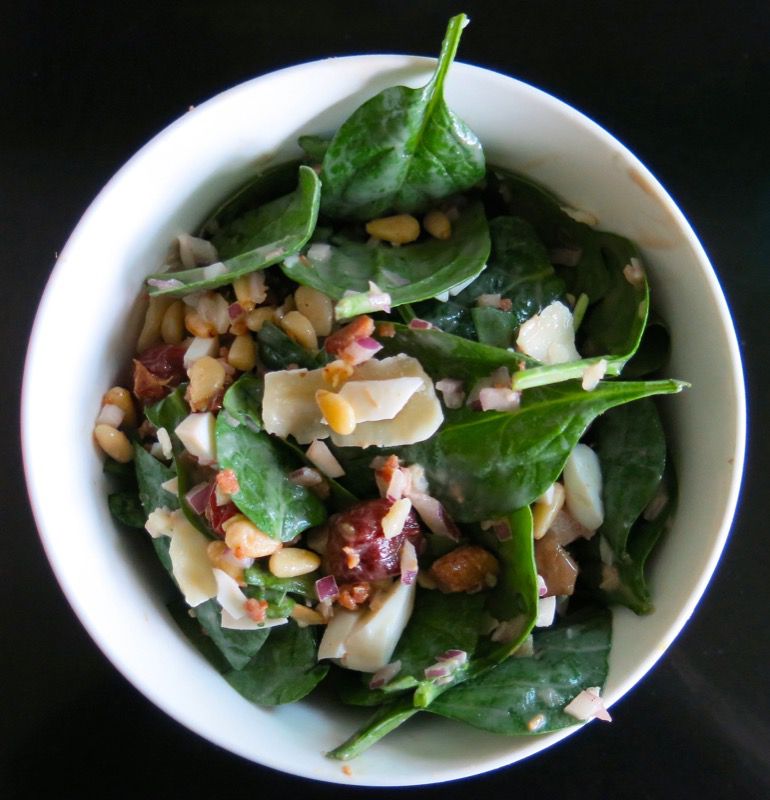 Serve in individual bowls, on a platter, or in a large self-serve bowl with tongs. As the heavier bits hide in the bottom, be sure to get a combination of the leaves with all components of the recipe into each serving.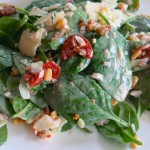 Spinach Salad with Preserved Sour Cherries


This ACF Original recipe is clearly inspired by a variety of salads, but is the ultimate side or luncheon main during the cold season.
Ingredients
2

eggs

, boiled and chopped

1/2

cup

or 100g fried bacon lardons

1/2

cup

or 100g toasted pine nuts

1/2

cup

or 100g thinly sliced red onions

800

g

tender baby spinach leaves

, cleaned and dried

1/2

cup

or 100g preserved sour cherries

1/2

cup

or 100g shredded Parmesan Cheese

Freshly ground pepper

, to taste
Ingredients for the Dressing:
3

cloves

garlic

, minced

1

teaspoons

salt

3/4

cup

or 150g mayonnaise

1/4

cup

or 60g Balsamic vinegar

1/4

cup

sugar
Instructions
Instructions for the Dressing:
Place the minced garlic on a cutting board; pour salt over the top of it and combine together with a fork to emulsify

Place emulsified garlic and salt into bowl with remaining ingredients; stir to combine

Add freshly ground pepper and adjust seasonings, cover tightly with plastic wrap and chill until needed
Instructions for the Salad:
Place the first 4 ingredients carefully into the bottom of the serving bowl (careful not to mix together)

Place spinach on top

Top with preserved sour cherries

Cover well with plastic wrap and chill until needed
Preparing for Service:
Toss all ingredients in the salad bowl gently; combine well

Pour dressing into bowl; gently toss to coat all tender leaves

Sprinkle cheese throughout and garnish with some on top
If you make this recipe, please tell me! I so appreciate reader feedback.