Thermomix Sweet and Sour Spare Ribs: Super Easy and So delicious!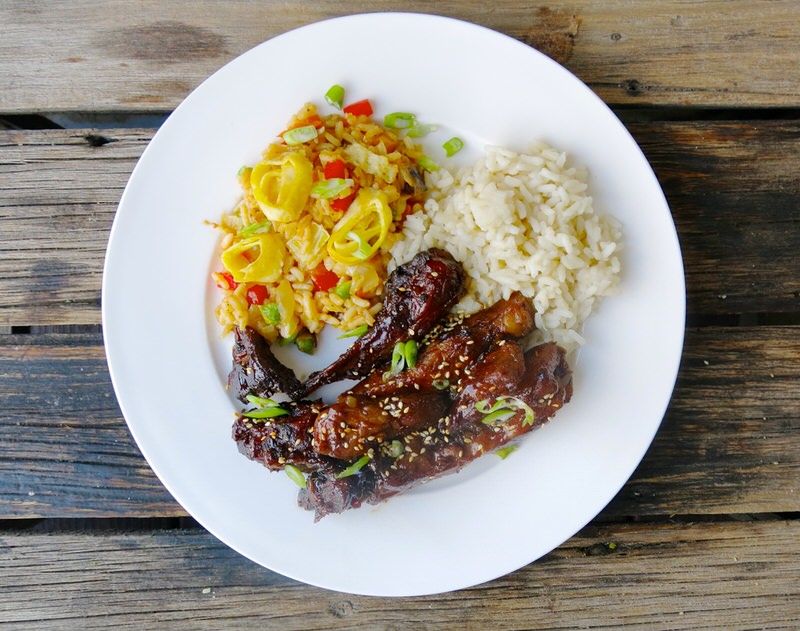 Thermomix Sweet and Sour Spare Ribs are about to take the Thermomix Community by storm! I will tell you now that these ribs are falling off the bone, deeply flavourful, sticky, succulent, and ultimately addictive. Be careful! Maybe you should stop right here, and pass this read up?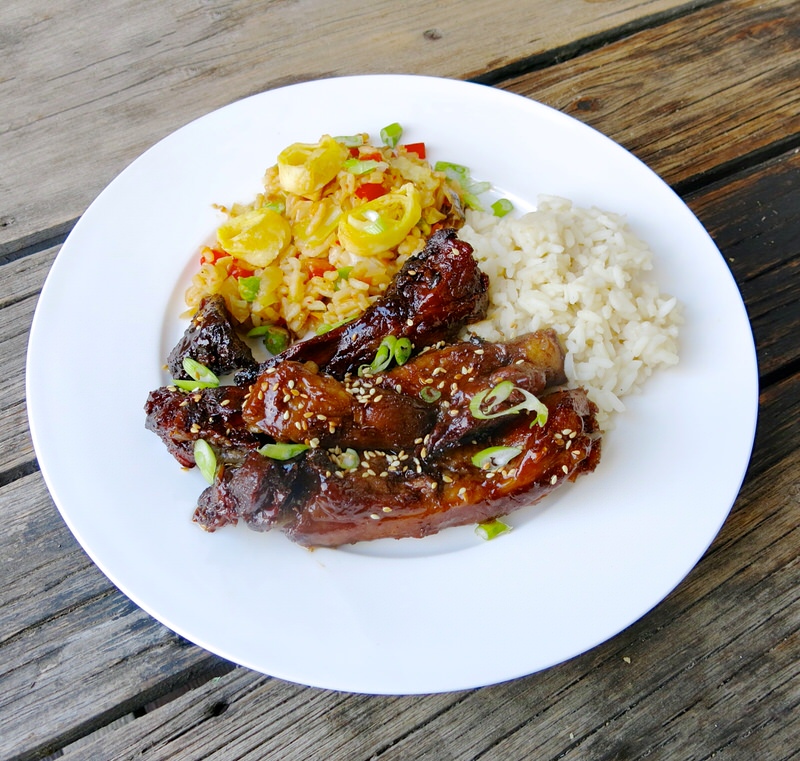 I can see there are a few recipes for Thermomix Sweet and Sour Spare Ribs, but none as simple, delicious or as "healthy" as these!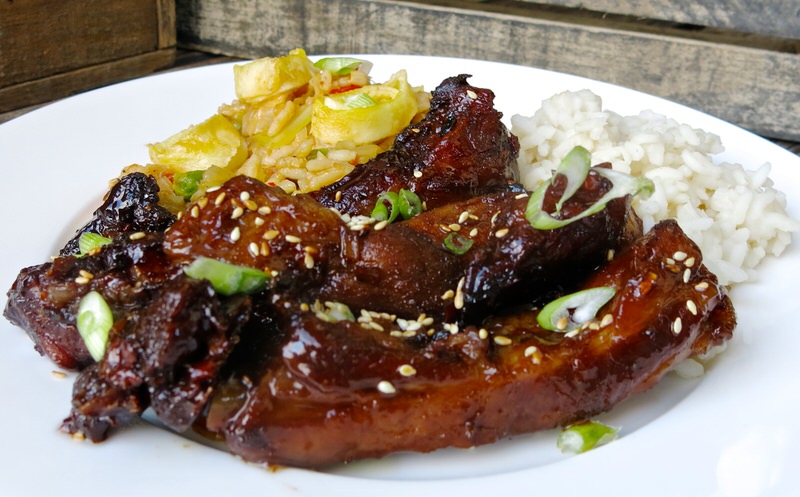 By "healthy", I mean they use less sugar than any other recipe I have read. By far.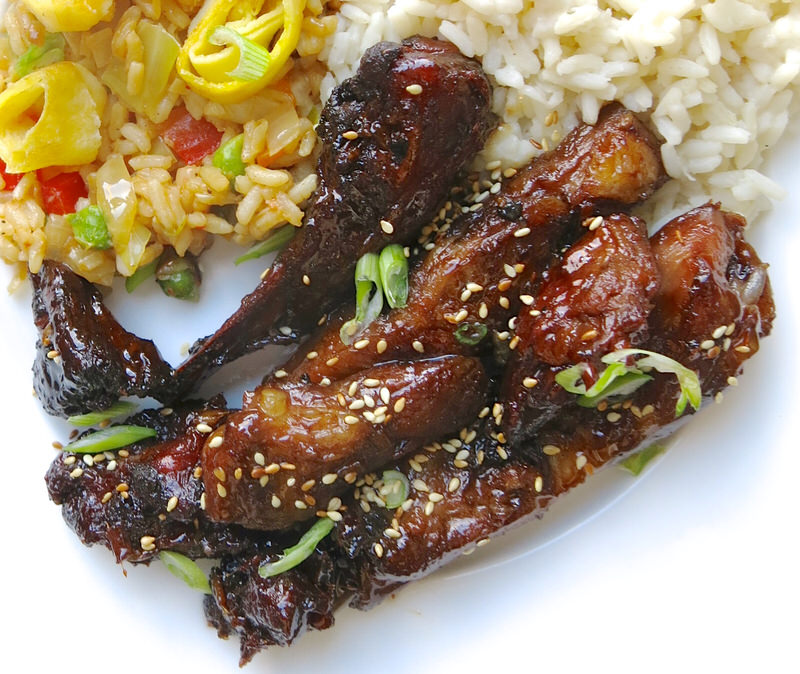 A Thermomix colleague, Lynda, had the recipe from the Chinese Cookbook translated and made it for a demonstration with some clients who asked for food specifically from that cookbook. She shared her photo and recipe with me. I couldn't imagine how these could actually be made in the machine, so the step by step images below will not only provide testament to you that they can, but hopefully motivate and inspire you to try other ideas using this technique. I did modify the steps, processes and amounts in the recipe significantly enough that I can call this my own recipe. The sauce ingredients are similar to that of the book; still, five variations that I do believe make a significant difference to the outcome.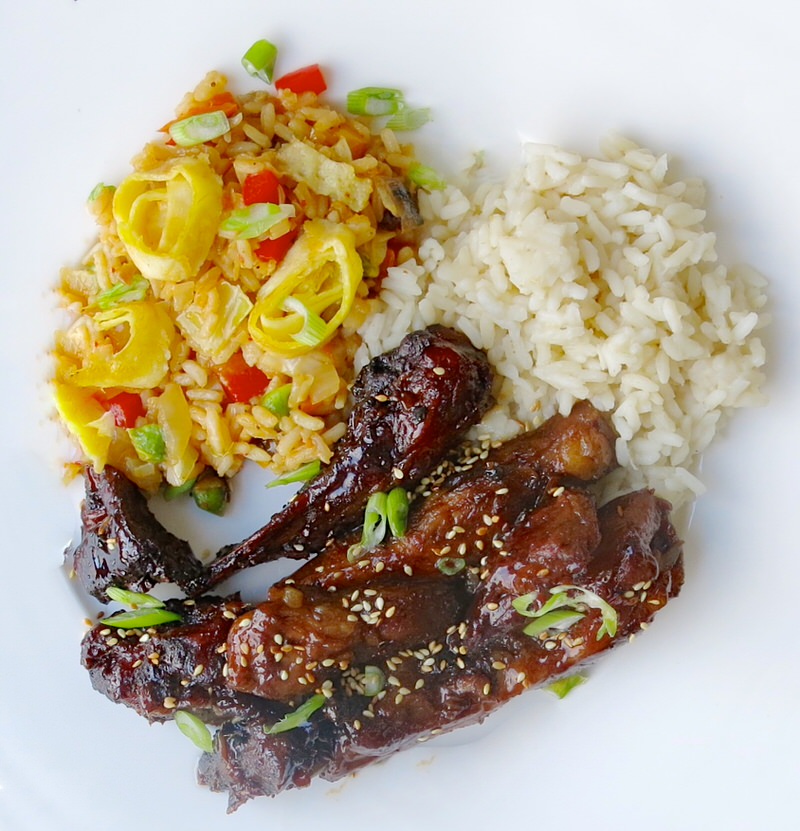 I am going to make chicken wings next, using this exact recipe and technique. I'll share it with you after I have accomplished my task!
Thermomix Sweet and Sour Spare Ribs: Preparing and Steaming the Ribs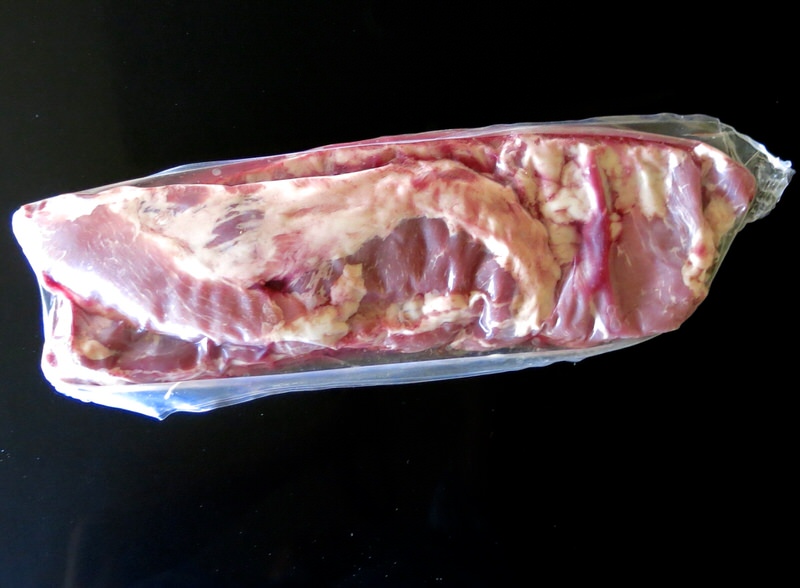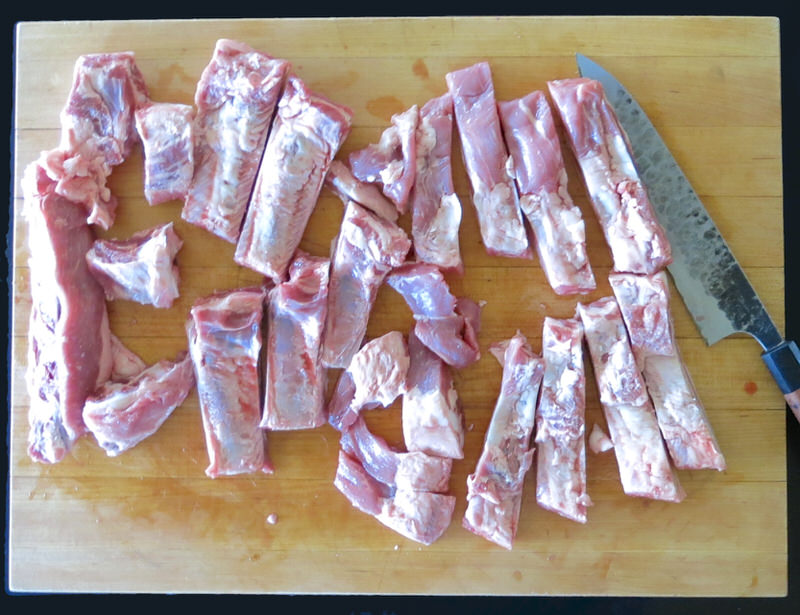 Start with a side of spare ribs. This will feed three adults. Four, if two are children. Weigh them.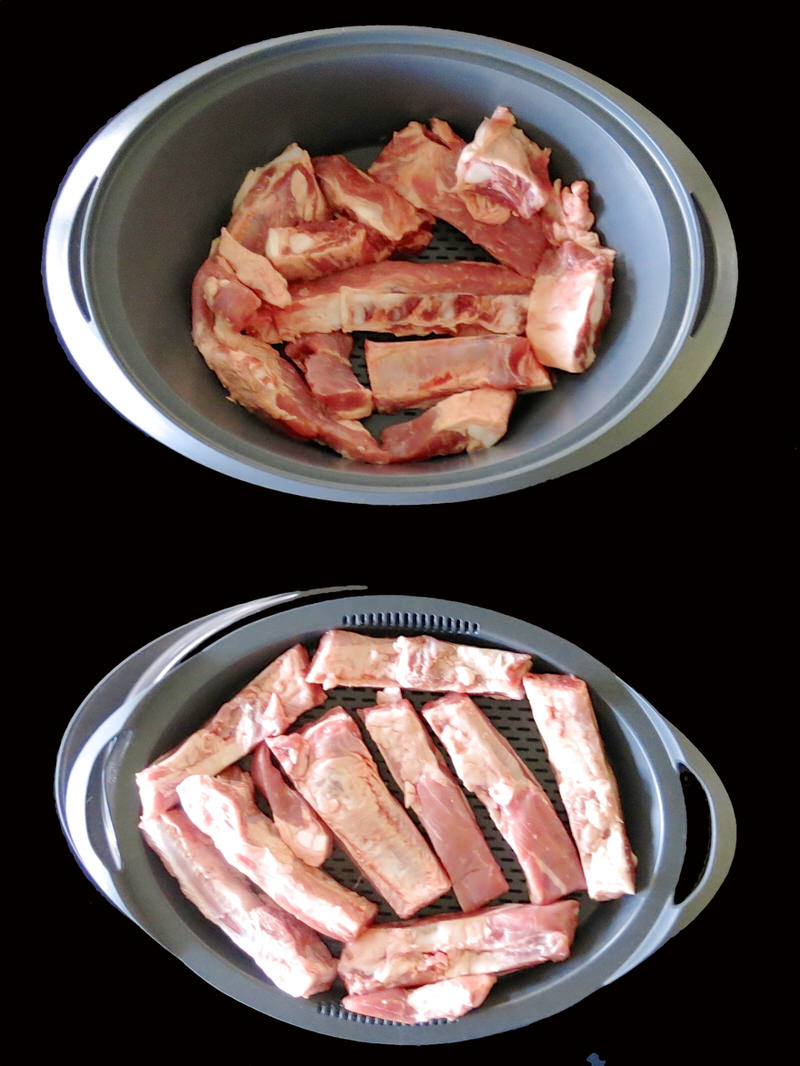 My side was about 1640 grams. Layer them into the Varoma.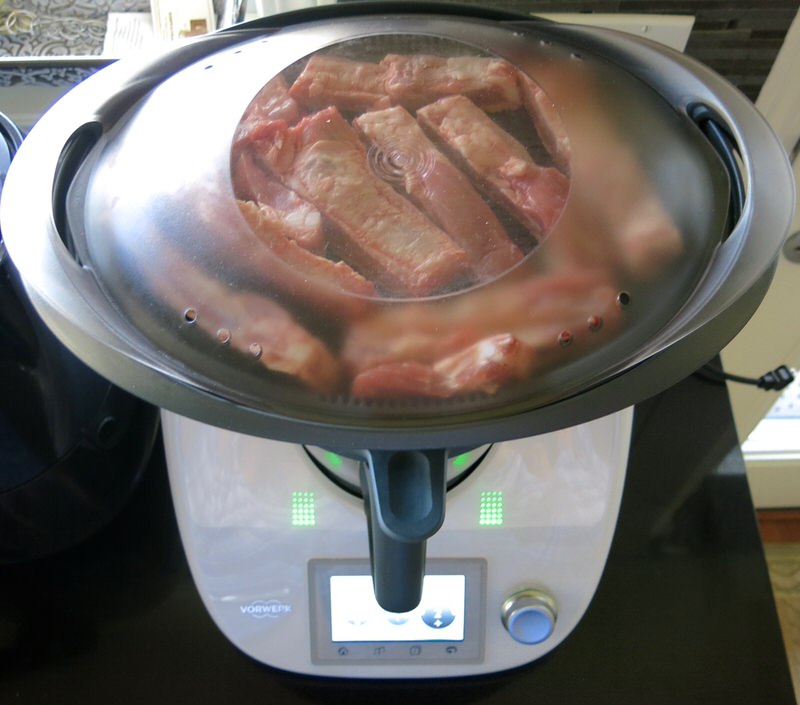 Fill the bowl with a good litre plus of water and steam them on 120C for 30 minutes. This will expel any impurities from the meat.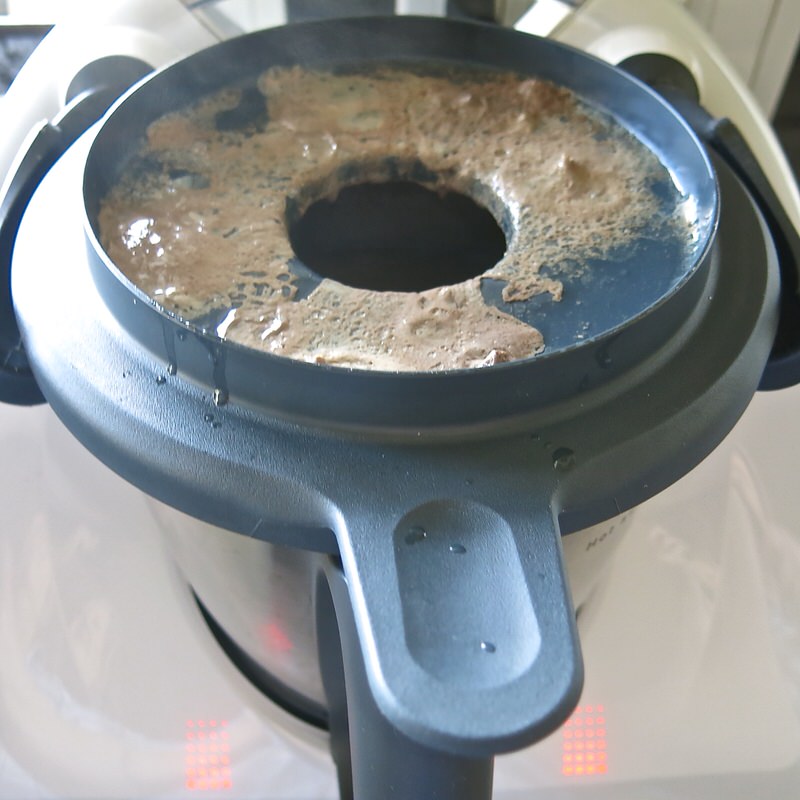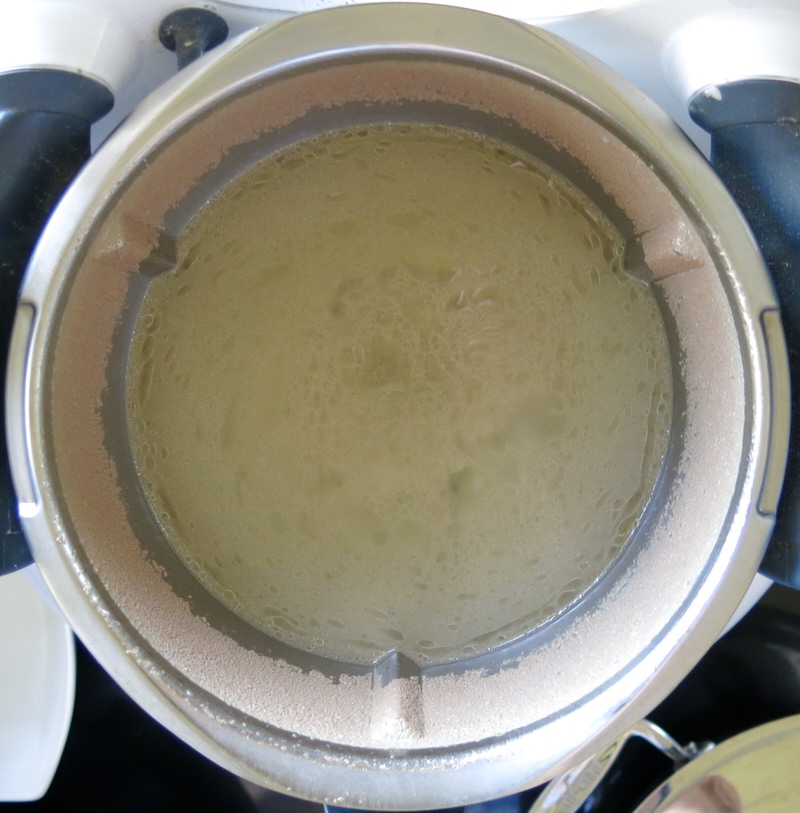 The usual sludge. It also dispels excess fat. Clean the lid and the bowl to continue …. Some may want to simmer rice under the meat while it steams, but clearly, it will be strongly flavoured by the ribs. If you decide to do this, simply set it aside in a ThermoServer to keep hot until meal is complete.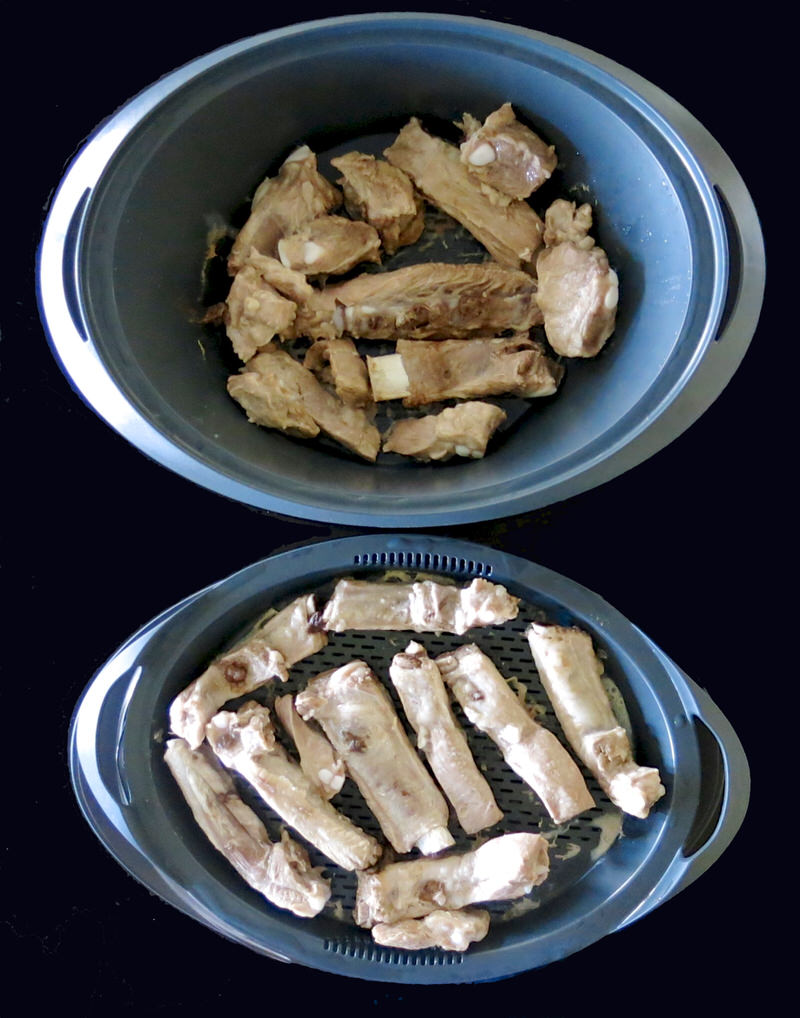 Set ribs aside. While they are steaming, prepare the sauce.
Thermomix Sweet and Sour Spare Ribs: Making the Sauce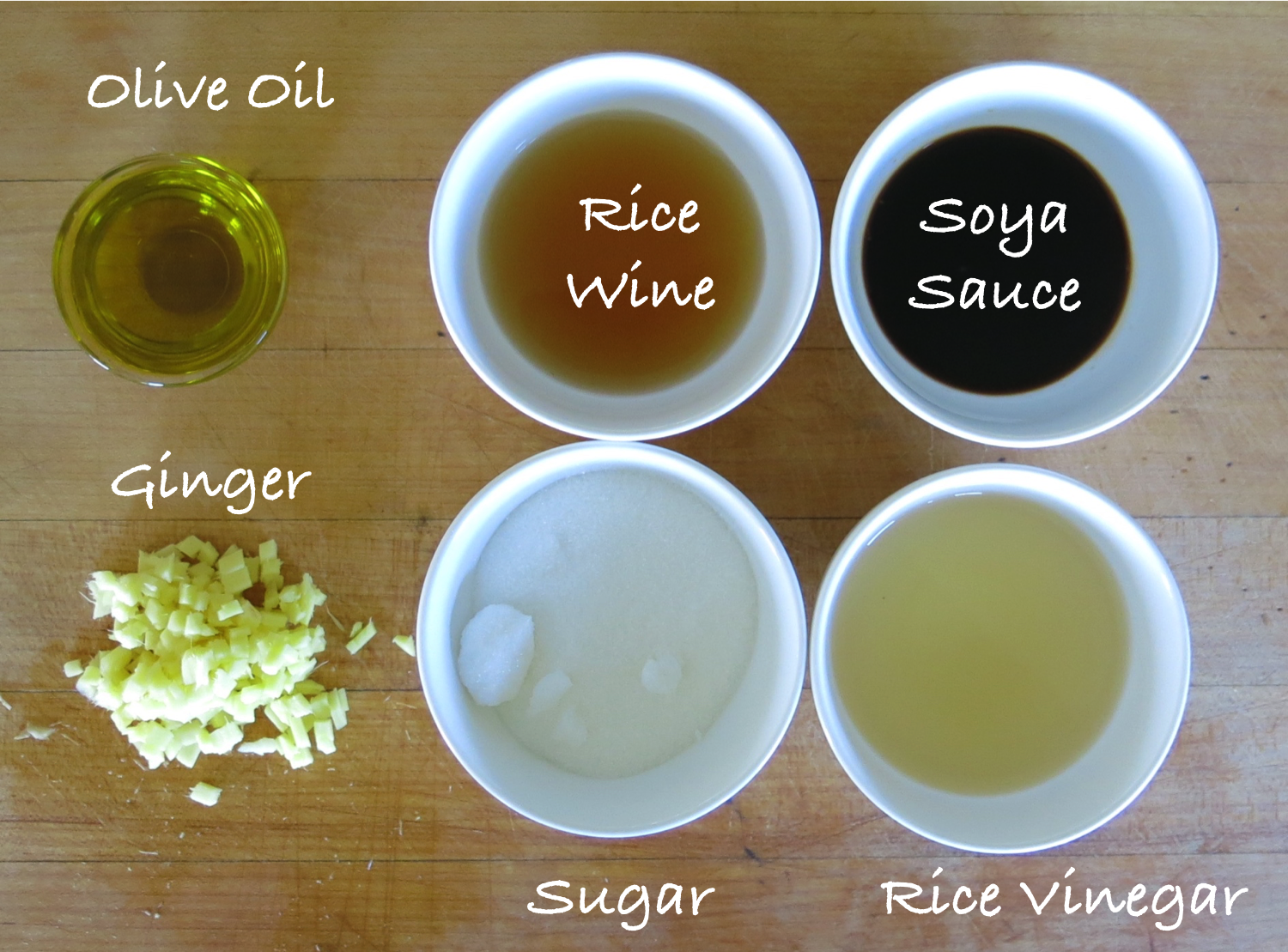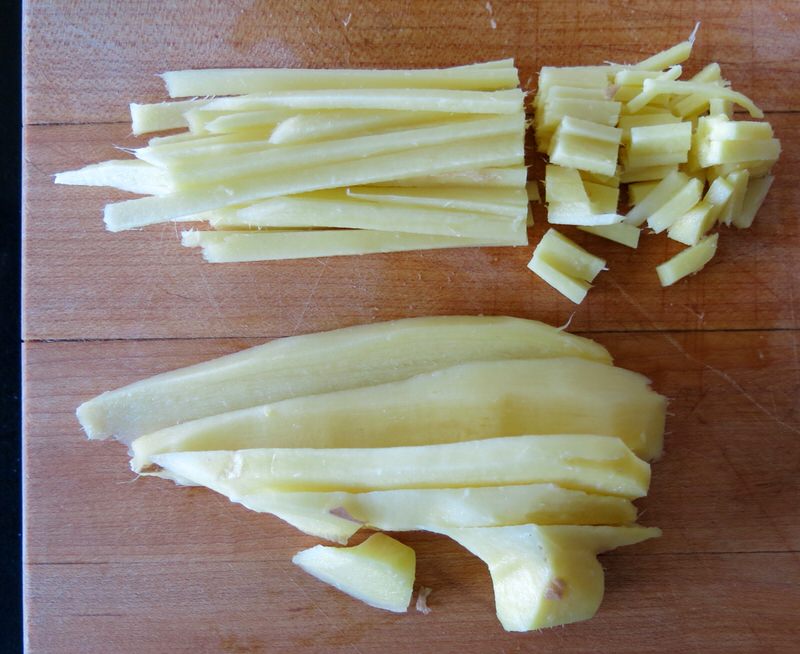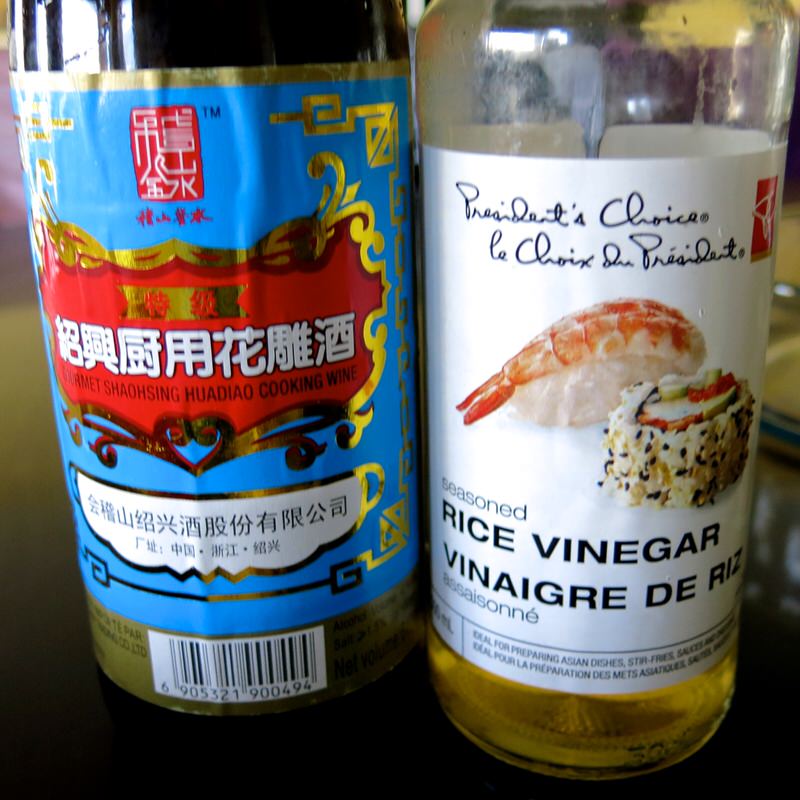 Finding the Chinese cooking sherry can be difficult or a little pain in the batooski if you don't shop in Chinese Markets regularly. Make a point of stopping by one for this. It lasts forever, and is definitely worth it. While making the effort, stock up on other items you may use that are hard to find, and there like the proper ingredients for Almond Milk if you enjoy it as making it in your Thermomix is second to none. The best ingredients will be at your Chinese grocer for that, too.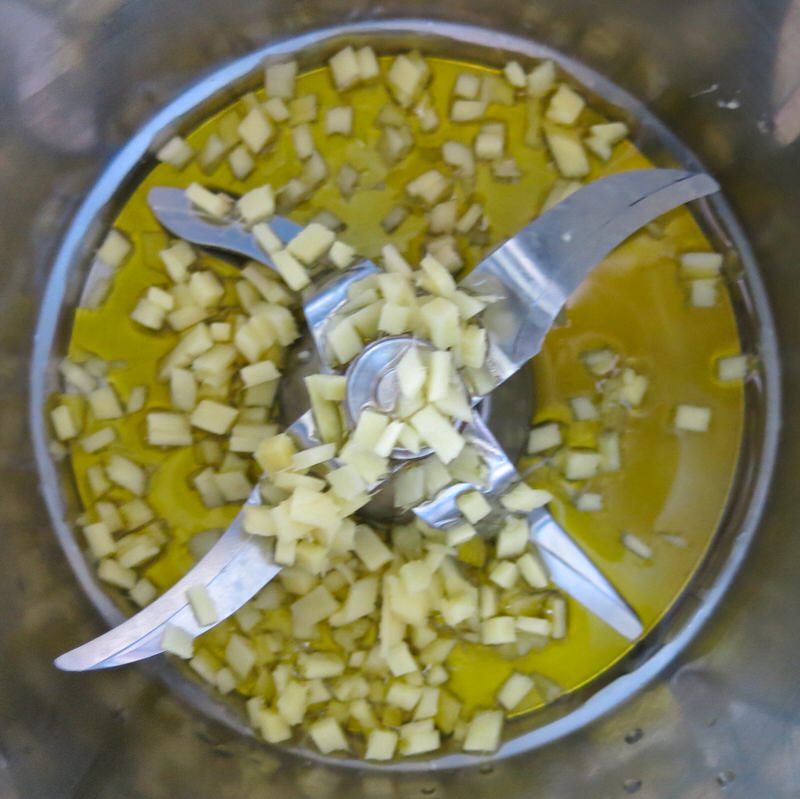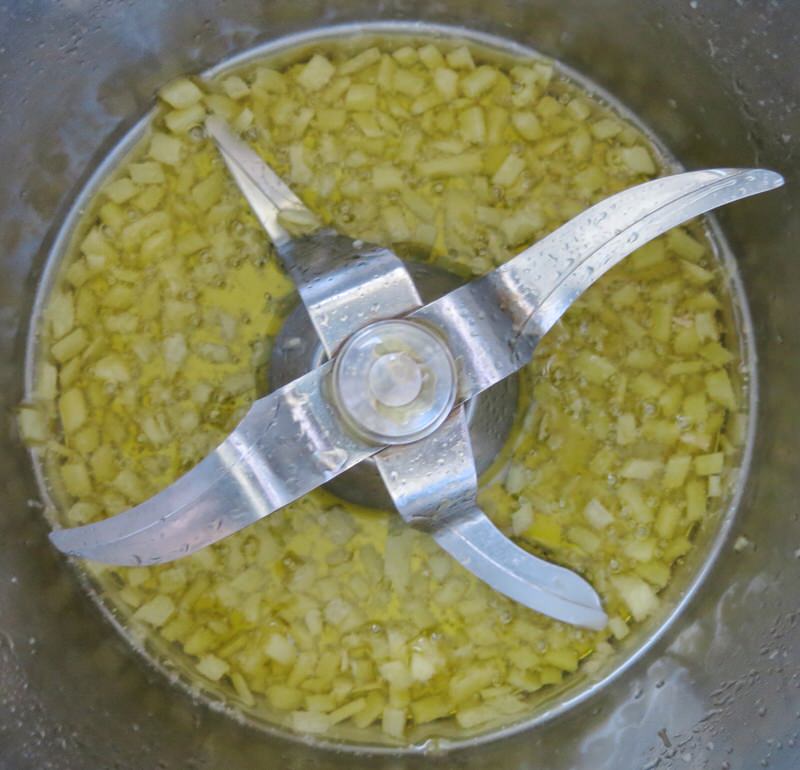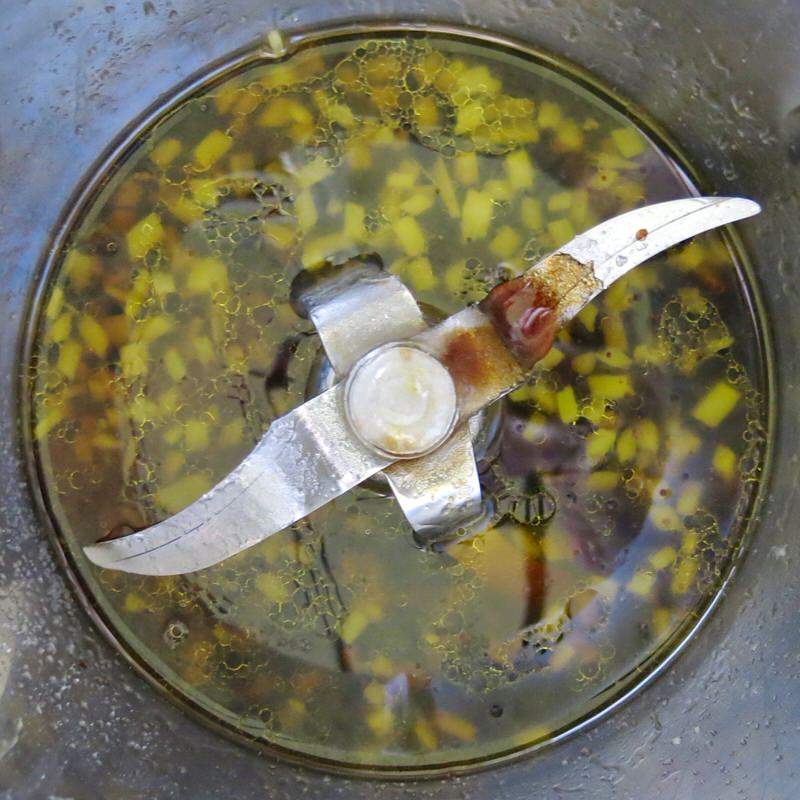 If you like ginger, add more. This recipe could likely tolerate the amount used to be doubled. If you want to see it, leave the pieces in matchstick sized portions. Ginger is sauteed in the oil for three minutes; all other ingredients are added and time, temp and speed is set for 25 minutes. Yup. That's all she wrote!
Thermomix Sweet and Sour Spare Ribs: Cooking the Ribs in the Thermomix with the Sauce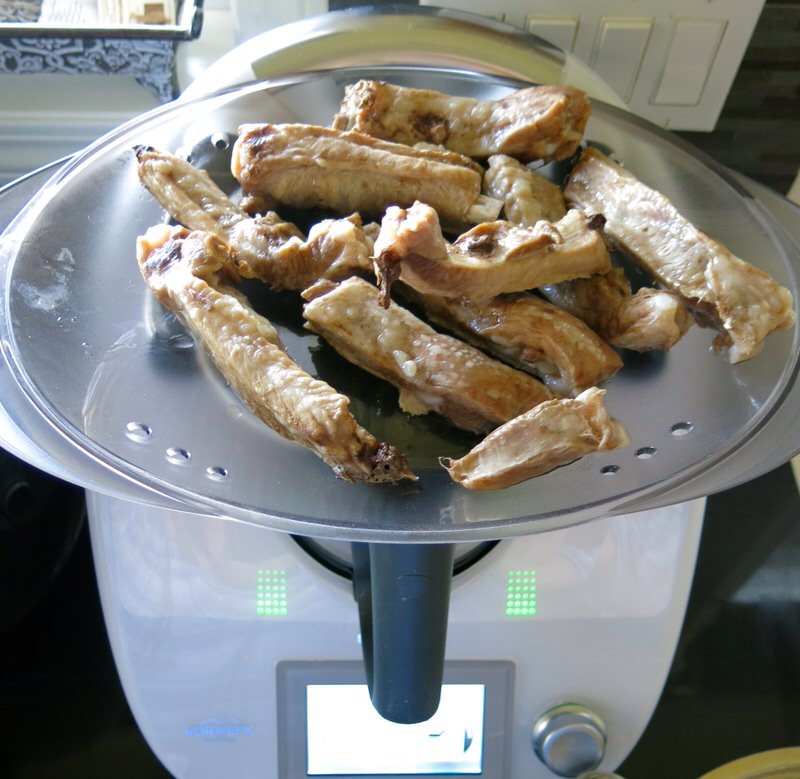 After steaming the ribs, my 1640 weight changed to under 1100. I thought I might do three batches, but two worked just tickety-boo!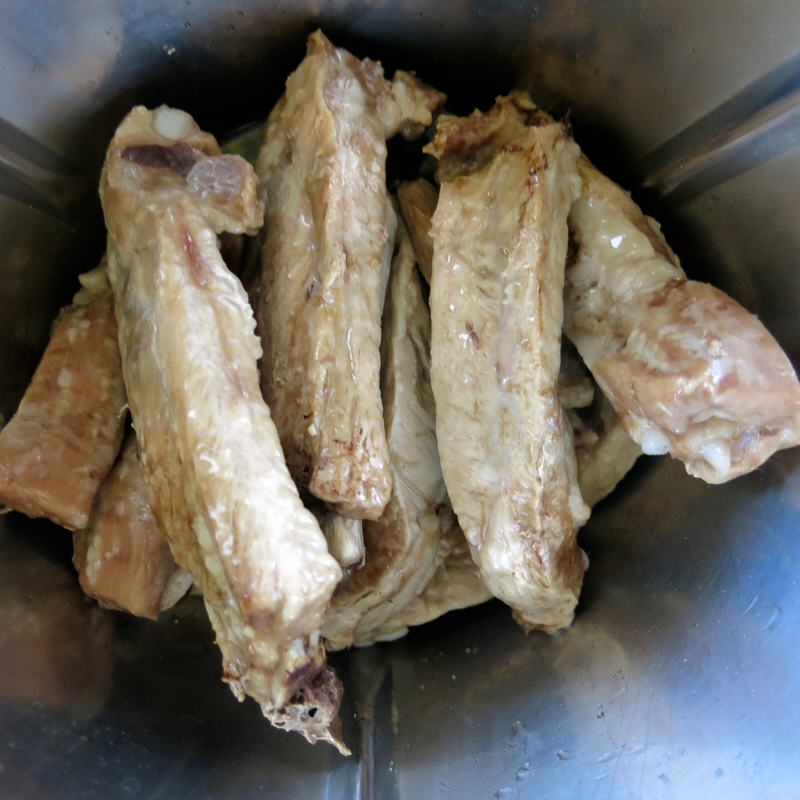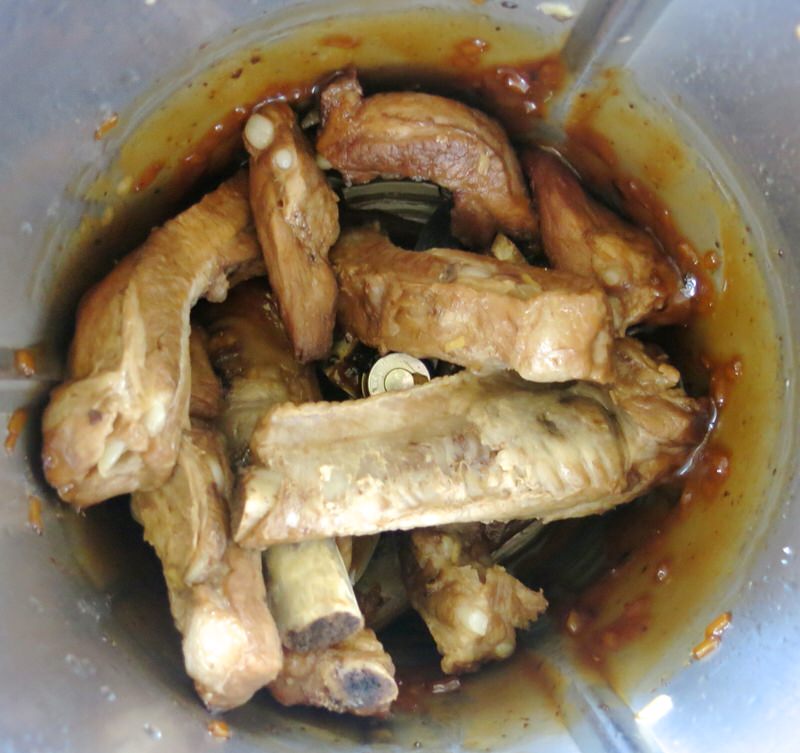 I was a little concerned about the ribs not getting covered with the sauce. Twenty five minutes later: done! Not too appetizing to look at coming out of the bowl, but give it a second.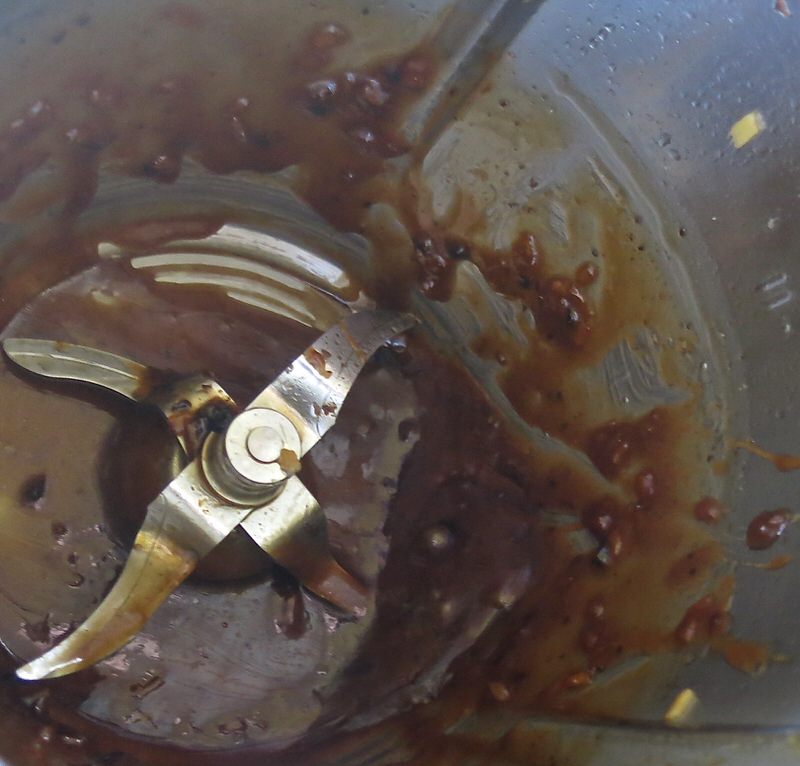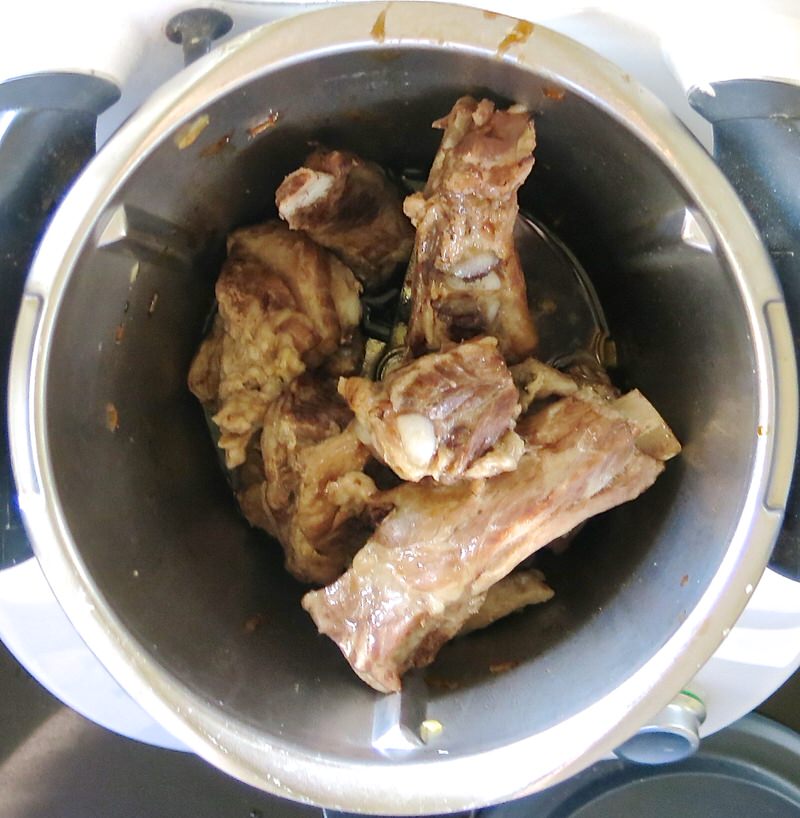 The sauce is gorgeous and really thick. Spread it over the ribs (see below). Make the second batch.
Thermomix Sweet and Sour Spare Ribs: Finished Ribs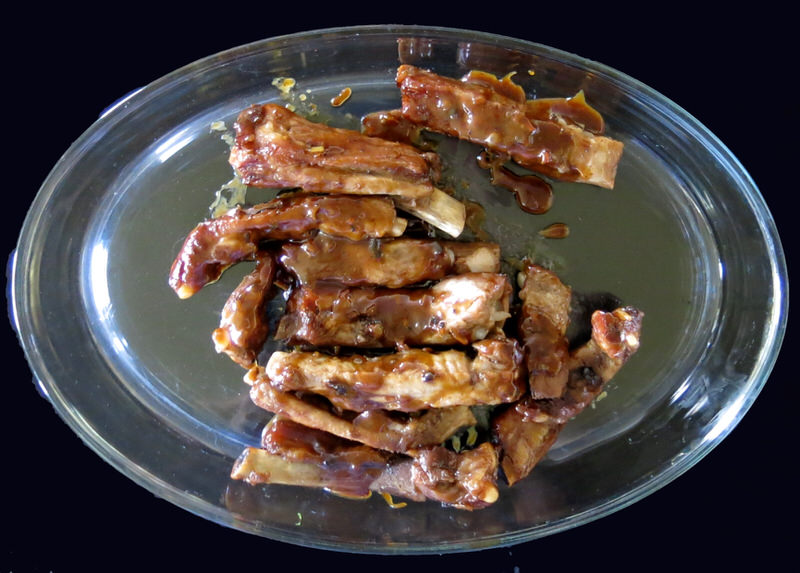 I thought they looked quite lovely. I was a little concerned that the flavour would only live in the sauce, not be infused through the meat. Wrong.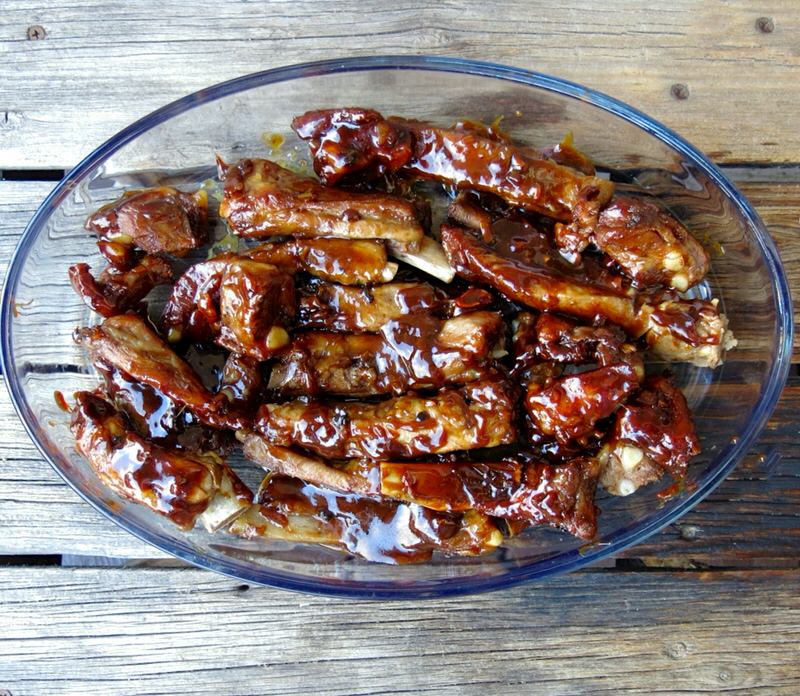 Second batch added to the first, above. Certainly enough for a good family meal. But, not a feast! These are so lovely, and don't forget – bone heavy – that everyone will eat more meat than usual when served this finger lickin' lip-smackin' ribs. Just be prepared for that.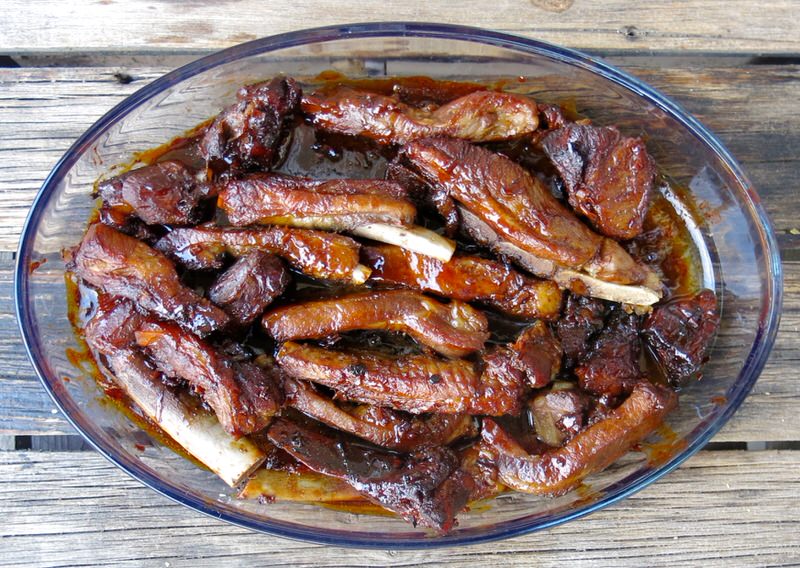 Because I like my ribs falling off the bone, I snuck them into the oven for the last half hour. The sauce sank into the meat and bones. The experience was truly decadent and the work to make them was almost nothing. Believe me. I have made Canadian Sweet and Sour Ribs many times in my life (image below). I am certain that they would still be everyone's first pick in a side by side tasting.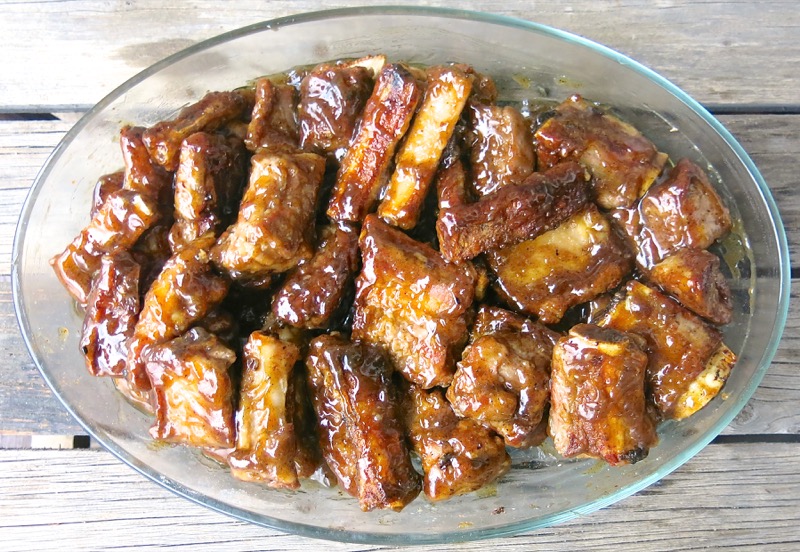 Just take a look at how they are made as they are far more labor intensive, far less healthy, but absolutely eye-ball rolling scrumptious (gutteral groans and all), but I think this new recipe will be my go-to recipe due to its ease of preparation coupled with the added nutritional profile.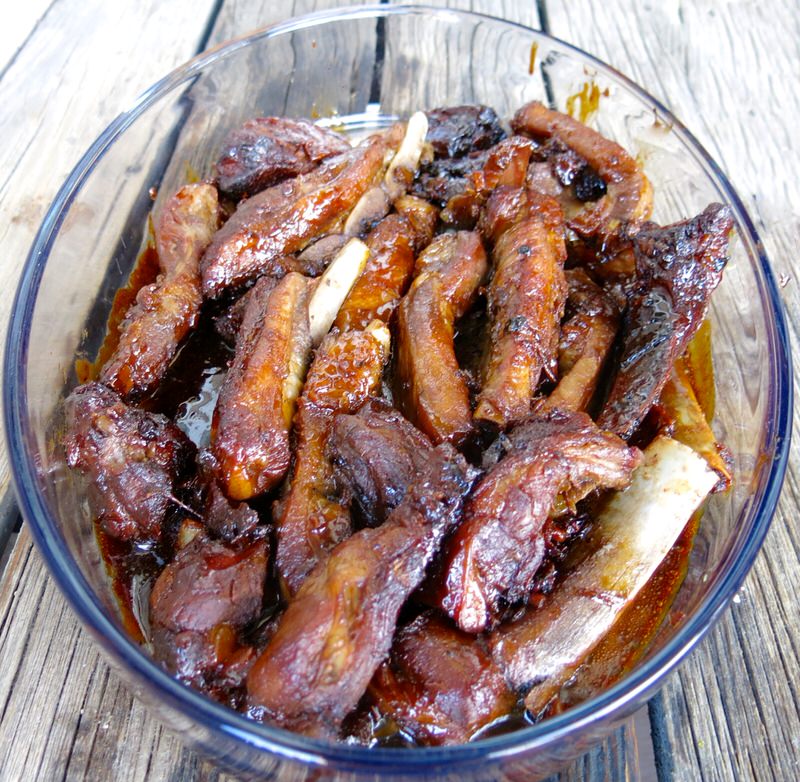 If I was making them for a crowd, I would do four batches, or two sides. In total, this process took 90 minutes with no mess. Double batch would take and extra hour as they would all be baked together for the last 30 minutes.
Thermomix Sweet and Sour Spare Ribs: Serving the Ribs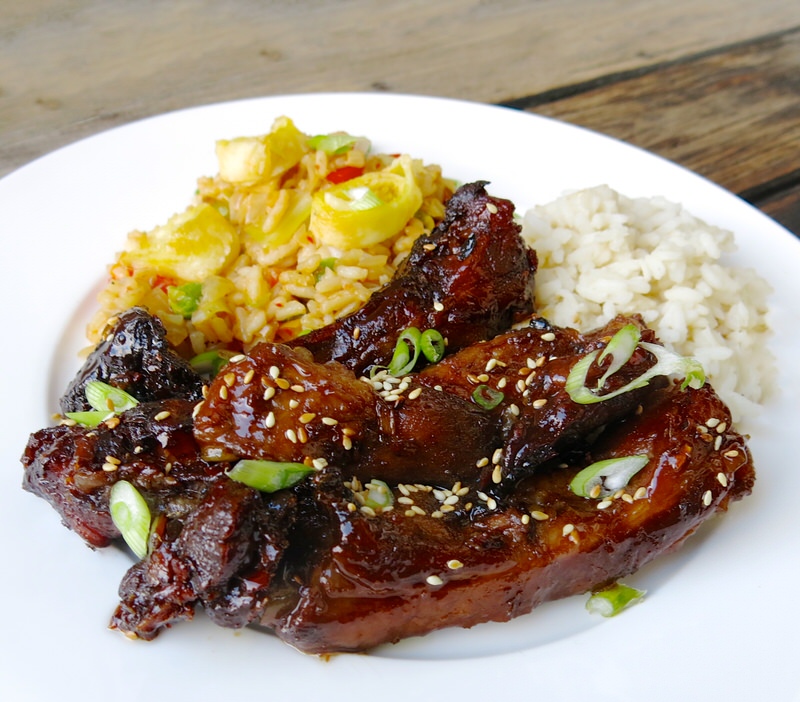 The toasted sesame seeds and fresh green onion brought each sticky porky bite up to the next level.
White rice to soak up the extra sauce is a must. After that, a salad? A veggie stir fry? While the ribs cook at Varoma for 25 minutes, you could definitely pile a huge portion of gorgeous vegetables to steam in the Varoma and have your side ready when the ribs are…. almost. Keep them hot, as the ribs need an extra 30 minutes in the oven. What do you think? If you are making these now, I want to hear about it. Don't be shy! Share your experience with us all.
Thermomix Sweet and Sour Spare Ribs


Thermomix Sweet and Sour Spare Ribs translated from the Chinese Basic Cookbook with special tips. Delicious, nutritious and super easy to make in the TM5!
Ingredients
1000

grams

water

500

grams

pork spareribs cut into 4-5 cm pieces

20

grams

oil

10

grams

fresh ginger

, sliced thinly, skin on

50

grams

rock sugar

30

grams

unsalted Chinese rice wine

(Shaoxing Hua Tiao)

50

grams

rice vinegar

15

grams

light Soy sauce
Garnish:
Toasted Sesame seeds

Spring onion

, sliced thinly on a slant
Instructions
Weigh 1000 grams water into TM bowl; insert simmering basket

Weigh ribs in simmering basket; blanch (see note) or steam for 30 min at 37C on reverse spoon speed

Remove ribs from TM bowl, or remove Varoma; set aside

Wash TM5 bowl; weigh oil and ginger into mixing bowl, sauté 3 minutes at 120C on Speed 1

Weigh in rock sugar, Chinese rice wine, rice vinegar, light soy sauce; add ribs

Cook for 25 minutes at Varoma on Reverse soft speed

Place in casserole dish, uncovered and roast for 30 minutes at 350 F; turning at the 15 minute point (ensure sauce is covering all parts of each rib)

Garnish with Sesame seeds and green onion slices; Serve hot with a bed of freshly steamed rice and steamed vegetables
If using full side of spare ribs:
Prepare two separate batches (as above) with 500-600 grams of ribs per batch; store in warming oven until all ribs are prepared
Recipe Notes
Steaming Ribs
1500-1600 grams ribs will fit into both trays of the varoma. Set time for 40 minutes, temperature at Varoma and speed at 2; steam prior to cooking instead of the blanching process inside of the TMbowl in the water bath at 37 C for 30 minutes. The weight of the ribs will diminish by a great deal and you will be able to just do 2 batches in the Thermomix machine )maximum 600 grams per load)
Steamed Vegetables
A lovely array of thinly sliced vegetables can be steamed in the Varoma during the last 15 minutes of the cooking time for the ribs
Steamed Rice
Rice can be steamed in the simmering basket when the ribs are steaming; however, there is a great deal expelled from the ribs during this process that will flavour the rice
Chinese Basic Cookbook Recipe
I use the sauce from that recipe; however, the steaming ahead, baking after and process instructions are different, and mine.