Asian Garlic Meatballs with Deviant Secret Sauce: Now we're talkin'!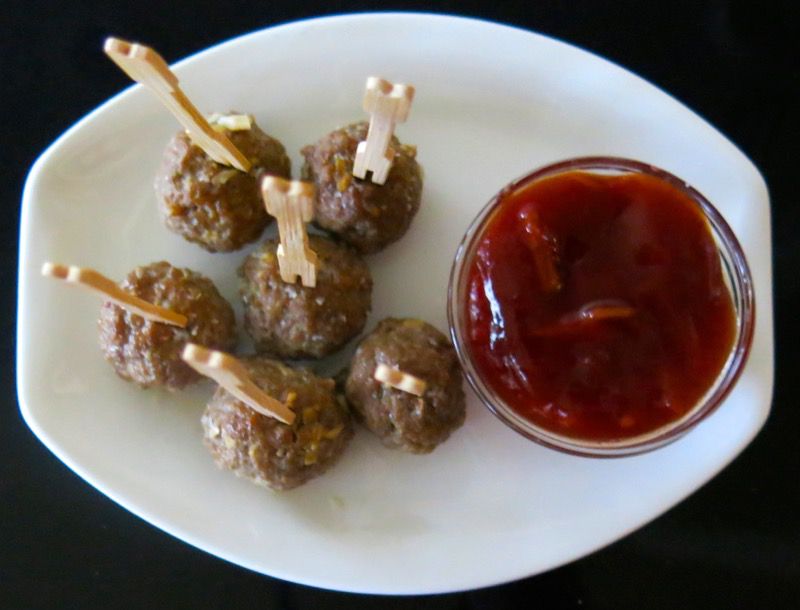 It is rare that I serve Asian Garlic Meatballs individually with dipping sauce. They are usually in a chaffing dish coated with the sauce. It is easier, and perfect for a crowd, and not so secret! The "secret sauce" is my recipe for Deviant Cumberland Sauce and it is a spectacular combination of flavours that sent the Asian Garlic Meatballs to the nth of deliciousness!
There have not been crowds yet, this season, so this works, when there are only a few guests. No, I didn't serve the appetizers as displayed above. I am just giving you a peek into my retro freezer appetizer selection: Olive Cheese Puffs, Mushroom Turnovers, Jalapeno Pepper Jelly Turnovers and the Asian Garlic Meatballs with Deviant Cumberland Sauce.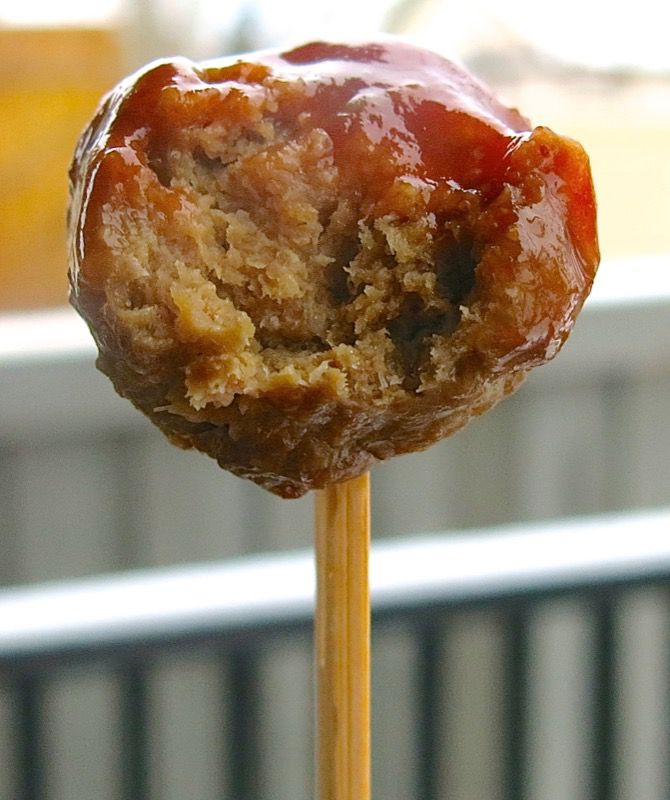 The first elegant cocktail party I attended was hosted by Laura and Bishu Froese for the staff at La Perle Elementary School in the early 1980's. They had purchased their first home. She had worked for months preparing make ahead cocktail bites for this very special event. I still recall standing in the living room of their vintage home, elegantly decorated with white twinkling lights everywhere. There were about 18 dolled up colleagues attending. The food was plated in a circle around their dining room table and about 12-15 different items and about 24 of each. This was before the internet. Before I was reading Bon Appetite or Gourmet or any such food focused material. Laura's party was my first experience with food styling and food presented in an aesthetic and elegant fashion within the home setting. The background music enhanced the aromas. Everything was perfect. What she called "Chinese Meatballs" were the mos unusual taste for me at the table at this time in my life.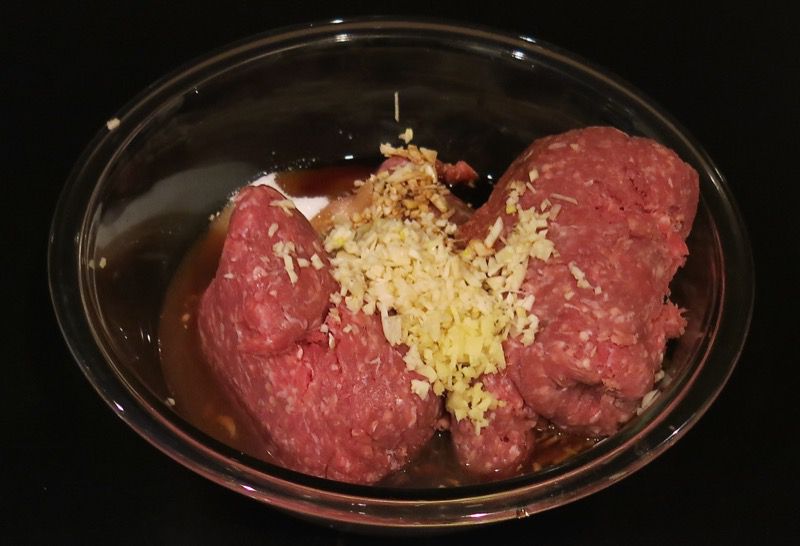 She very generously shared her recipe and they have been a staple at all of my future parties, with only a few tweaks. Very easy to make. Very intense in flavour. A pairing sauce is essential to tone down these bold little balls.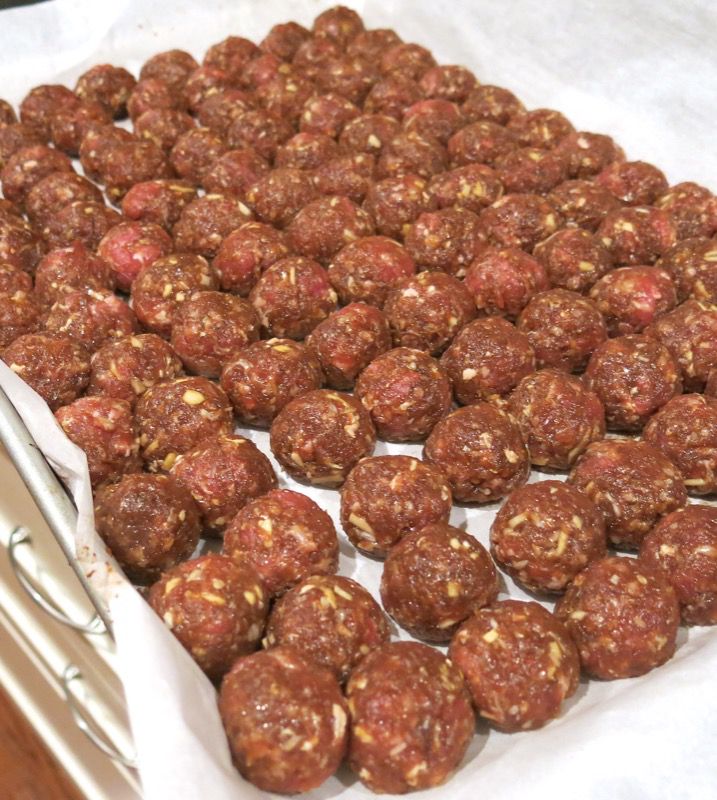 I watch a lot of good movies during "make ahead freezer appetizer" month. The ingredients are put together quickly and combine well. Rolling to get the size of each similar is important. Above, raw and below, cooked. Can you see the shrinkage?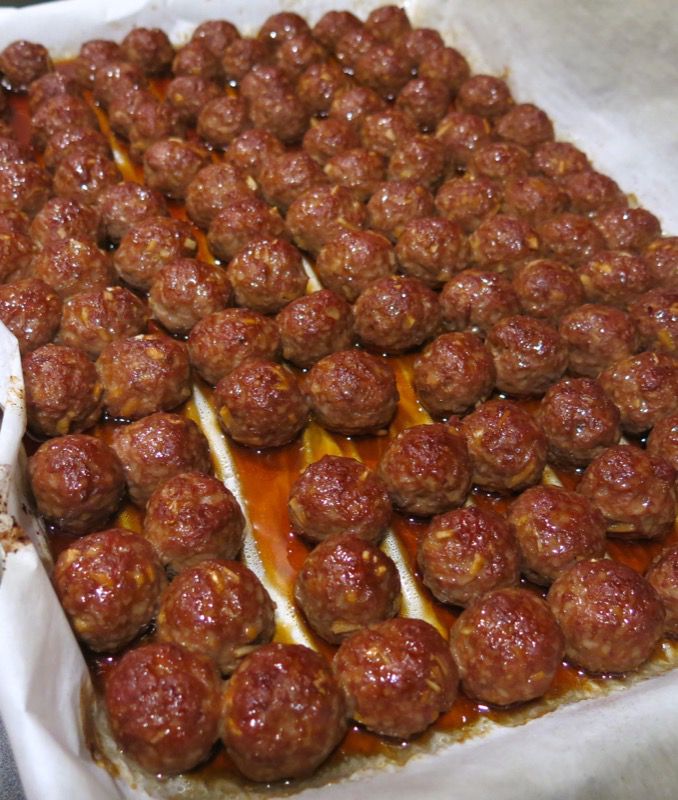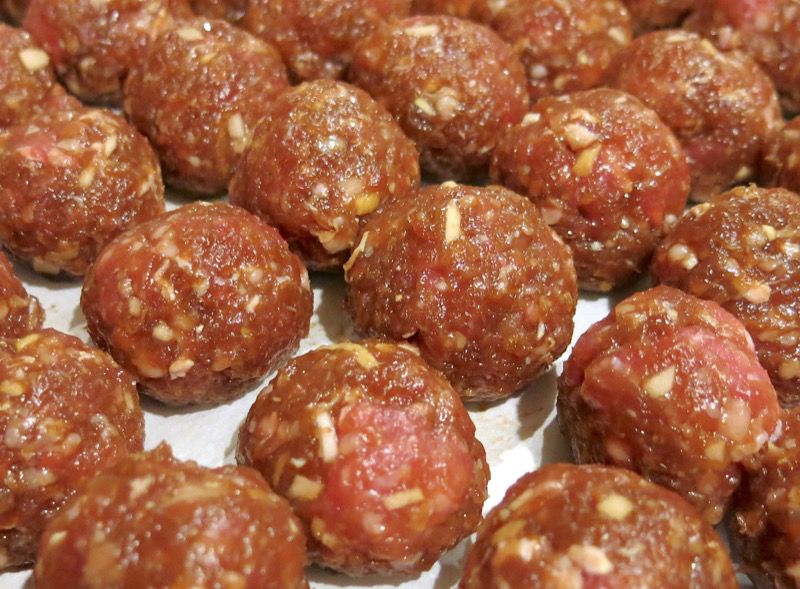 Above raw and below, cooked. They do need the full amount of time in the oven and they will shrink considerably in size.
Cool, freeze on clean parchment lined cookies sheet and repackage in labeled and dated freezer proof zip lock bags or in casserole dishes with Deviant Cumberland Sauce – however you plan on serving them in the future.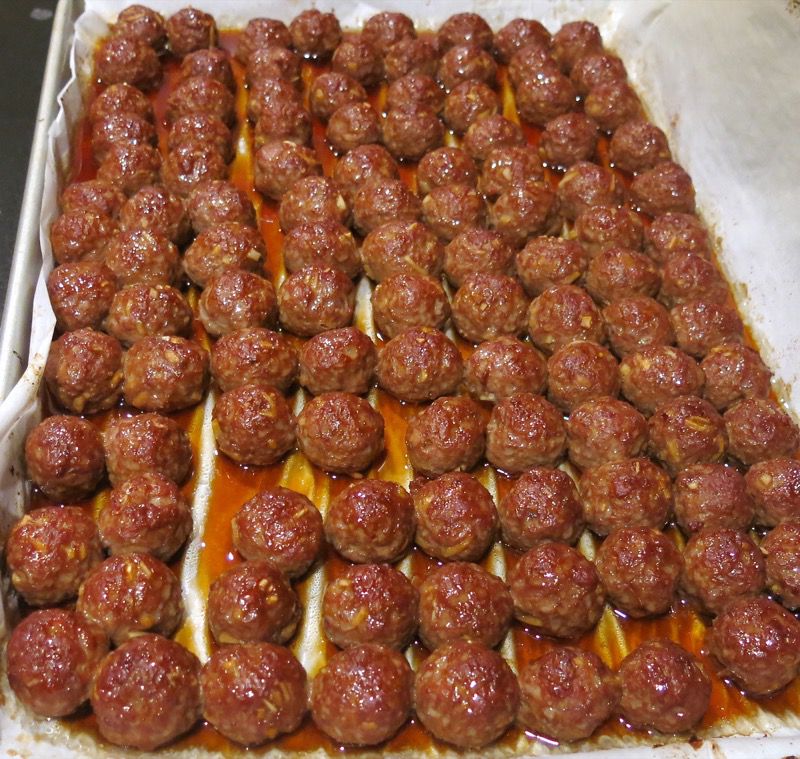 What does 100 cocktail sized meatballs look like? Like the sheet, above: 106, to be exact.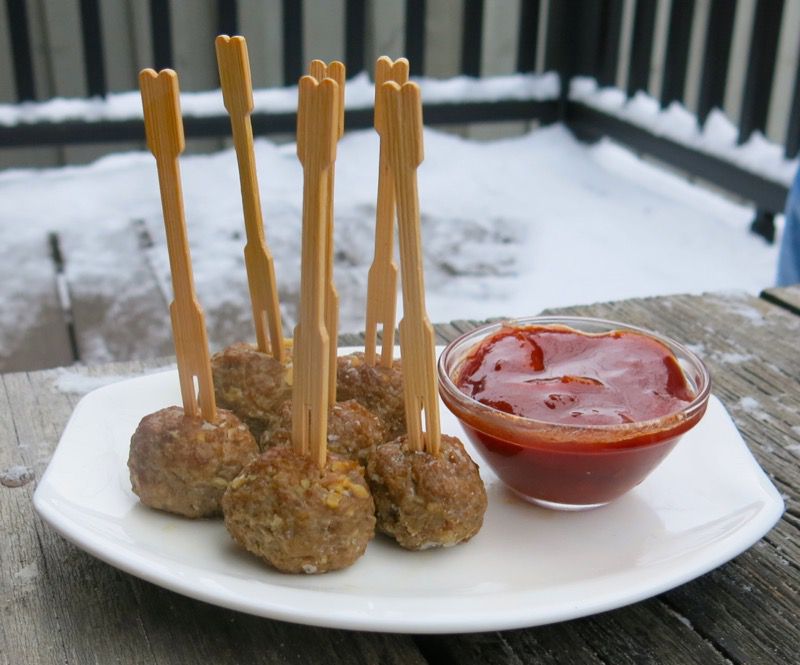 Clearly, these meatballs are no longer hot or warm, and they really are best that way.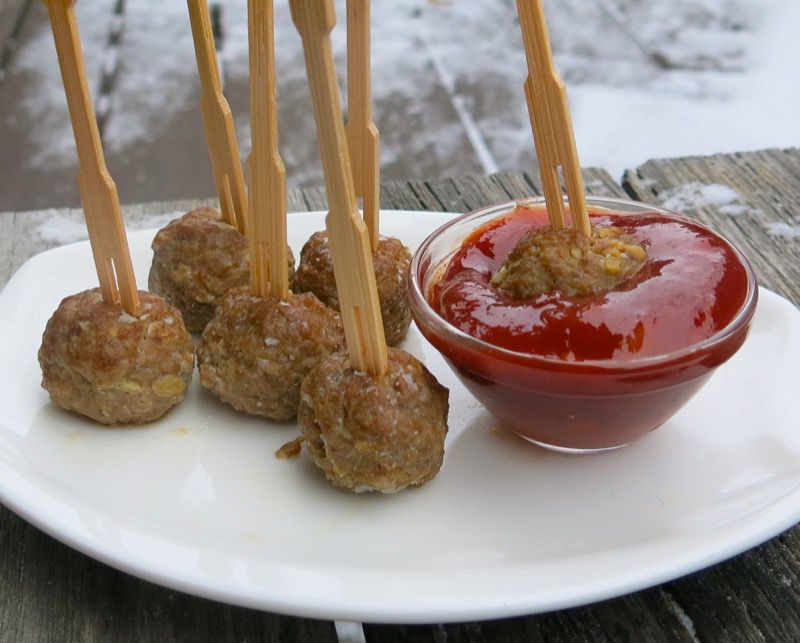 The dipping sauce will be used for a variety of savory bites. even fingers, so be sure to watch your guests closely.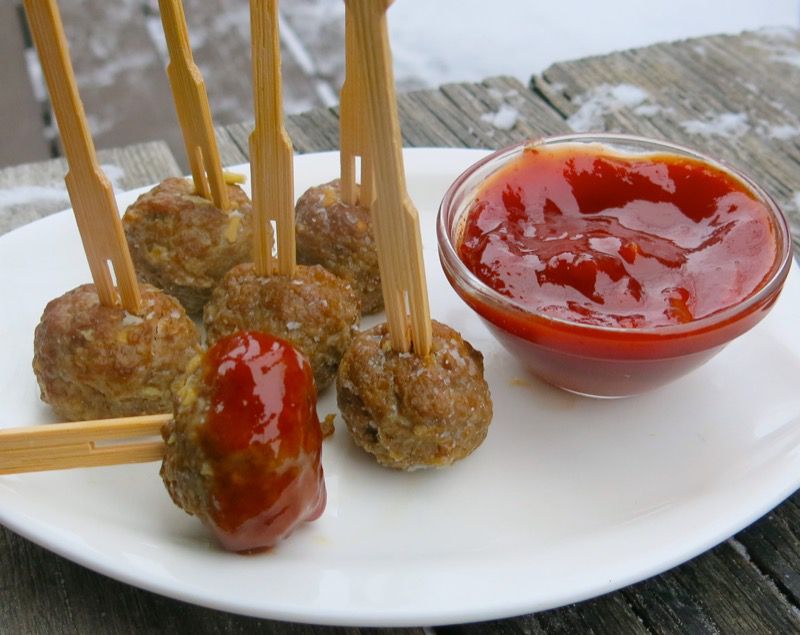 I am on a meatball quest. If you have a favourite "to-die-for" tried and true cocktail meatball recipe that you are very proud of or that is a family and friend favourite, please do share it in the comments section below. I already have one from Peggy, a reader who shared in an earlier post, that I will be making later today: Ham and Sauerkraut Balls. I cannot wait!
So, on with 2015. On with cooking great food with our friends and families in our home kitchens and on with sharing your retro recipes with me!
Asian Garlic Meatballs
This is an ACF Original recipe inspired by eating many meatballs dipped in many sauces. It is a favourite of my friends and family. Theaccompanying
Deviant Cumberland Sauce
is a must. Hope you love it, too!
Total Time
2
hours
30
minutes
Ingredients
1 ½

kilo lean ground beef

1 ½

c

soya sauce

(scant)

¼

c

sherry or port

(generous)

1/8

c

freshly grated ginger

6

cloves

of minced garlic

¼

c

sugar

(scant)

green onions for garnish

(which I only do when served in a chaffing dish)
Instructions
Combine all ingredients, and using the smallest ice cream scoop, form 100 small balls

Place touching on parchment covered cookie sheet as there will considerable shrinkage

Preheat oven to 400°F bake for 30 minutes; freeze overnight after cooled, individually on a parchment covered cookie sheet

Store in zip lock freezer bags until ready to use.

Preheat oven to 350°F; heat frozen meatballs individually, or decorative casserole, from frozen (about 15 minutes)

Slice greens of onions in sleeping cut, very thinly, to garnish meatballs on platter or serving dish

Serve with toothpicks and Deviant Cumberland Sauce
Recipe Notes
Toasted sesame seeds are another tasty garnish that look and taste great sprinkled over this dish