Reboot Keto Spaghetti and Meatballs: with NuPasta made from Konjac!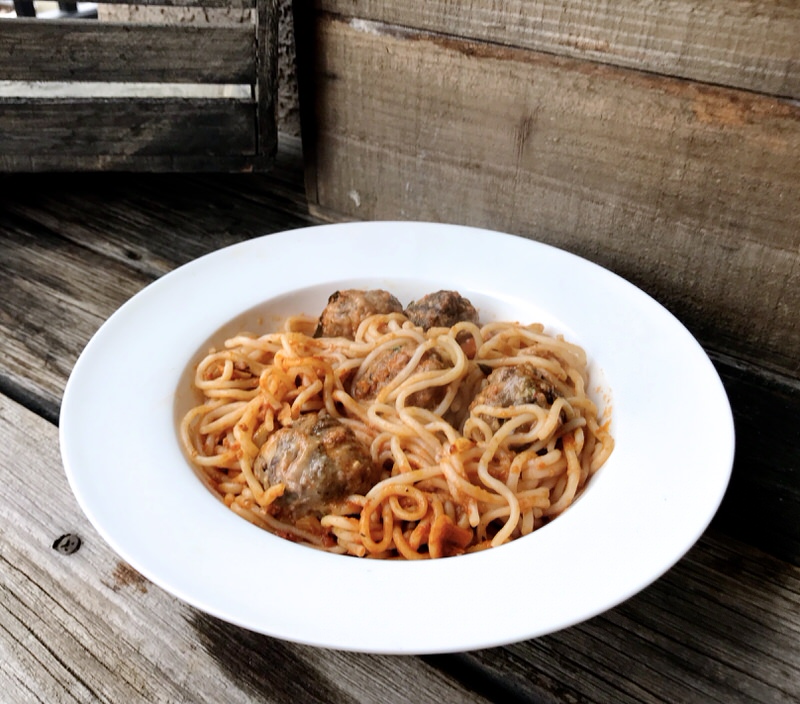 Look yummy? It is!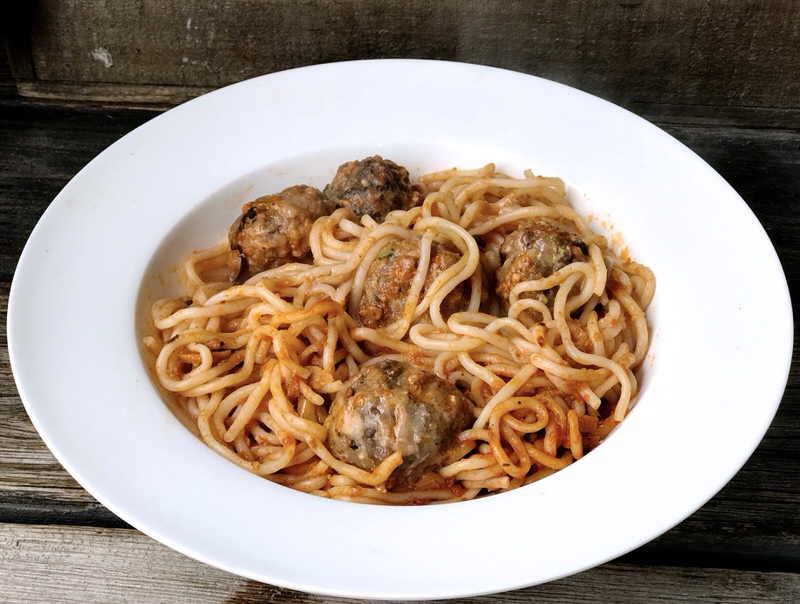 Even Vanja likes it – and readers know he's not so easy to please: definitely a man with a discerning palate.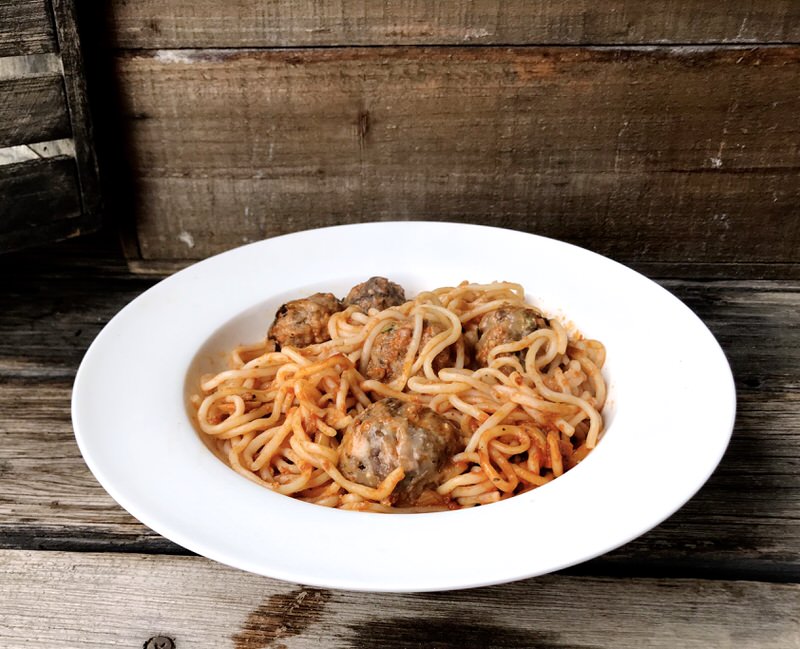 And, I confess, not too modestly, that this is an absolutely scrumptious delicious, nutritious meal in a bowl that hits all the markers for Phase 1 of my Evolv Health Total Reboot program.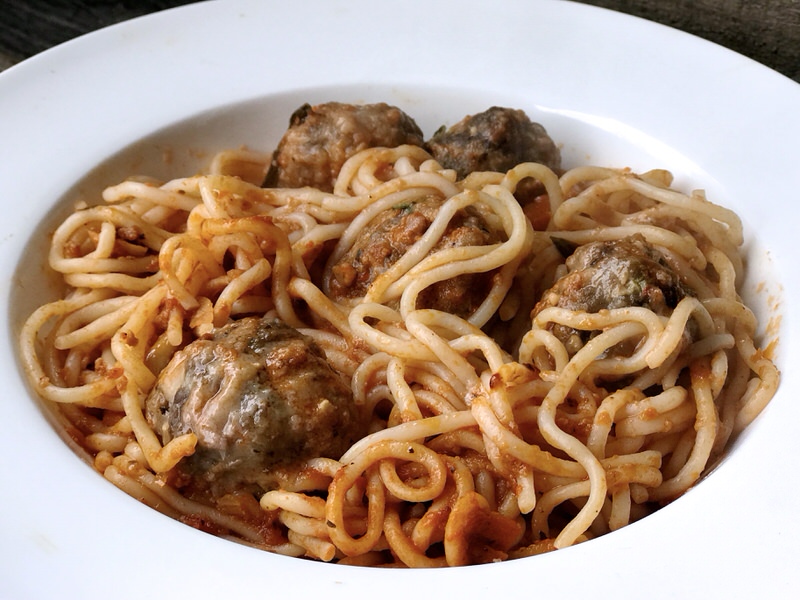 A little challenge I have given to my family: enjoy your pasta! And, they did not know it wasn't pasta!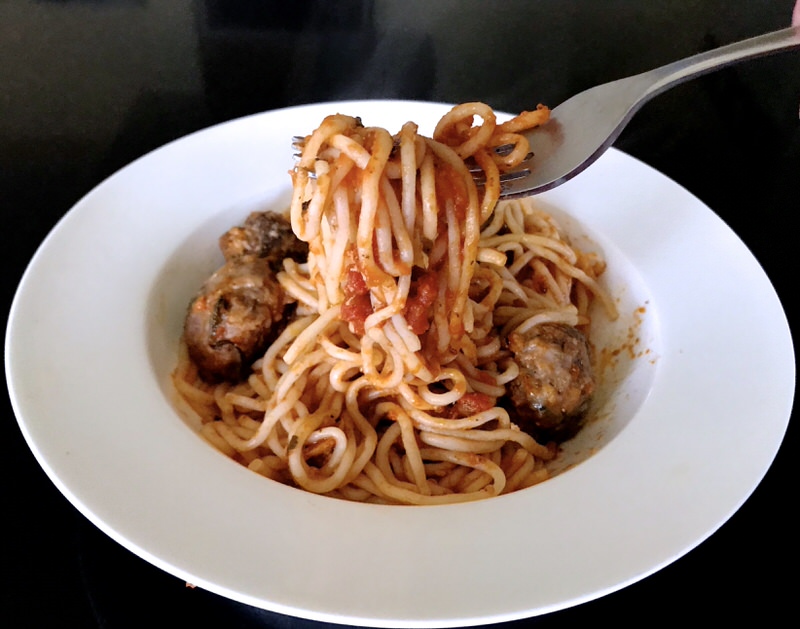 Try it and let me know what you think? If you are like me, in phase 1 of Evolv Health Total Reboot your gut health eating program, you will be smitten, methinks!
Reboot Keto Spaghetti and Meatballs: What's Konjac?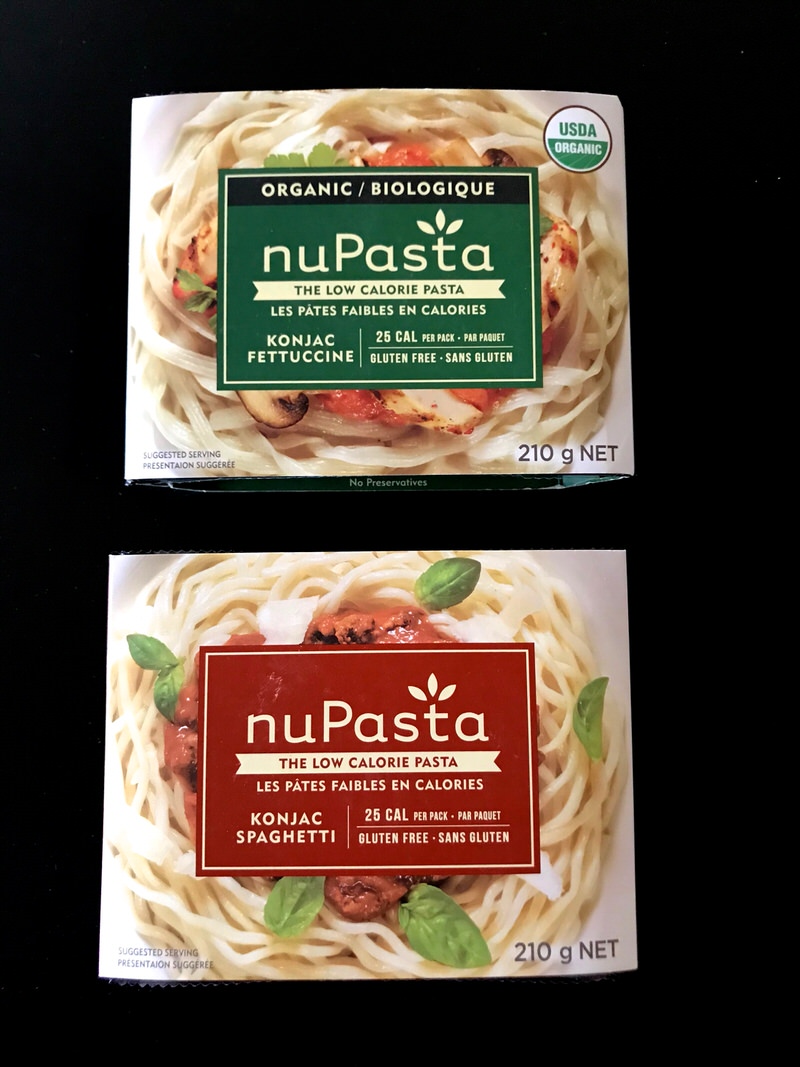 NuPasta is made with konjac. Konjac? It is a Japanese tuber or root in this case stabilized with rare non-GMO soya bean. Konjac itself possesses zero carbs, zero fats and zero protein. What? Wrap your head around that one! Konjac is 100% fibre and as fibre promotes good gut health, is an incredible find for those of us on a low carbohydrate eating program wanting to reboot our gut health. Who knew?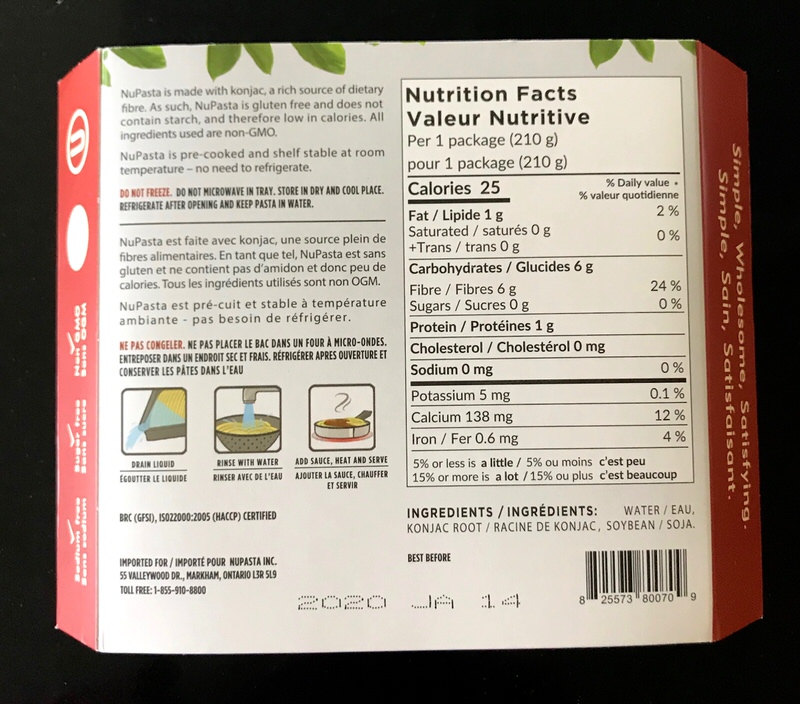 I learned about this incidentally from a seat partner on a flight. Of course, I wrote it down, as it just seemed too good to be true. I could not find it anywhere in Edmonton in its natural state. The above product is, of course, refined Konjac with non-GMO soya and water. This version does have 6 grams carbohydrates, 1 gram fat and 1 gram protein for the entire container, but look at the fibre!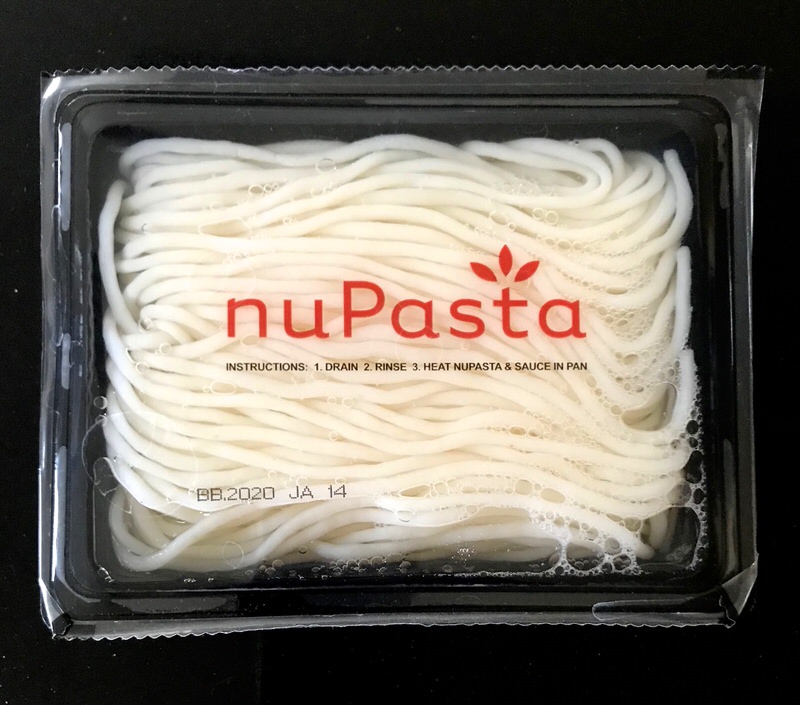 Who would imagine you could find a shelf-stable healthy substitute for pasta that is good for your gut, has great texture and with sauce, amazing flavour. Talk about a welcome reprieve in the middle of a gluten and grain free landscape.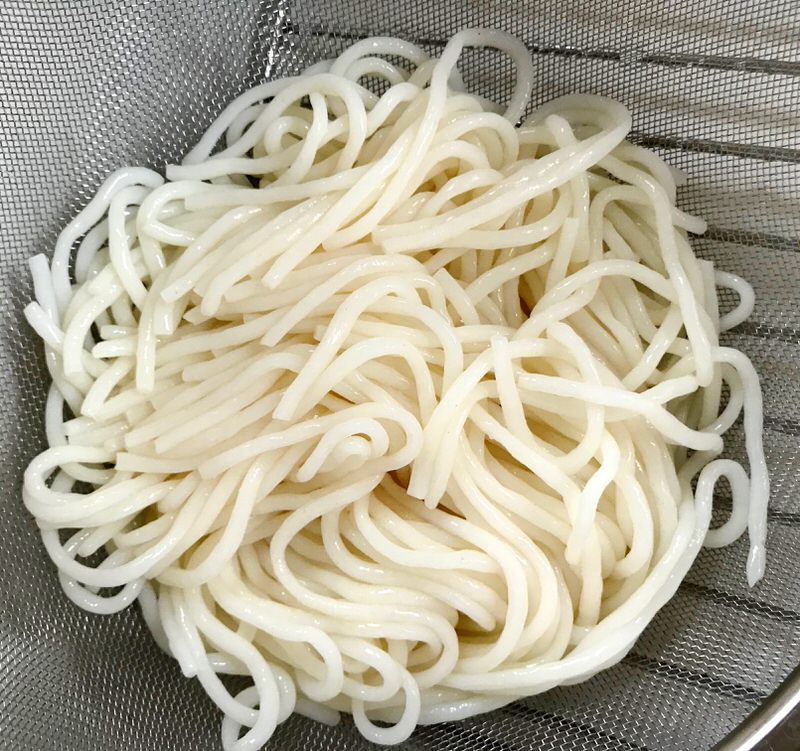 One package is one serving. It is packaged in liquid and shelf stable for about a year. It is not economical as it is about 4 Canadian dollars per serving, but certainly affordable on occasion when on this kind of eating program. In Edmonton, you can find it in the Health food aisle of Superstore and in the Gluten Free section of Wallmart.
Reboot Keto Spaghetti and Meatballs: Where're the Meatballs?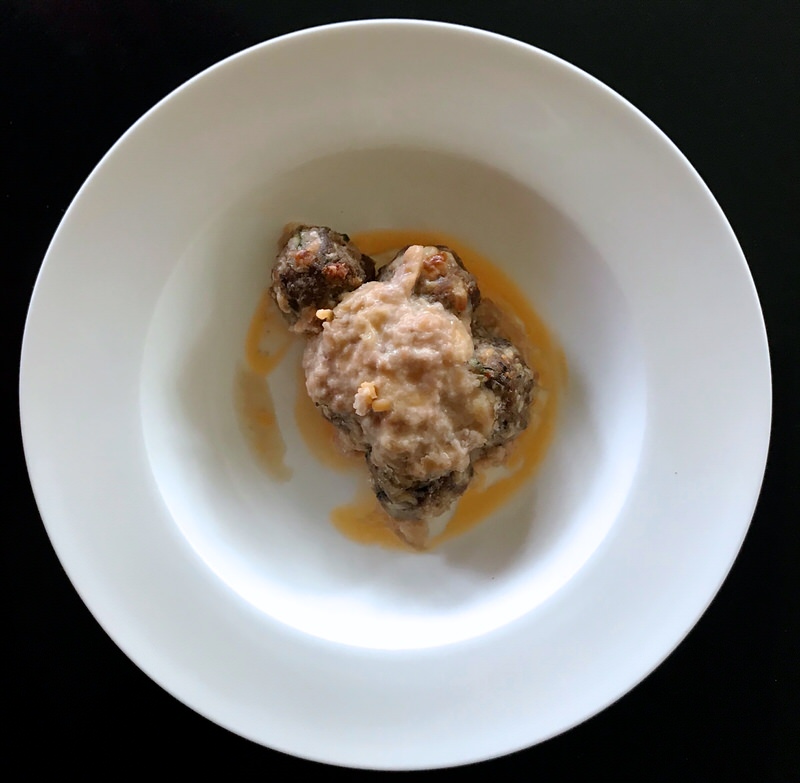 Of course, I have an endless supply of Reboot Cheesy Keto Meatballs individually packaged (5 per bag) in my freezer: into a serving bowl to thaw.
Reboot Keto Spaghetti and Meatballs: Where's The Tomato Sauce?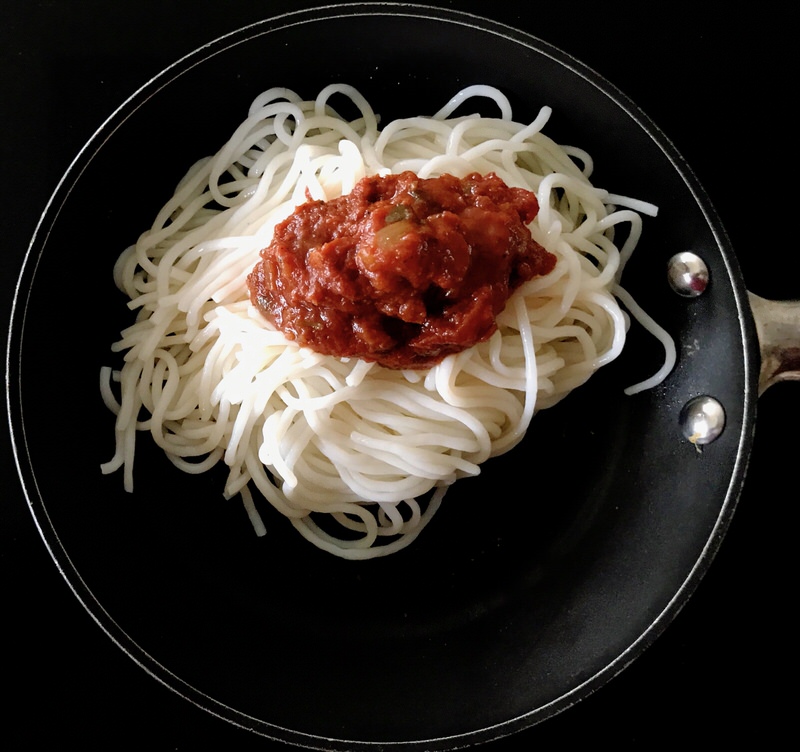 And the tomato sauce? Not "just" tomato sauce, but "The Best Ever Homemade Tomato Sauce"! Come on! Of course! A family stable.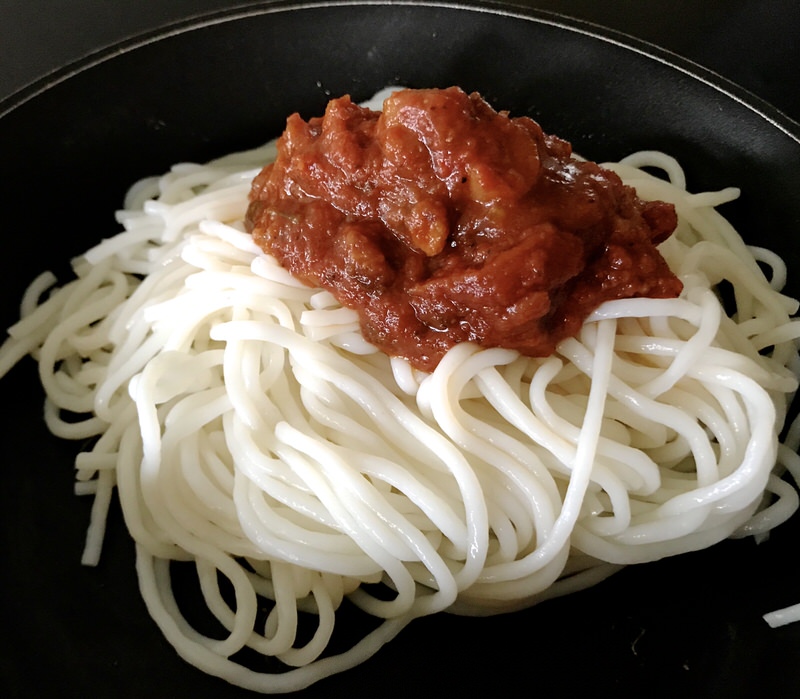 Every fall, I make a couple of big batches of this recipe and freeze in cup-size bags, labelled and dated for just such tasty moments. Out of the freezer, about 1/4 cup of the sauce over the well-rinsed pasta and into a small pan to heat up.
Reboot Keto Spaghetti and Meatballs: Putting it All Together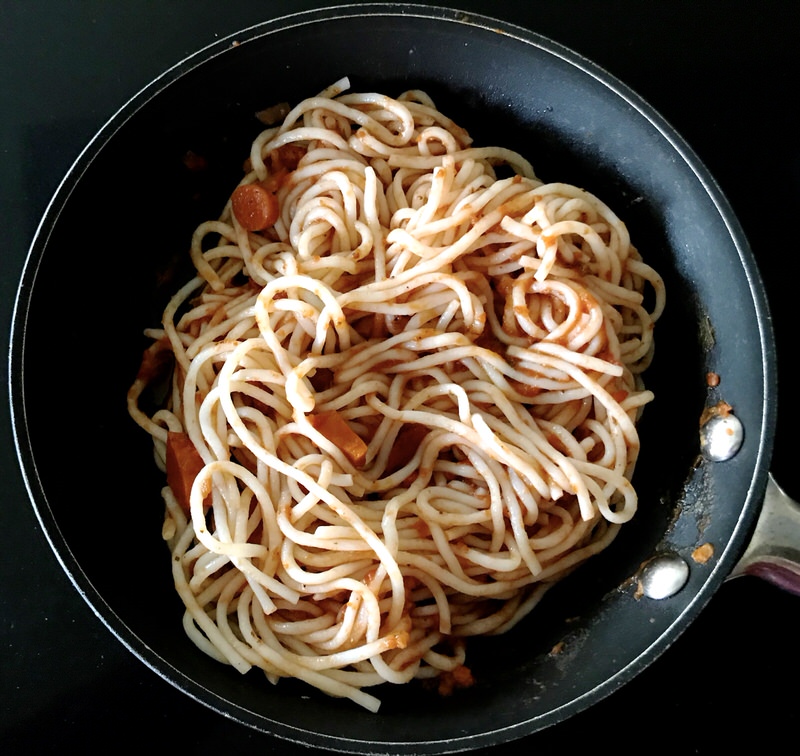 Difficult? Nah!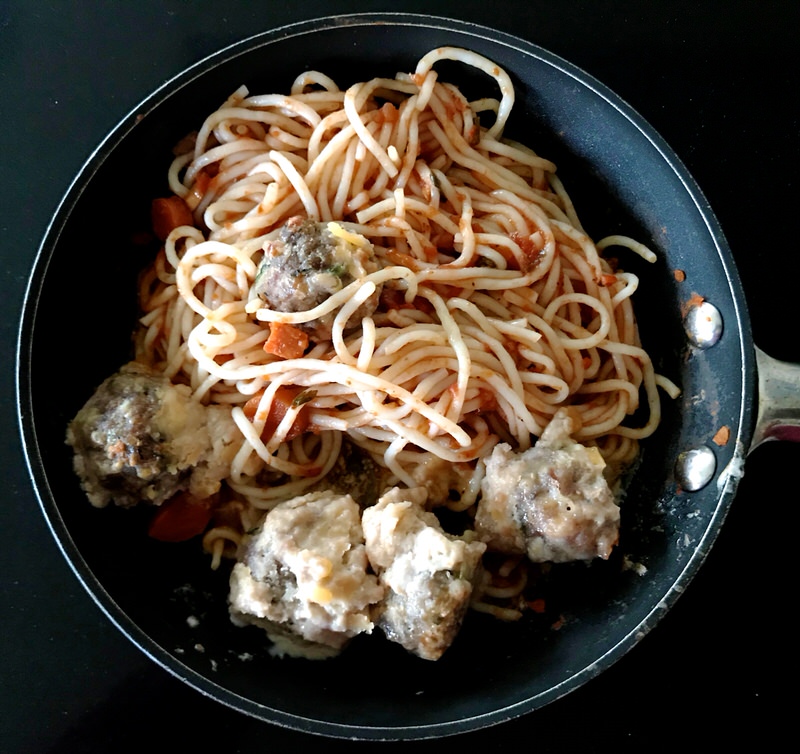 Toss in the thawed meatballs to warm up and disperse that delicious cheesy fat and flavour. It is seriously that easy!
Reboot Keto Spaghetti and Meatballs: Guilt-Free Scrumptiousness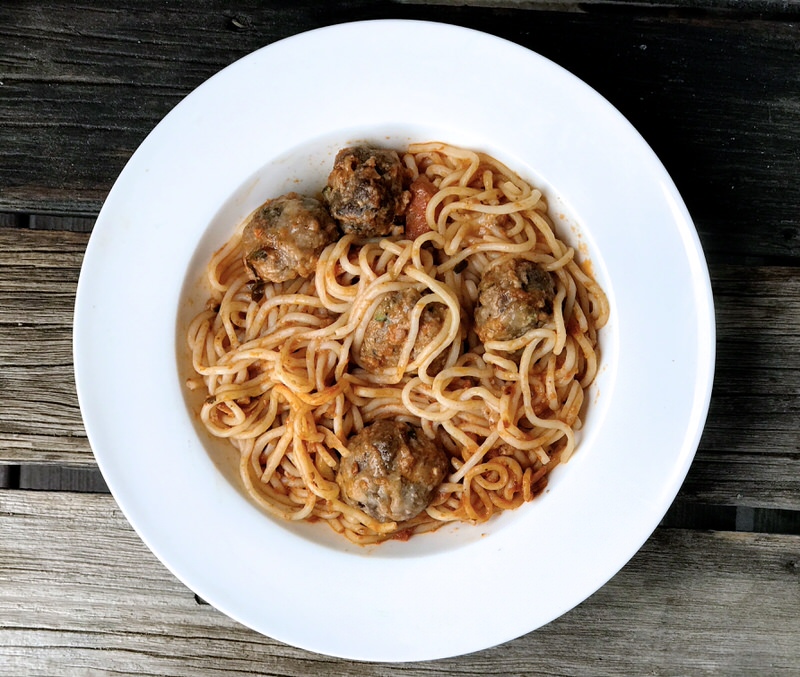 We enjoy "fast food" at our house often. It is not the unwrap-and-zap kind you can get from the ready-made aisle of Costco or your favourite local M&M or any other myriad of places what sell unwrap-and-zap foods.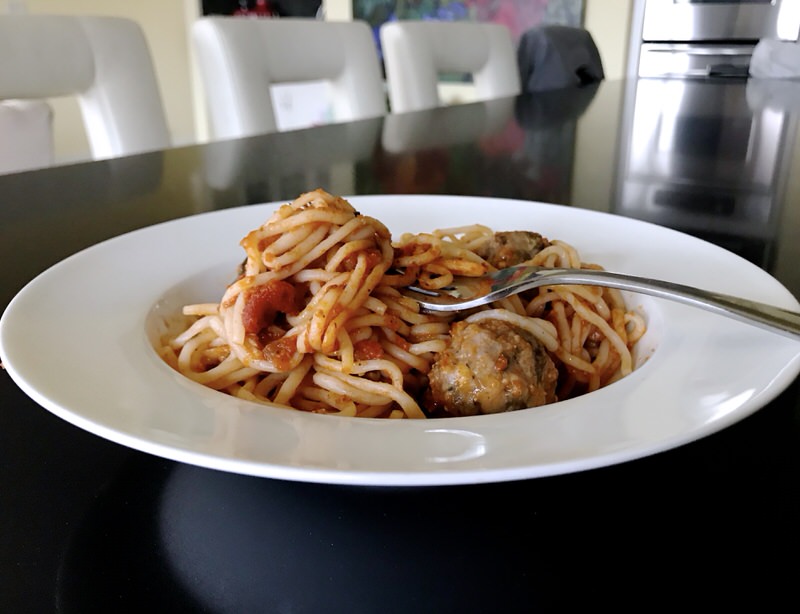 It is my thoughtful, healthy, homemade in advance version of unwrap-and-zap. Why?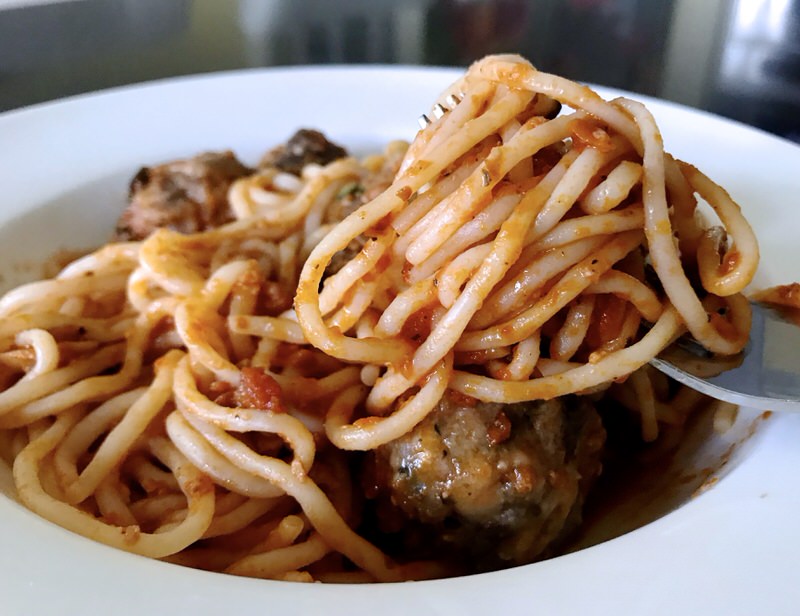 Because unwrap-and-zap is crap. (My favourite new saying)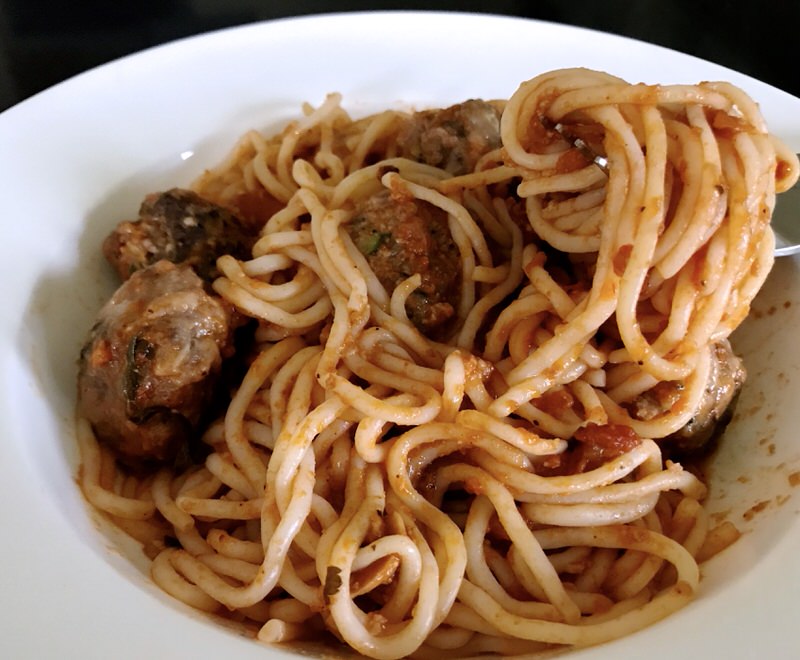 So many preservatives, chemicals, fillers and unknowns as well as too often made from low-grade quality food. When I cook, I make big batches. I get as busy and as tired as the next person, but instead of piling my freezer full of "unwrap-and-zap crap", I fill it with delicious, nutritious homemade food that can be unwrapped and "zapped" or heated effortlessly.
After all, we truly are what we eat! Look at me! I'm 63! And still learning how to do it right every single day. Sure hope you enjoy this Project 2019: Evolve Health Reboot recipe as much as we do at our house! If you want to join us me our quest toward complete revitalization, leave a comment below.
This recipe is one of many from Project 2019: Evolv Health Reboot – Join Me!.
If you make this recipe, let me know! We sure love it at our house!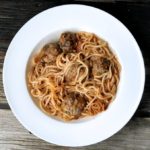 Reboot Keto Spaghetti and Meatballs
Reboot Keto Spaghetti and Meatballs are Cheesy Keto Meatballs atop a foundation of full fibre Konjac pasta with the BEST EVER homemade Tomato Sauce.
Ingredients
Ingredients for the Spaghetti
1

package

NuPasta Konjac Spaghetti
Ingredients for the Sauce
1/4

cup

Best Ever Tomato Sauce; recipe link in notes section
Ingredients for the Reboot Keto Cheesy Meatballs
5

meatballs

recipe link in notes section