Mixed Meat Grill: Every Carnivor's Delight!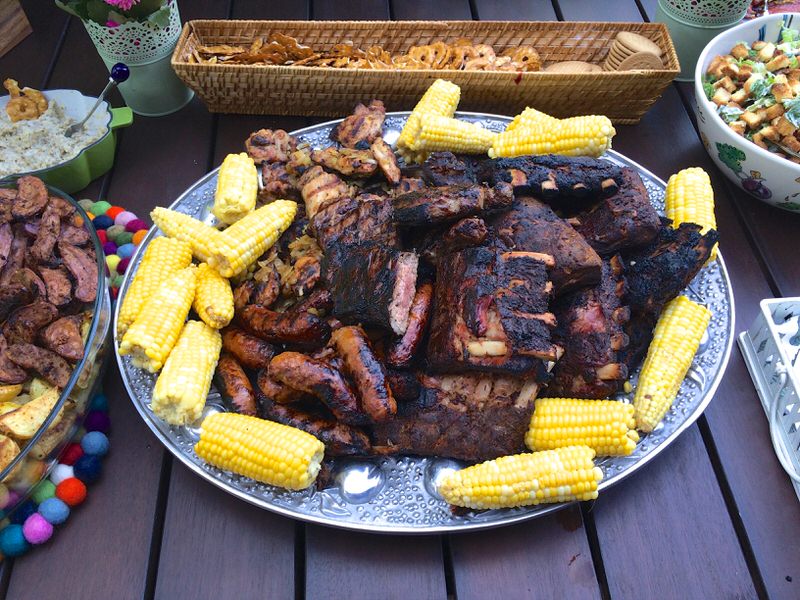 Mixed Meat Grill. The Mixed Meat Platter has been a traditional staple of the fervent carnivores from the former Yugoslavia for hundreds of years. The more "authentic" version can be read about here.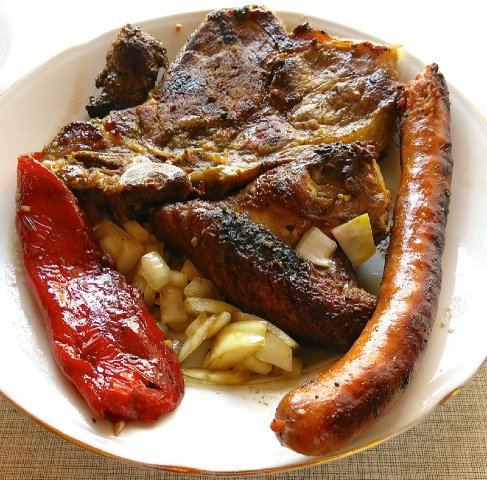 Every time we visited Vanja's family there, we would have a rostilj or barbeque with a base of pork schnitzel, chicken, cevapi, long Weiner-like sausages and veal, above.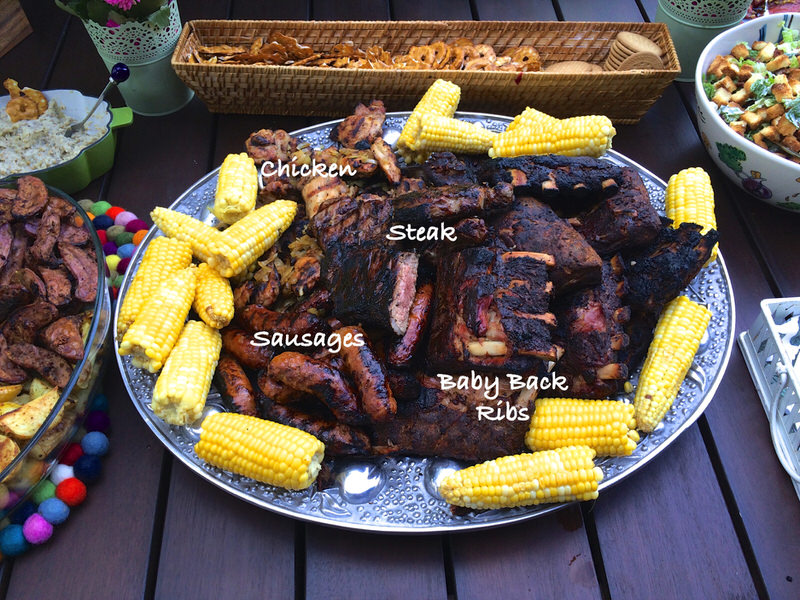 So, what better menu to serve our Brazilian friends when their family came to Canada to visit them? Everyone knows Brazilians are also exuberant carnivores!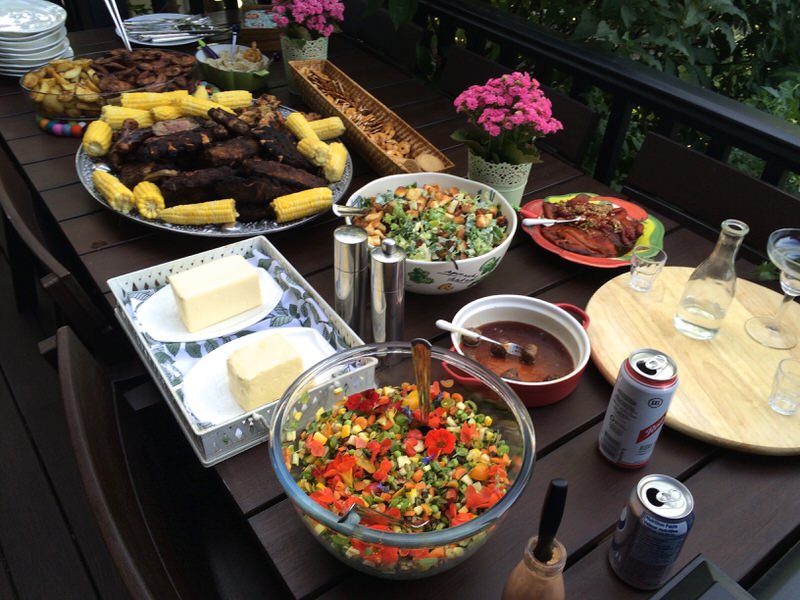 Tamara and Renato had many relatives coming to Edmonton to see them for the first time, and we so excited. We wanted to share in their enthusiasm and let their family know how much we appreciate both Tamara and Renato – thus the dinner invitation. A Canadian barbeque with the Mixed Meat Grill!
Mixed Meat Grill: Must Include a Great Cocktail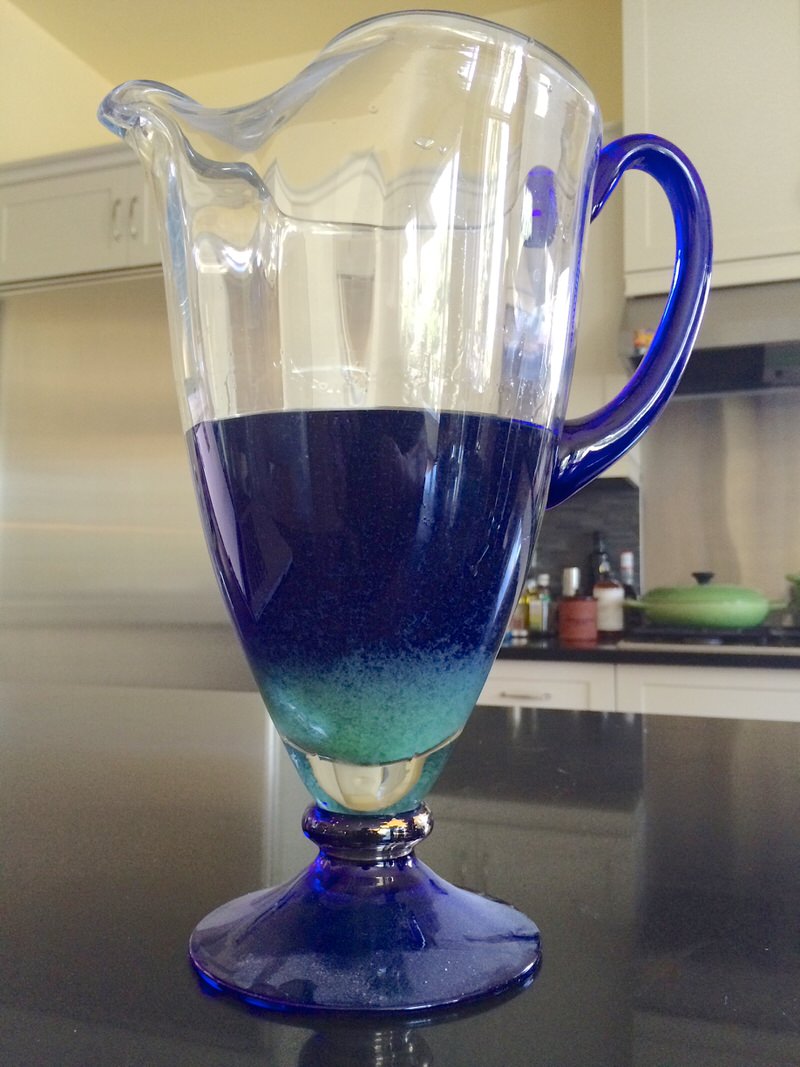 Years ago, Vanja invented what we called the "Blue Moon" as a foil to my beloved (at the time) Cosmopolitan Martini. The Blue Moon holds similar drama and appeal. My Cosmopolitan had 2 shots of vodka, 1/2 shot of Cointreau, a shot of Cranberry juice and 1/2 a shot of lime concentrate. I would always drop an orange zest strip knotted into each glass. Po-tent! The Blue Moon has 2 shots of Vodka, 1/2 shot of Parfait Amour, and 1/2 a shot of lime concentrate. It could be served as a Martini (as the Cosmo, shaken well with ice, and poured) or, as a milder more civilized cocktail, topped with a spritzer. We made sure we poured each of our guests the Martini version, and then let them help themselves to the drinks on their own, afterward.
Mixed Meat Grill: Preparing the Sausage and Chicken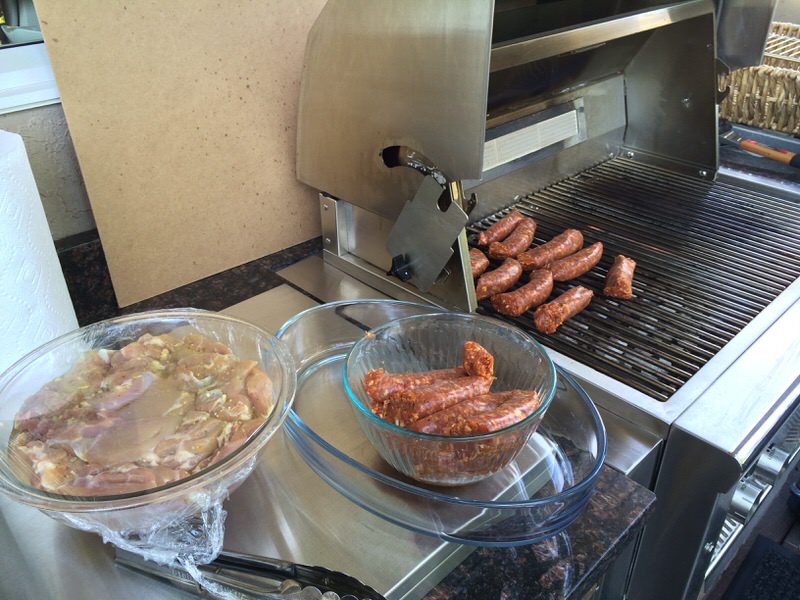 Mild Italian Sausage and chicken thighs were ready for the grill.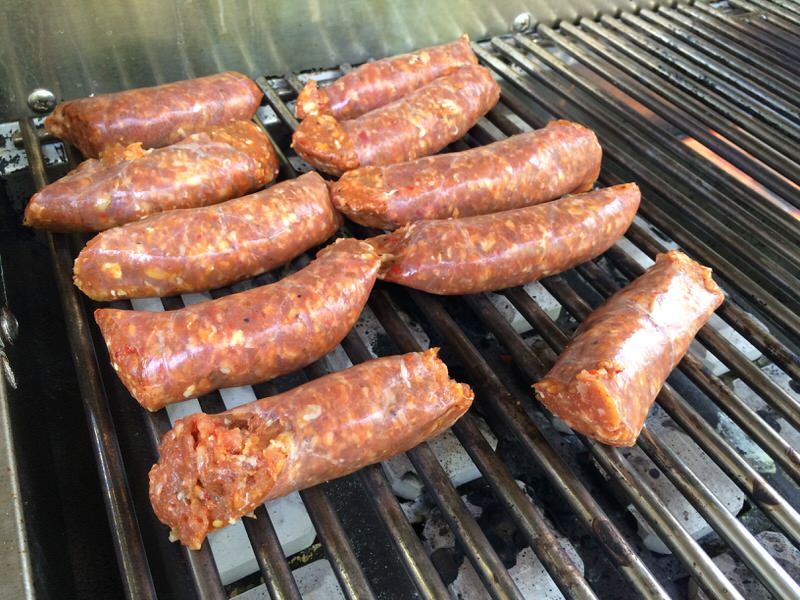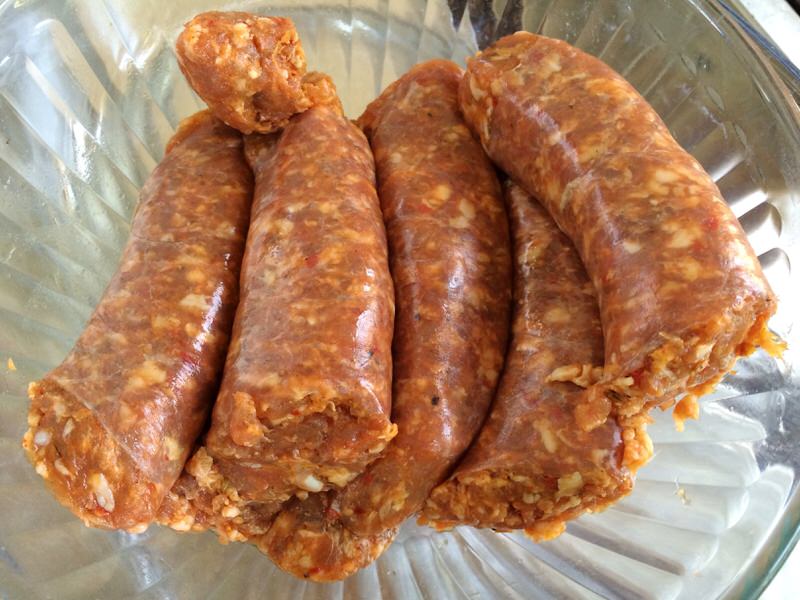 We have made our own sausage, but Vanja was loving the mild Italian from The Italian Centre at the time.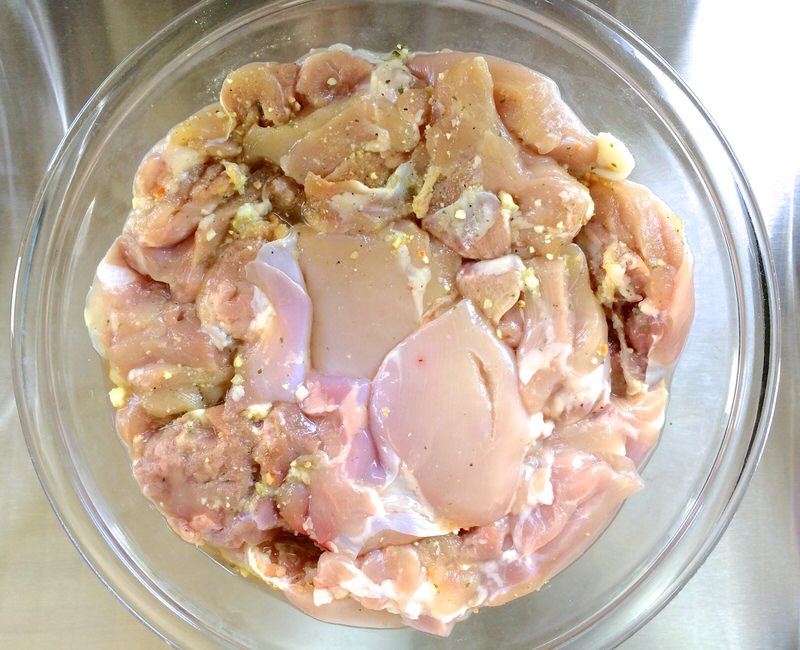 I always "marinate" any meat I grill with a good sprinkle of Vegeta. No barbecue sauce on this day.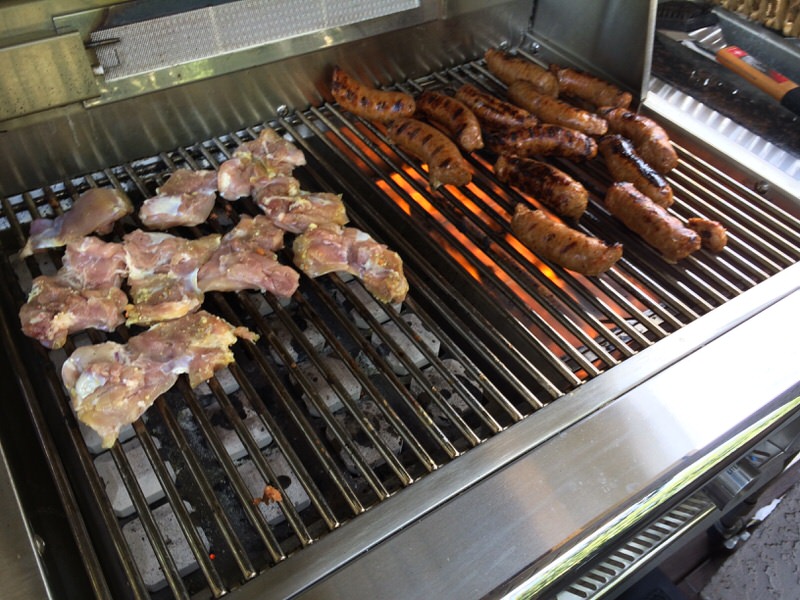 As I was grilling a bit in advance of "the feast", searing the chicken and sausage would be enough as the could continue to cook in the oven where I would keep them warm.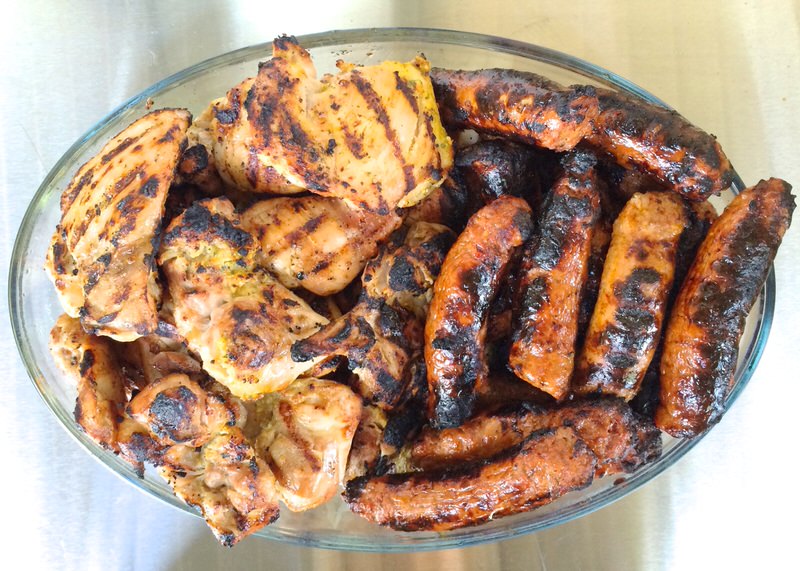 Can't you just taste it?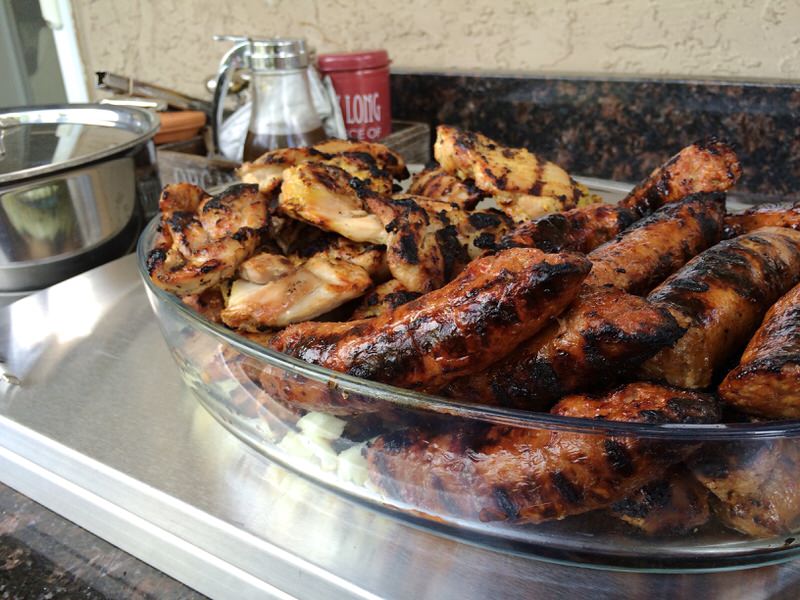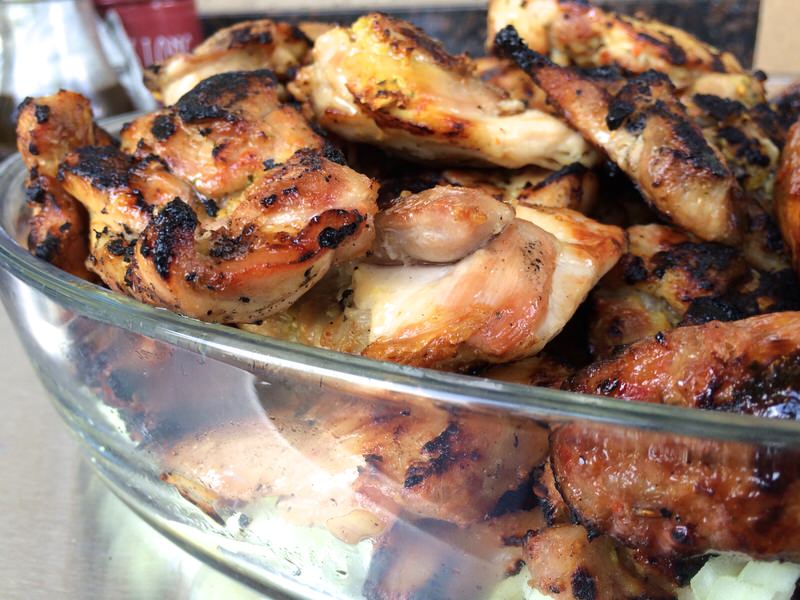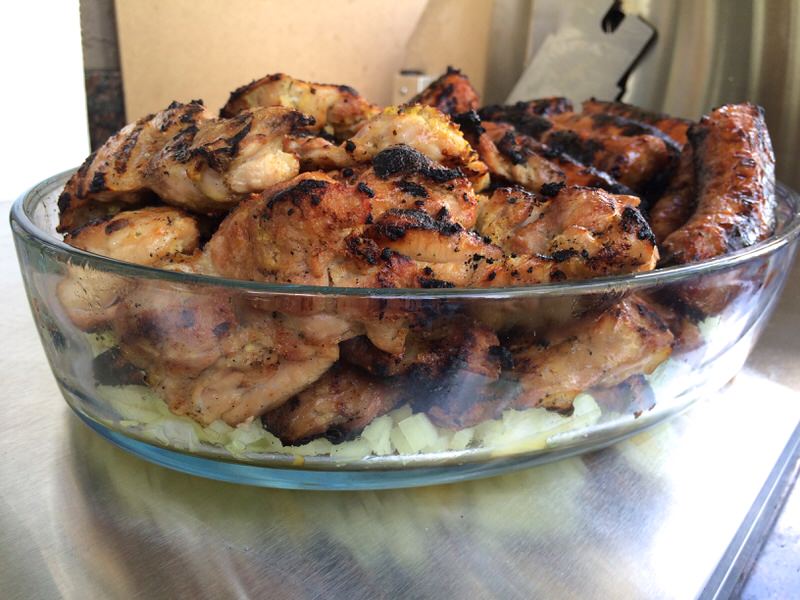 Vanja's dad always puts the freshly chopped onion into the bottom of the pot for the grilled chicken to drip into. The onion will cook as the meat is kept warm and with the drippings, makes a very tasty accompaniment to the grill.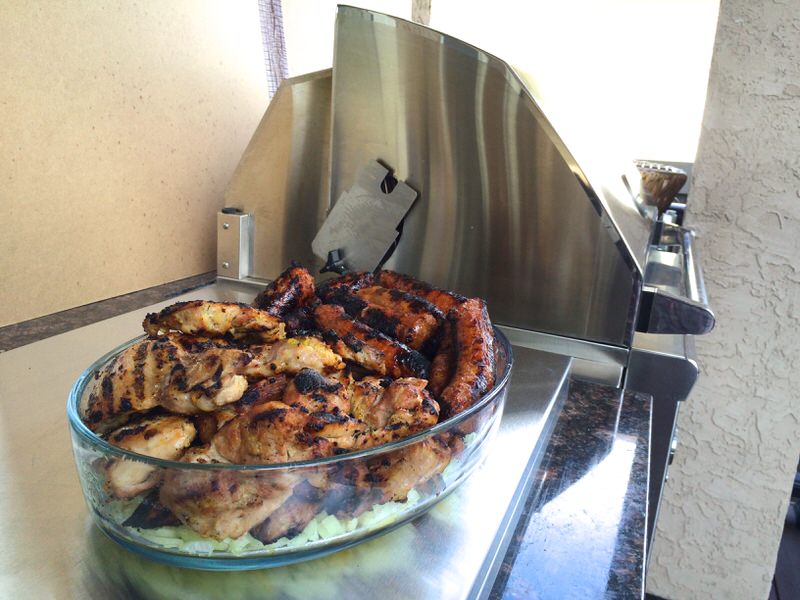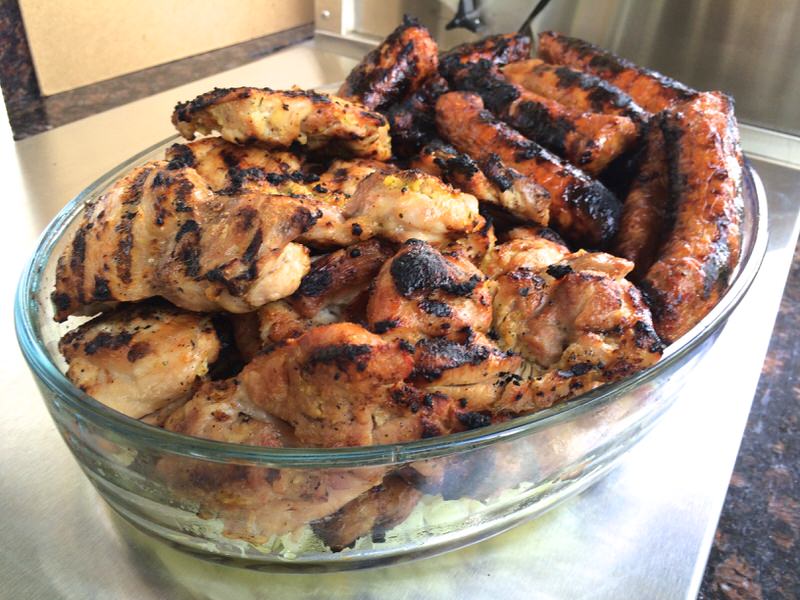 Ok. Enough ogling at the chicken and sausage. Onto the rest of the menu.
Mixed Meat Grill: Preparing the Corn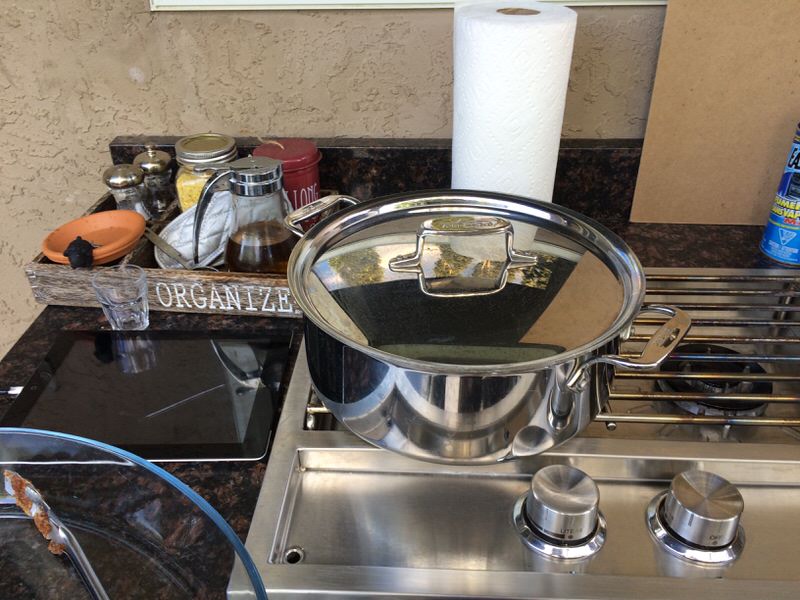 I have to say, having this gas burner outside of my kitchen door is a life saver. Originally, I had wanted the meat-searer here, and the grill to be double wide. But, as miscommunication happens, this one was a winner.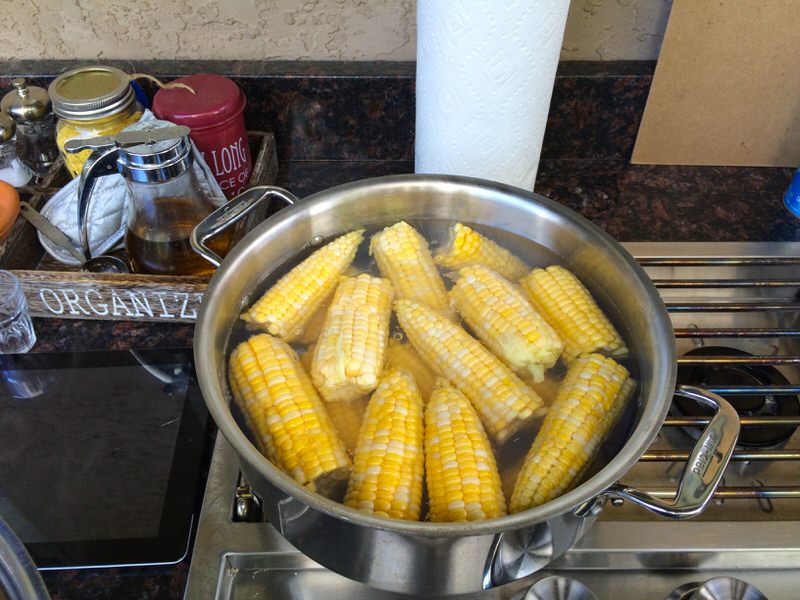 Gorgeous sweet Peaches and Cream Taber Corn in the pot and cooking while I grill up the rest of the meat.
Mixed Meat Grill: Grilling the Sous Vide Ribs
Grilling my sous vide ribs is very simple as the meat is already cooked. Just working at getting a good sear.
Mixed Meat Grill: Grilling the Steaks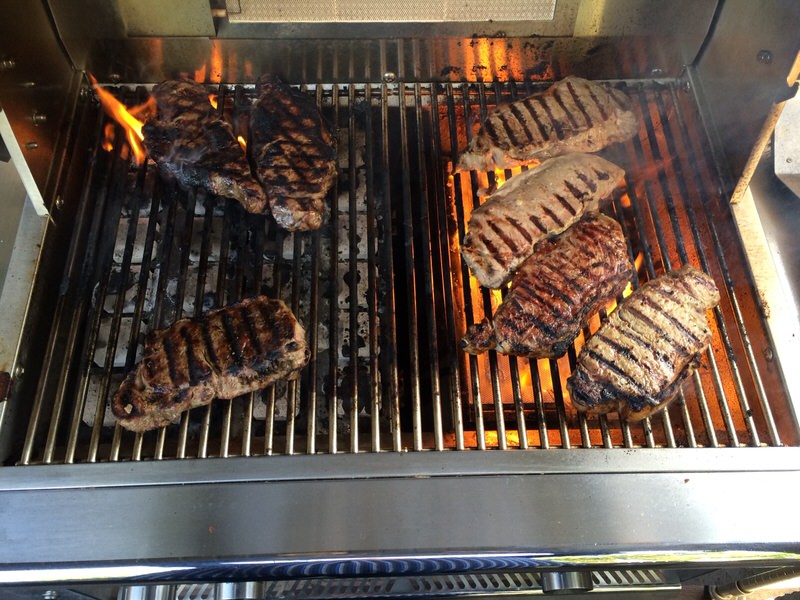 So, a traditional mixed meat grill would not have Alberta Beef on the menu, but every mixed meat grill at our house will! There's nothing like a rare juicy know-your-Alberta-farmer grass-fed strip loin steak!
Mixed Meat Grill: Appetizers Abound While Grilling is Happening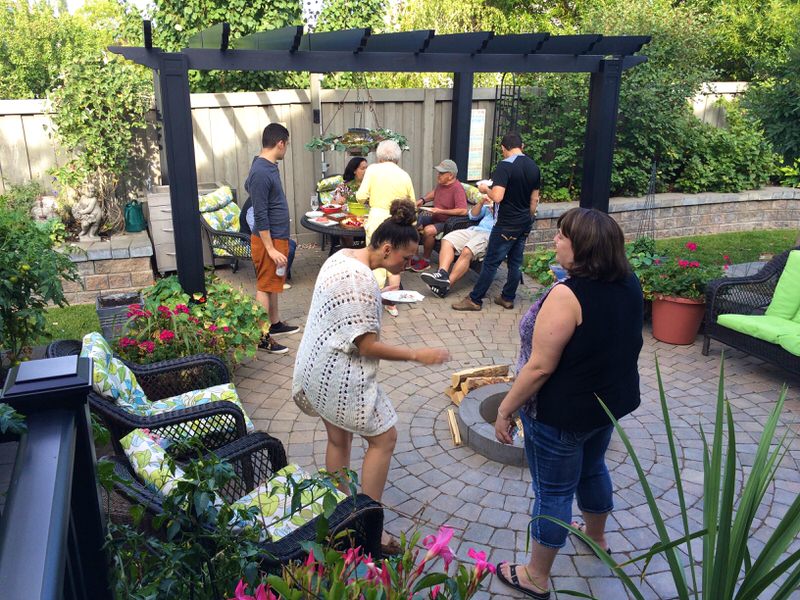 While I am infused with the Eau-de-perfume of the evening aptly named "Blue Smokin' Eve", guests mingle and chat while enjoying a few bites set out to nibble on while the meat is on the grill.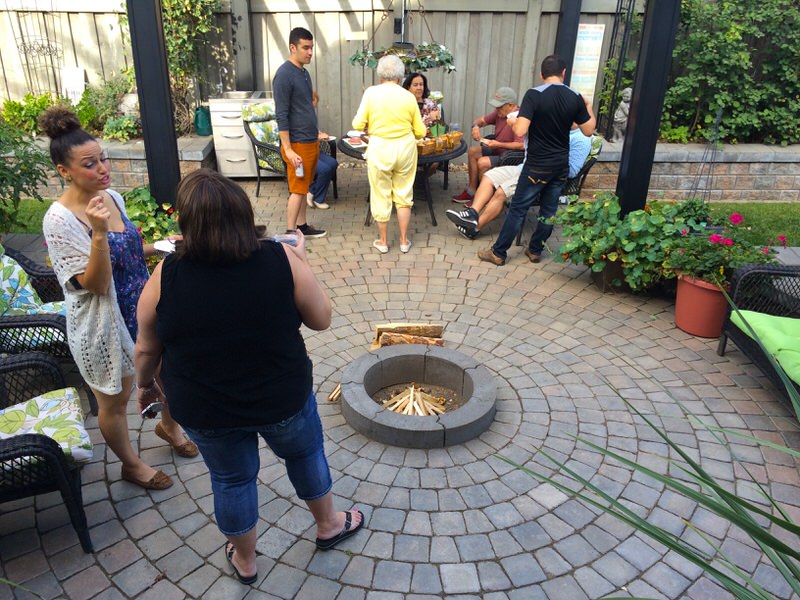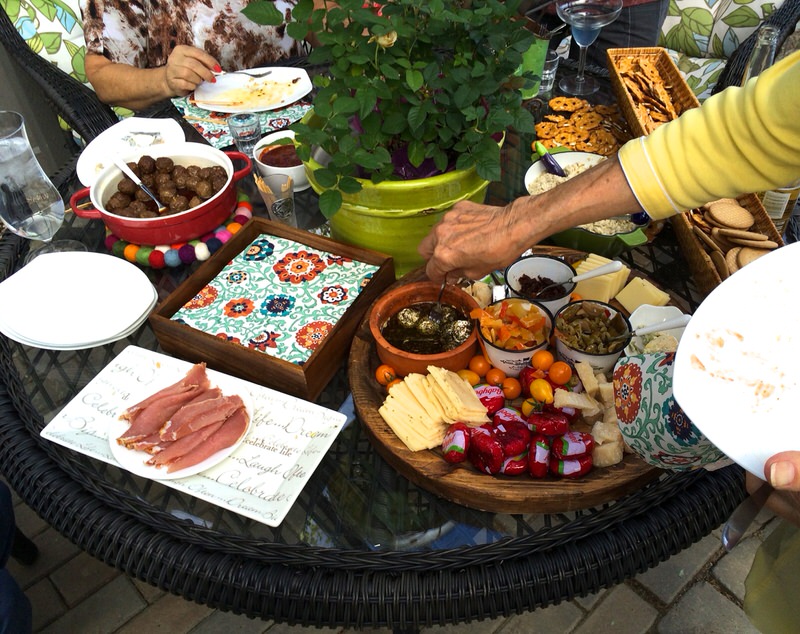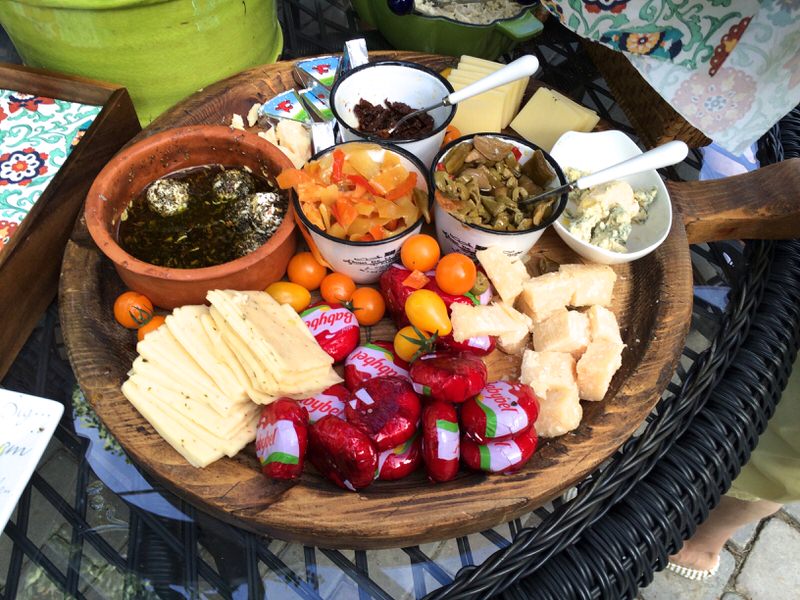 My very favourite and famous Yogurt Cheese Balls, above, with my homemade Giardiniera, a variety of cheese, sundried tomatoes, tapenade and the like.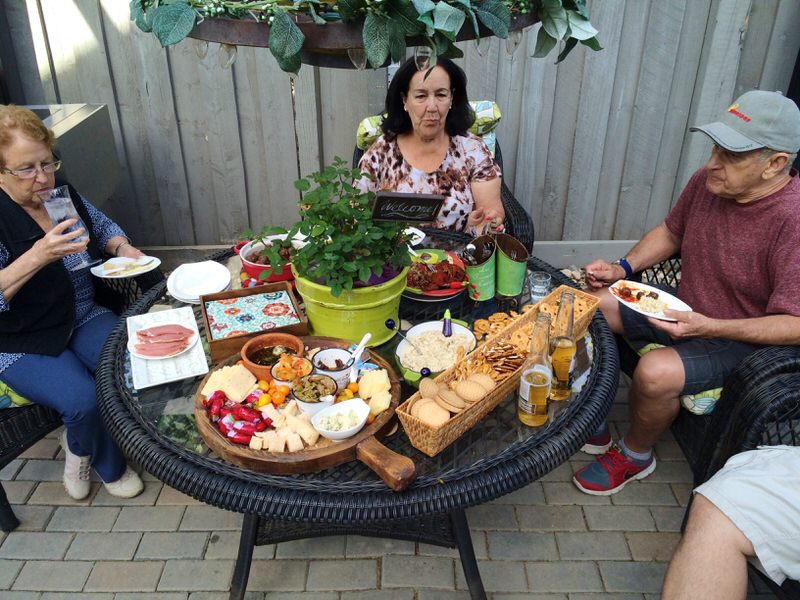 I also made a hearty dish of Eggplant Salad, another family favourite also known as Baba Ganoush. I had a plate of roasted red pepper salad, olives, meatballs, prosciutto and crackers ad nauseam. To be honest, the nibbles are usually my favourite part of the meal!
Mixed Meat Grill: Prairie Garden Summer Salad is Ready to Serve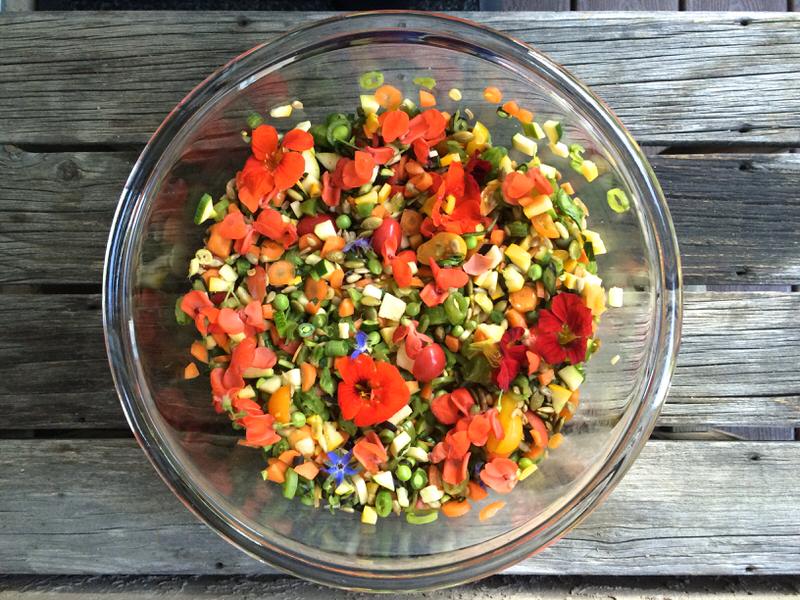 This Prairie Garden Summer Salad is the ultimate celebration of the harvest of summer. Every summer vegetable possible is in this salad with a gorgeous black currant dressing.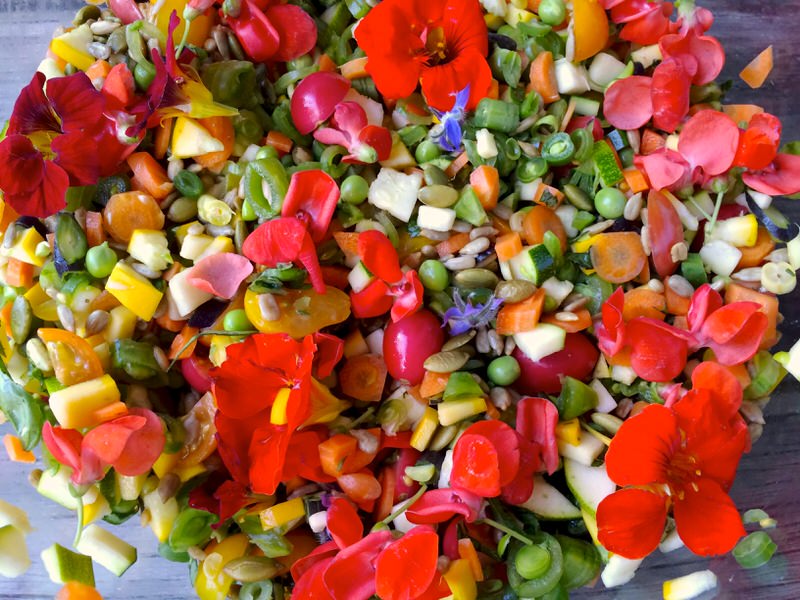 A few Nasturtium flowers to provide that extra hit of colour and a good zing of flavour brought it all together.
Mixed Meat Grill: Grilled Sausage, Chicken, Ribs and Steak with Sides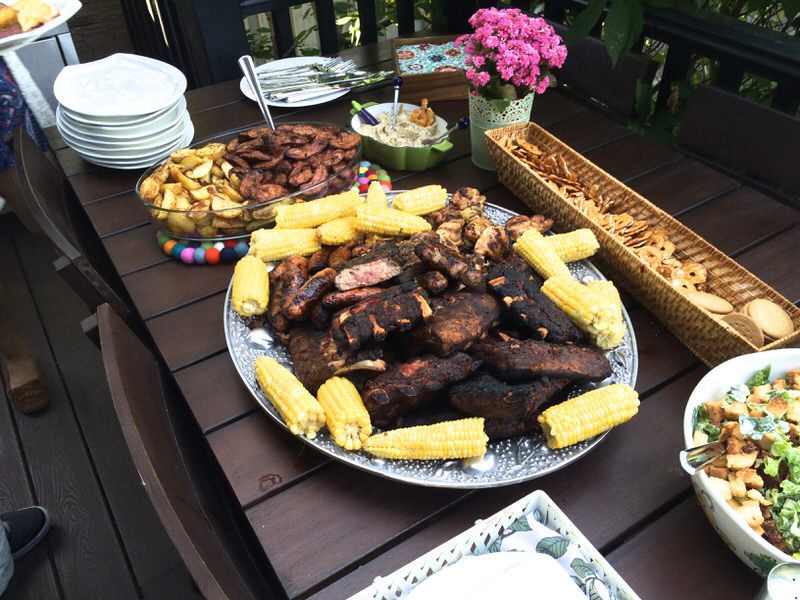 Above, the Egg Plant Salad is served (as are many of the other appetizers) alongside the main meal. Roasted yam and potato wedges head up the line, followed by the Mixed Meat Grill embraced by the corn.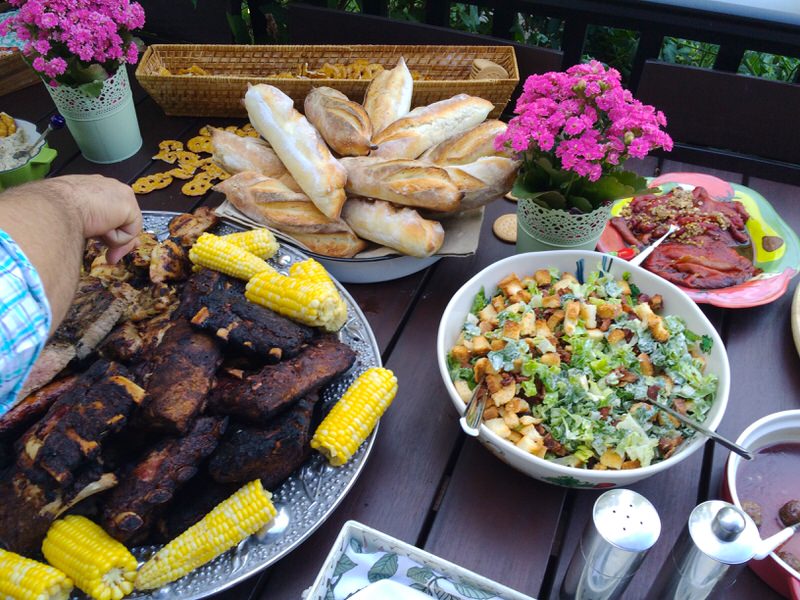 Homemade baguettes, Caesar Salad, Meatballs and Roasted Red Pepper Salad complete the lineup.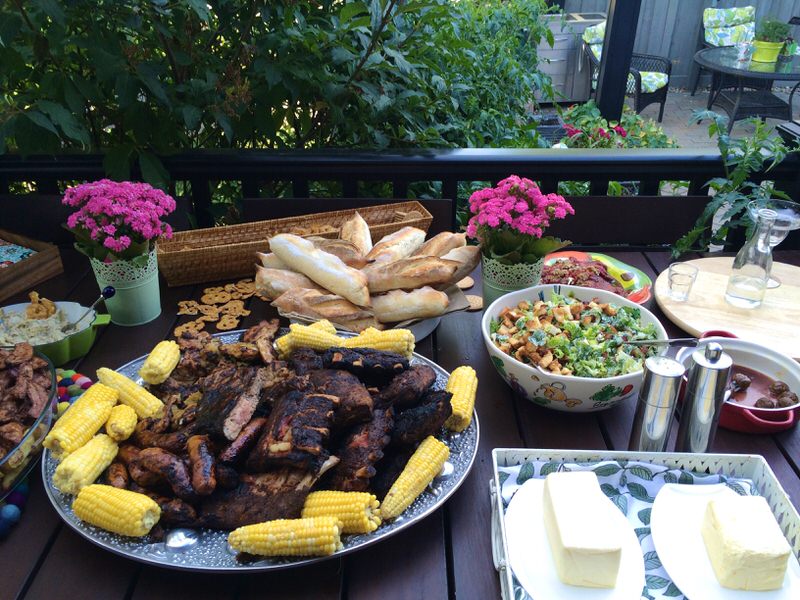 Of course, there is butter to roll the corn in, and butter for the baguettes!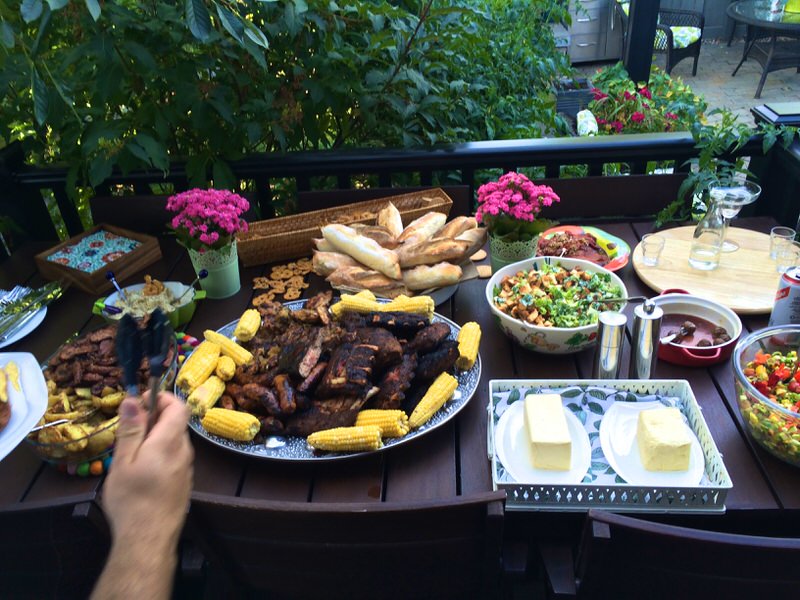 Mixed Meat Grill: Serve Yourself!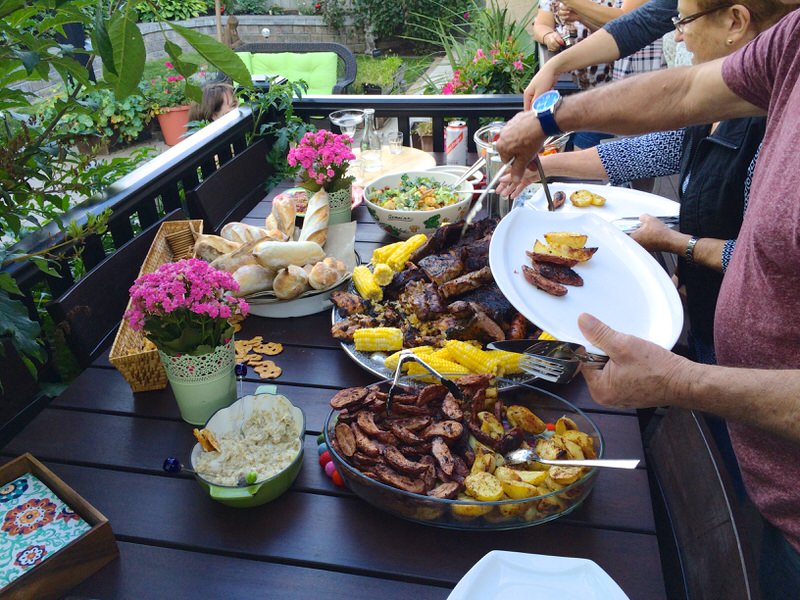 A little shy at first, but it only took a moment.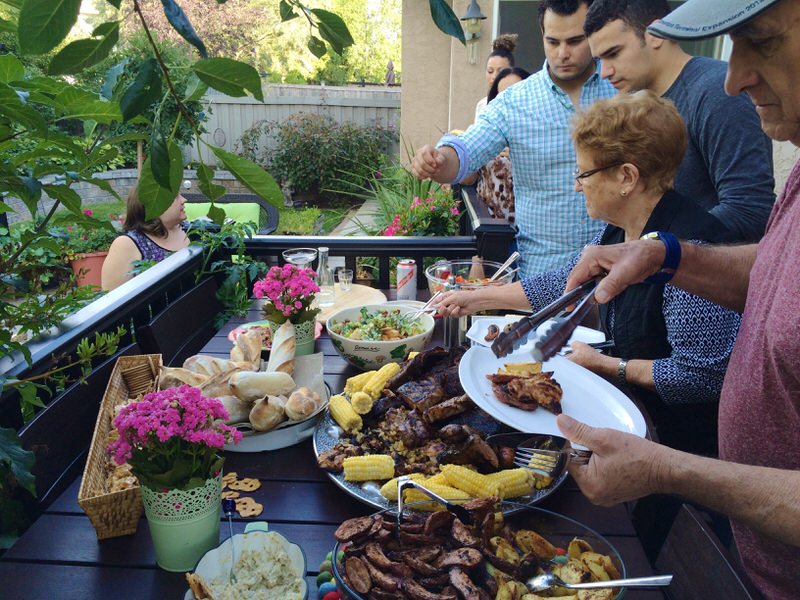 I wonder where that young fellow in the blue checked shirt is heading with his determined right hand?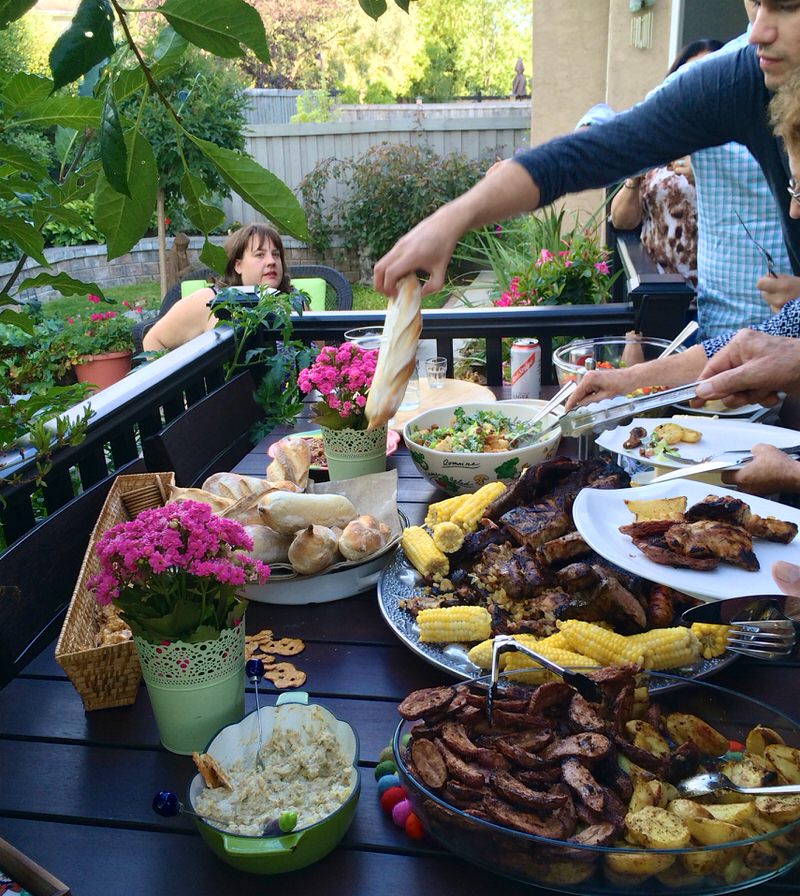 Oh, his brother beat him to it…! Of course! The baguette! Men after my own heart. The meat is the heart of the meal, but homemade bread? Well, it is always the best bit on any table, when served, in my humble opinion!
Mixed Meat Grill: Time for Dessert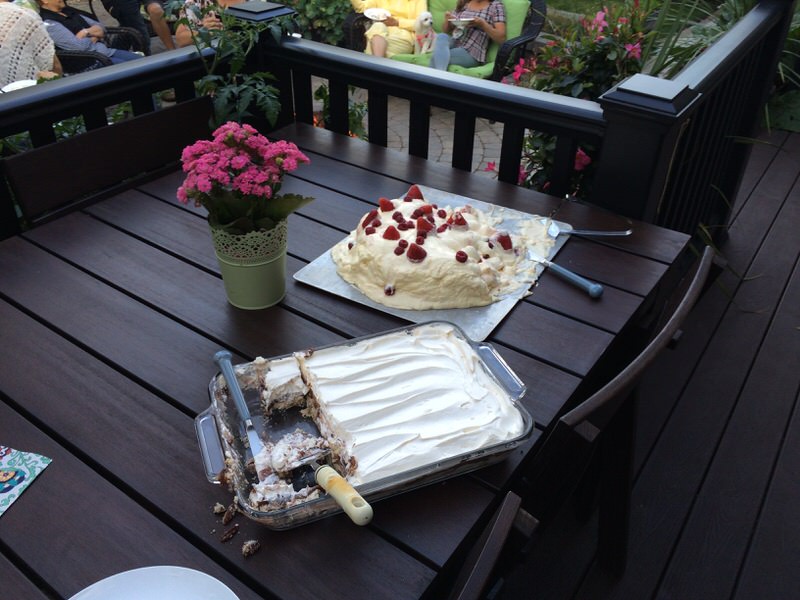 Mom always asks,"How can I help?" I cannot resist taking her up on that offer as she is the ultimate dessert maker. Her Angel Food Cakes are famous, and her Pavolva's, as well. But, these were guests from Brazil. "Sex in a Pan", of course, please, mom. Let's give them some real down home prairie action at the dinner table! Oh, a pavlova, too? Sure! Why not?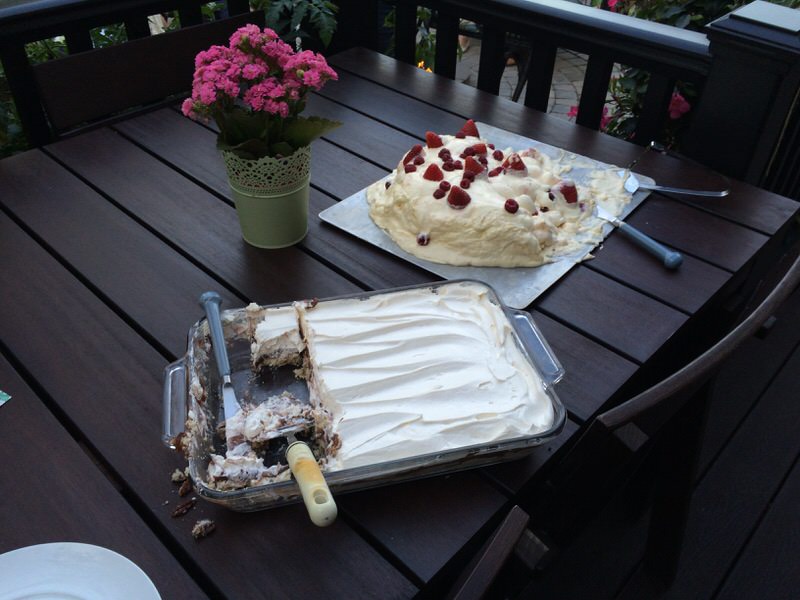 All digesting the meal and in a sugar coma, I am sure, at the end of the evening….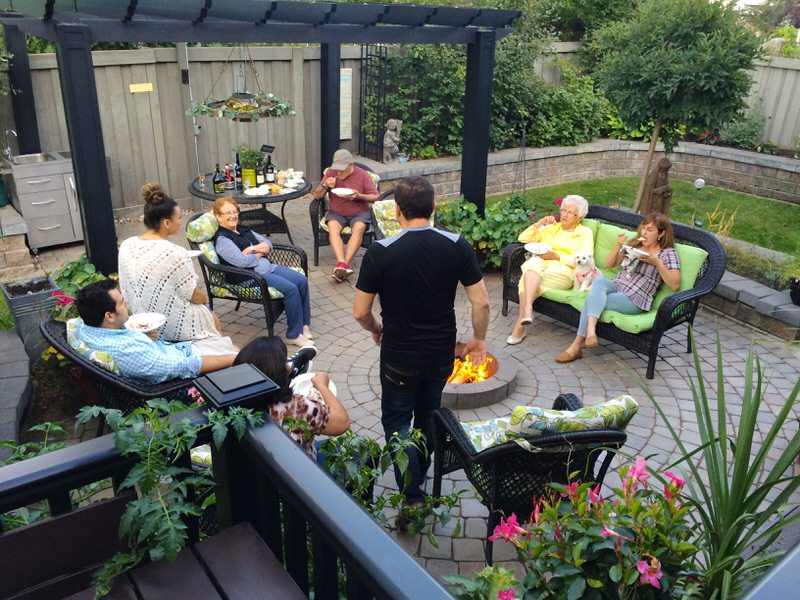 Mixed Meat Grill: Digesting the Friendship around the Fire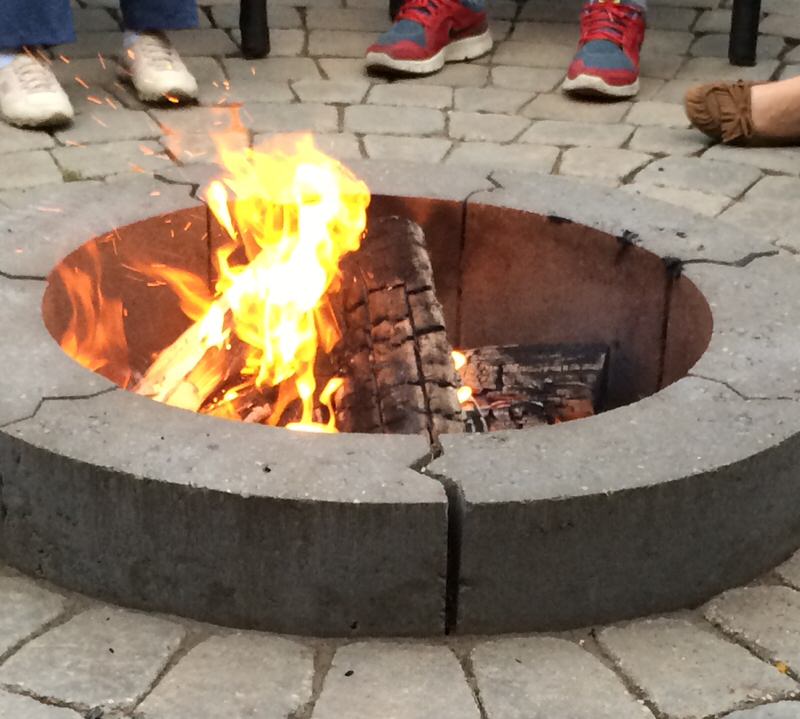 …spread out and circled around the fire.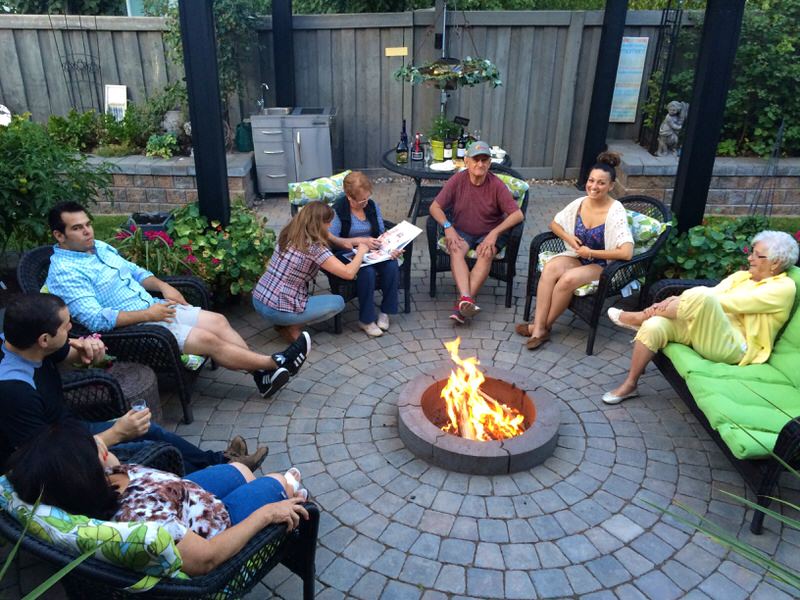 Visiting, laughing, and savouring the lovely summer evening we shared together.