10 double passes for "The Trip to Italy" to give away across Canada!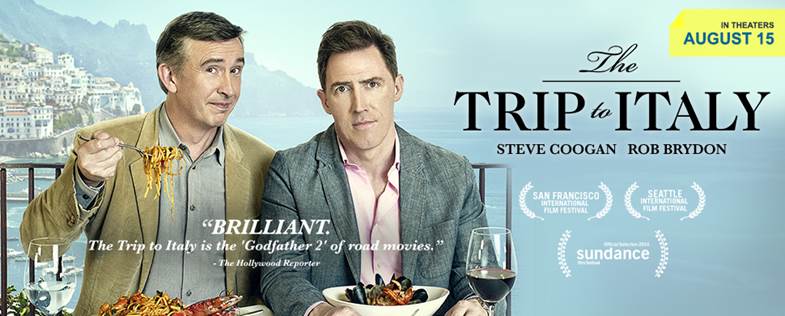 The Trip to Italy will be screening Toronto and Vancouver August 11th and in Edmonton, Calgary and Ottawa on August 20th. If you are in town, chime into the comments section below to win a free double pass to this hilarious movie that will most definitely motivate you to pack your bags and fly to Italy, immediately – and at the very least, urge you to drink lots of Italian wine and eat lots of Italian food! And, you know me – cook, cook, cook!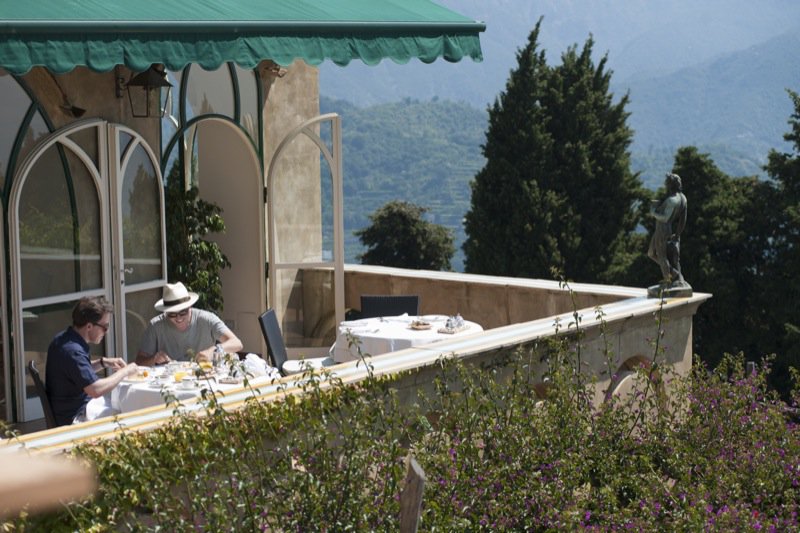 Having traveled to Italy countless times, and flight planned again for October of this year, when approached to promote this film, I could not resist – though it is something I usually don't do. After watching the trailer of two men (old friends), enjoy six meals in six different places on a road trip around Italy, I was hooked. When Vanja and I traveled there for three weeks a few years ago, it was my first time without my students. We have been back many times since on our own, and with or without students, Italy is somehow in my blood. This film takes us through Liguria, Tuscany, Rome, Amalfi and ending in Capri. I believe I was so captivated as in the short trailer, I was exclaiming: "That's Capri! That's Rome!" or "We've been to that very spot!"
This is actually a sequel to the hit film THE TRIP, which I now have to also see.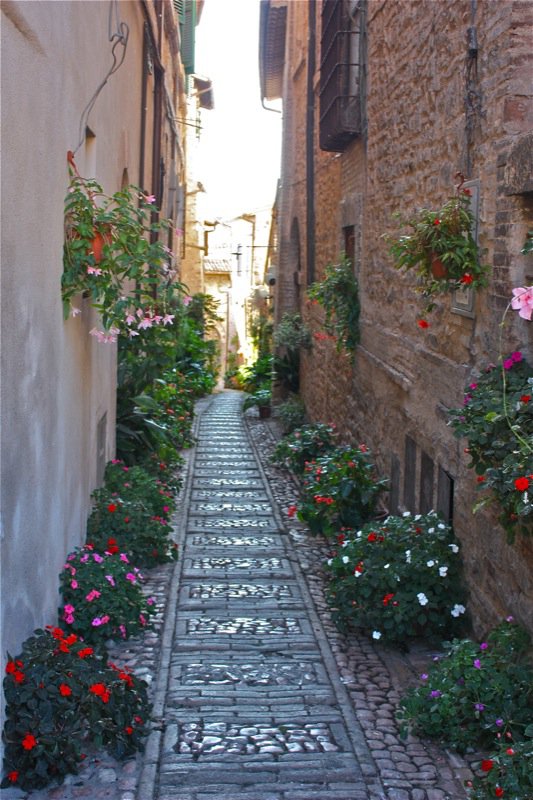 And, I too, have meandered down many a side street throughout Italy, found our way to an enchanting little restaurant, leaving the table (below) hours later, with unforgettable memories of an incredible meal and experience.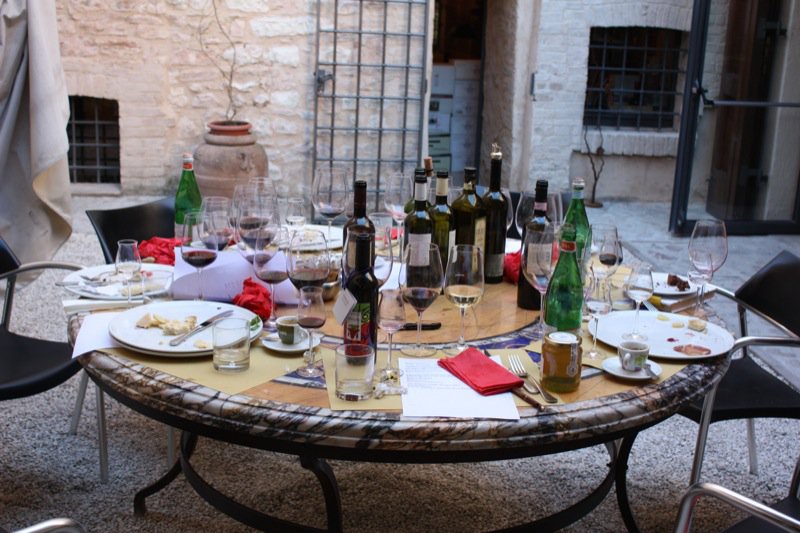 Synopsis: Rob and Steve are asked by The Observer to do another series of restaurant reviews. Rob, tired from the responsibilities of being father of a young child, is looking for some adventure. Steve has been living a life of abstinence and hard work in Los Angeles but, now on a hiatus from his job, has the time to come back to Europe and wants to see his children.
They talk about things like Life, Love, Work and Exile.
Not only will we will see the journey they go on, the hotels they stay in, the restaurants they eat in, and the kitchens the food is made in, but we will meet each chef and see the bill at the end!
The restaurants are real. The chefs are real. The hotels are real. All exist, and any one of us could repeat this exact itinerary and play out this same movie in our own real lives – should we be able to afford it!
The Restaurants in The Trip to Italy
Piemonte: Trattoria Della Posta, MONFORTE D'ALBA
Known for the famous Alba Truffle Festival every fall, this reputable traditional restaurant situated in this region, also the heart of Barolo wine country, is famous for their preparations of the Langhe traditional recipes: Raw-Meat with Tondo di Macra Cheese, Cold Veal with Tuna Sauce, Baked and Stuffed Onion, Tajarin with Meat Ragout, and Shank of Veal with Barolo.
Liguria: Ristorante La Cantina, SAN FRUTTUOSO
With its sublime setting on the edge of the sea, you'd be advised to try the seafood, particularly the fritto misto. Ligurian cooking, famed for its use of olives, pine nuts and basil, and best summed up by the simple pesto alla genovese. The specialty to this house is their seafood pasta.
Toscana: Trattoria Albana, MAZZOLLA
Chef Pippo serves traditional Tuscan food at very reasonable prices in this quiet little town. Perfect homemade pasta, wild boar ragout, guinea fowl, rabbit with rosemary and olives, traditional Fiorentine steak or a smaller sample portion, cheese and apple tart and great local wine. For 5 course dinner for two plus two bottles of wine, 90 Euros! A worthy review from Trip Advisor: The village has about 50 homes some of which are the former dwellings of the "mezzadri", i.e. those dependents of the land owner that farmed the land and gave half of the harvest to the owner. The town has about 42 full time inhabitants. There is a small castle which still is in the hands of the family of the "owner", the Viti family, as well as a large villa which is owned by the owner of the restaurant which has some very nice apartments for short term rentals. Traditional antipasti with the prosciutto and insaccati (salamis etc.) including Tuscan crostini are available, but we found that having an antipasto and a first dish was overkill quantity-wise. For the first dish I had papardelle alla lepre (wide fresh made pasta with hare sauce) but others had the same pasta with boar sauce. There are numerous first dishes made of pasta, faro and gnocchi with a variety of sauces. Second dishes are also traditional, boar, Chianina beef, ossobuco as well as pigeon, boar and pheasant. I had the pheasant made in the manner of a 14th century recipe which uses the spices that would be brought to and through Tuscany from the East. A truly excellent experience for an Italian an unforgettable one for a foreigner. About 40 euro a head with wine and dessert.
Roma: Ristorante Oliver Glowig, ROMA
German chef Glowig relocated to Rome and earned two Michelin stars in the process. Expect veal fillet with peanuts and mint-flavour escargot, and spaghetti with oyster and cauliflower.
Campania: Relais Blu, MASSA LUBRENSE
With over 1000 International and Italian wines on the wine list, this is a restaurant that takes its amazing local cuisine to an entirely new level with molecular gastronomy and modern interpretations of old world traditional dishes. Innovative tasting menus are offered, or the more traditional courses. Look for the prize ingredients of the nearby areas: Puglia's burrata, water buffalo mozzarella, fish and seafood (octopus, squid and lobster) each with unexpected pairings.
Capri: Il Riccio, CAPRI
A stylish hangout, renowned for the abundance of its seafood buffet and dessert specialities such as baba and delizie al limone.
The Hotels in The Trip to Italy
Liguria: Hotel Cenobio Dei Dogi, Camogli
Liguria: Ristorante & Albergo Da Giovanni, San Fruttuoso
Toscana: Relais La Suvera, Pievescola
Roma: Hotel Locarno
Campania: Villa Cimbrone, Ravello
The Trip to Italy premiered at the Sundance film festival on 20 January. The TV series will be broadcast on the BBC later in the year.
The Deets:
arrangements will be made for each double movie pass to be e-mailed to each winner within 24 hours of the contest end

contest will close at 6 pm, August 8, 2014 (you would think I was giving away a car with all of this information!)

the winner will be announced via e-mail August 9th, 2014, and I will attach the name to the bottom of this post with congratulations at that same time for all to see
all of the names will go in a hat (this is the way we do it at our house) and my husband will draw the winners; each name will go in for each entry as outlined below
yes, you can enter your name more than once (read below)
the movie is only being shown in Toronto, Vancouver, Edmonton, Calgary and Ottawa, so if you live elsewhere, you will have to choose one of those places to view the movie; the contest is ending early to enable the Vancouver and Toronto people to be informed on Saturday that they have won their passes for their Monday preview. The Ottawa, Calgary and Edmonton people will also be informed, but the preview in those cities is on Wednesday, August 20th – so they will have a lot of advance notice.
To enter the contest, you must do #1 or #2; the other ideas are opportunities for extra entries:
Write a comment on this post that includes one of the following (if you respond to all three in three separate comments, you get three entries):

a favorite Italian recipe you love to make (include it, or a link to it)
a favourite place in Italy you have visited
an eating experience you have had in Italy that was unforgettable (include the link, if there is one)
OR, where you would like to travel to in Italy, if you have never been (where you would eat, what you would like to see, etc.)

OR write a comment about why you want to win the tickets for these passes and who you will bring (if you do both #1 and #2 you will be entered for each comment)
Follow me on Twitter: has to be a new follow to count, sorry
Tweet the contest and include @acanadianfoodie in the tweet so I can count it as an entry in the draw; you can tweet daily (each tweet counts as an entry into the draw):

sample tweet (you can use) here:
WIN "FREE DOUBLE eOne MOVIE PASSES @StephNardilli #TheTriptoItaly @acanadianfoodie DON'T miss out! #yegfood 5 stars! http://wp.me/p2OMxc-fCD
(or #yycfood #yvrfood #yyzfood instead of #yegfood for whatever city you are in. I don't know Ottawa's food hashtag. Help?)
Like my Facebook page: (and I am talking the page, not this post) has to be a new "like" to count, sorry
You can also get an extra entry if you share the link to this post and this contest on your own personal Facebook page and include "Valerie McKinney Rodgers Lugonja" in that post with the link
NOTE: please make sure you leave an e-mail with your comment below so that I can reach you to let you know if you are the winner!
That's an opportunity for A LOT of entries. I hope you take advantage of this opportunity as I KNOW this movie will be crazy fun, so also have fun winning a date night out!
Hope to see you there! Please note: closing date for this contest AUGUST 8th 6PM
DRUM ROLL PLEASE….. and the winners of the eOne Films "The Trip to Italy" are:
Edmonton:
Elyse, Lesley and Joveena
Calgary
Janet, Lisha, Bernice
Vancouver
sigh – no one participated from there. 🙁
Toronto
Nicole
Unknown Location (but there are 10 total, so it works!)
Paul
Lynn
Christine
You have each been notified by me with your pass, via email today, August 9, 2014. Sorry I am one day late. Traveling in Europe does not make for easy wifi access when needed. 🙂