Recipes to help prepare your holiday meal
So much to be thankful for year after year….Thanksgiving is a holiday I cherish as it brings the family together around our table and we do express our thanks before we share in the bounty of the harvest. Some may find this a little hokey, but this is how I have raised my children, and the guests around the table are usually too hungry to complain. This year, as last, I am so thankful for having the opportunity I have had to get to know both of my parents on a completely different level. Oh, don't get me wrong. I am still their child. Yes. At 58. There is no getting out of that. They both still correct me, direct me, instruct me, and tell me how to get where I am going when I am driving them in the car. I just do what I am told. It is so much easier that way, and what is the big deal, anyway? That is never going to change.
So, what has changed? I really know my dad and mom: how they think, what they think and what they really feel. We have had the time. Lots and lots and lots of time to talk. So many of my friends have not had this opportunity with their own parents, and I know we are blessed.
Also, they will let me do things for them. Sometimes. It is not easy for such a strong, independent, perseverant and hard working couple to accept a little help. The big dip happened last fall when both were ill. This fall, dad caught pneumonia and we almost lost him, again. But, here he sits, my fiesty dad. Home from the hospital and another Thanksgiving dinner together to express our love for him. He is truly my hero.
The suffering that he has undergone this past year has been painful to witness as his daughter. The intestinal fortitude he has demonstrated through his illness to recover is a testament to his character, and to the fundamental integrity of character that he has built this family upon. I am so thankful for that quality of character and spirit. It is rare. It is even rarer for a daughter to witness within the intimate confines of a hospital room when doom and gloom enveloped and worked to suffocate him. He fought for each breath and drew from within depths that few could reach. And, he has survived. Once more. Next time, may be different. Next time, will be different, his doctor told him.
This has given him time to face Death. To fight it. To conquer it, and to now,accept that it is inevitable. Today, we are thankful for Now. For one another. For the stories we have lived through together and the history we share.
And our meal? The laughter and thankful moments shared mingle with the warm aroma of the meal and when there is one seat less, the stories will be retold…. and the seat filled by a grandchild who will imagine knowing that great man in the stories. And will love him, too.
Our Traditional Canadian Thanksgiving 2013
Appetizers:
This is the place for a little out-of-the-box thinking withing the confines of our traditional dinner. I try to keep it light, but not always. This year it will be an assortment of my homemade cheeses. Some ideas: Vanja loves these Cornmeal Fritters. The batter can be made ahead and I fry them on the deck to keep the mess and heat out of the house. Fresh corn is gorgeous this time of year and this was a great hit one Thanksgiving.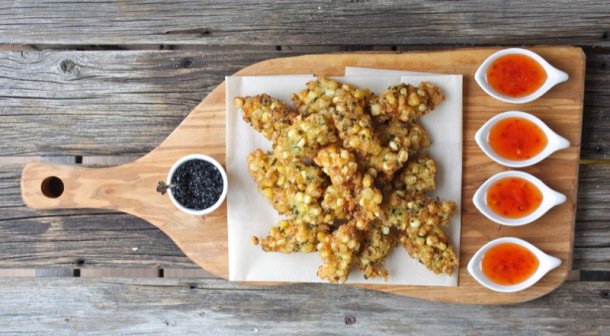 It's not often that I won't have Yogurt Cheese Balls packed in oil in my fridge. This is one recipe I am "famous for" and proud of. I usually have them out just for me.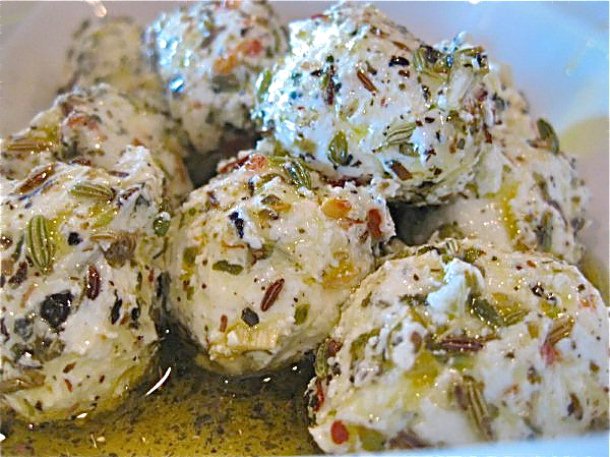 Raw beets? So many people don't know how delicious raw beets are. One year I made this Raw Beet Pesto Two Ways and it was a hit. But, the recipe makes a big batch. Best to make half a recipe, or send some home with your guests.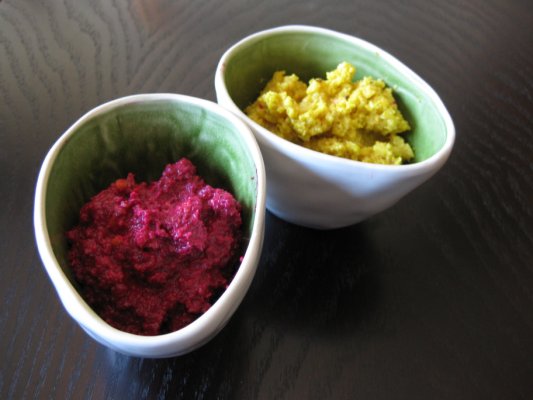 The Turkey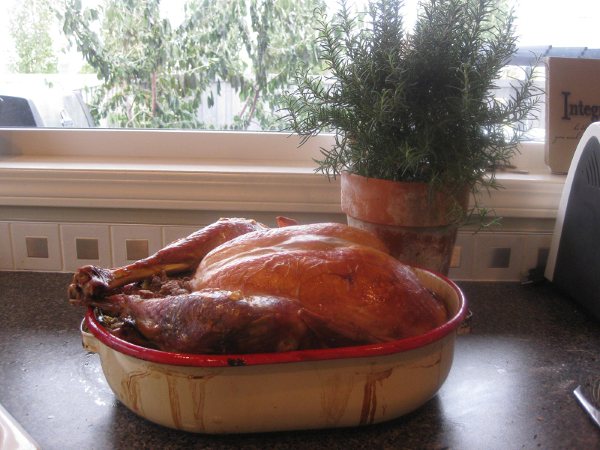 My friend Shirley had never roasted a turkey, so I wrote this post for her. The bird opening this article is definitely not in a very lady-like position. There is a lot of controversy about stuffing in the bird, or stuffing out of the bird. The bird will be overcooked and become dry, theoretically, with stuffing in it. Mine don't. However, mine are swimming in turkey fat when finished roasting and almost falling off of the bone. I could never hoist one onto a carving board and present it to my guests, then whisk it into the kitchen for carving. It would fall completely apart first. That is the way I like it: falling off the bone. Succulent. Rich. Lip smacking turkey.
The Cranberries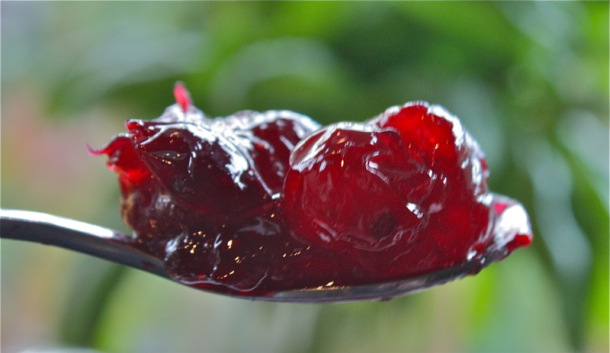 The table is not complete without our Homemade Cranberry Sauce. So easy. Make it once and you will never buy it from the can again. It will last all year in the fridge, and one batch takes us through every holiday turkey dinner for a year. No homemade leftover turkey bun would be served without a dollop of this sauce on top of the meat with salt, pepper, butter, and a homemade bun…. mmmm.
The Dressing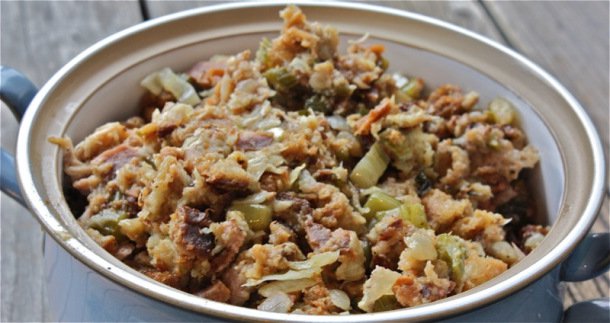 We call it Turkey Dressing. I don't know why. Stuffing it is, but we call it dressing. For some reason, my mother and hers before, always used milk in the dressing instead of broth. There is never enough for leftovers, but always enough for the meal, so it is especially coveted. "Pass the dressing, please." is a question fervent with anticipation which brings to mind another family rule: don't mess with perfection. There are so many exciting dressing recipes, yet none are an option at this table. Tradition isn't tradition unless repeated over and over and this is one tradition that might find one shunned from the family, if violated.
The Gravy
Gravy reminds me of Grandma Maude. In her house dress, frilly bib apron on (usually pinned up here and there), head down, focused on the turkey roaster on the stove top, stirring up a batch of scrumptious gravy from all of the roasted bits in the bottom of the pan. She could make enough for all of the men in the family to bathe their potatoes in with a quart left over. Good gravy is a sign of a good woman. A good wife. A good cook. A damn good cook.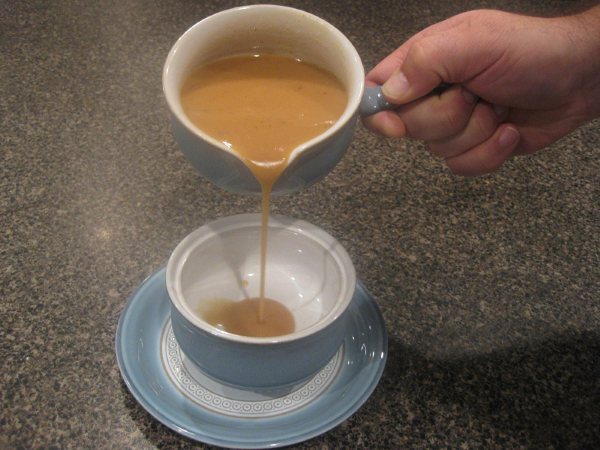 The Potatoes
Peeled and boiled then mashed or smashed. That is it. There will be gravy and butter and salt and pepper. Potato perfection.
The Homemade Prairie Buns
The fogasse below is certainly nothing close to our buns… but the entire post I had written about them, I have just discovered is missing. That kind of thing happens when you migrate your site from one host to another. You think you have everything, but how can you ever really know and that was too many months ago to find it in a back up. I will write another. Until then, the recipe for some great buns is here.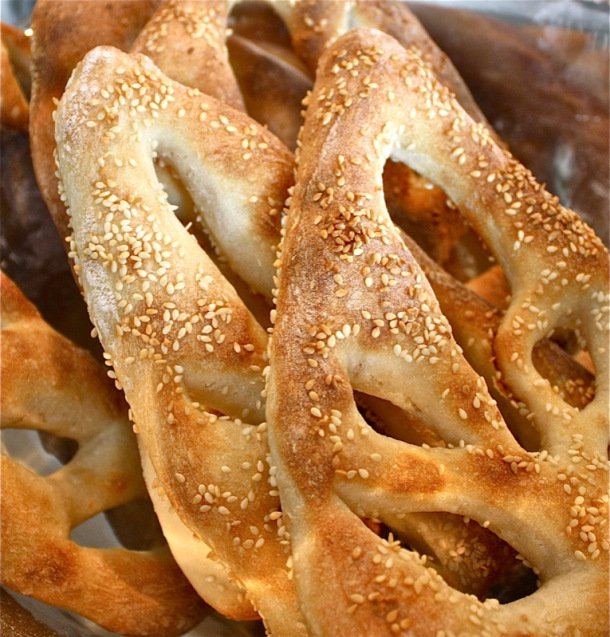 The turkey may be the star of the meal, but the homemade buns are the co-star. Turkey dinner would be blasphemous without homemade buns. Guests may just pack up their things, push in their chairs and head for home mid-meal if "Pass the buns, please." wasn't answered with a basket of warm, soft, pillowy homemade prairie dinner buns. Not a crusty roll. No. An out-of-the-oven top butter-rubbed, soft yeasty dinner bun. Delicious for turkey sandwiches the next day. Lots and lots of buns are broken during this meal: expected, praised, cherished and taken home with a portion of leftover turkey. And cranberry sauce.
The Sarma or Cabbage Rolls
It used to be Cabbage Rolls made with sweet raw cabbage until Vanja. Now it is Sarma. An easy transition from one cabbage roll to another for our family meal tradition, especially when this one is even more flavourful than the "other cabbage rolls". In Alberta, there were many Ukrainians who settled this land, so there is rarely a wedding, or a holiday meal without a cabbage roll in these parts. The Ukrainians brought them here, but we have all grown up with them. Sarma is made with sour cabbage and cooked with double smoked pork ribs. Deadly delicious and always an integral part of every holiday meal at our house.
The Yams
Baked in the oven. Peeled. Sliced and placed in a casserole dish. Delicious on their own.
The Coleslaw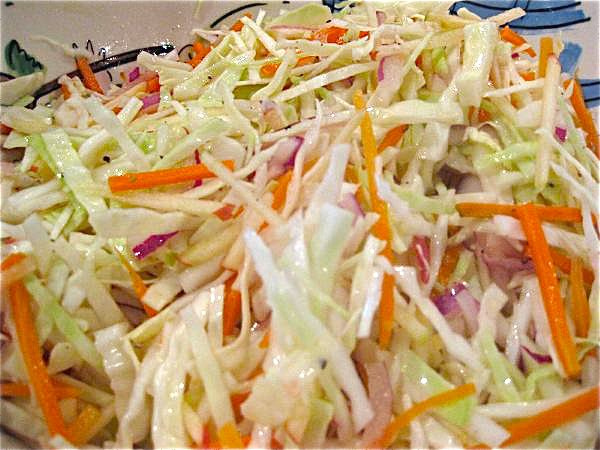 It is usually a very simple coleslaw because the cabbage is just perfect, the carrots are so delicious and it is easy to make, keeps for the leftovers and provides that wonderful fresh crunch needed with the heavy meal. I will have to write a post about our family coleslaw. It is so simple, that I did not think to do it.
The Dessert(s)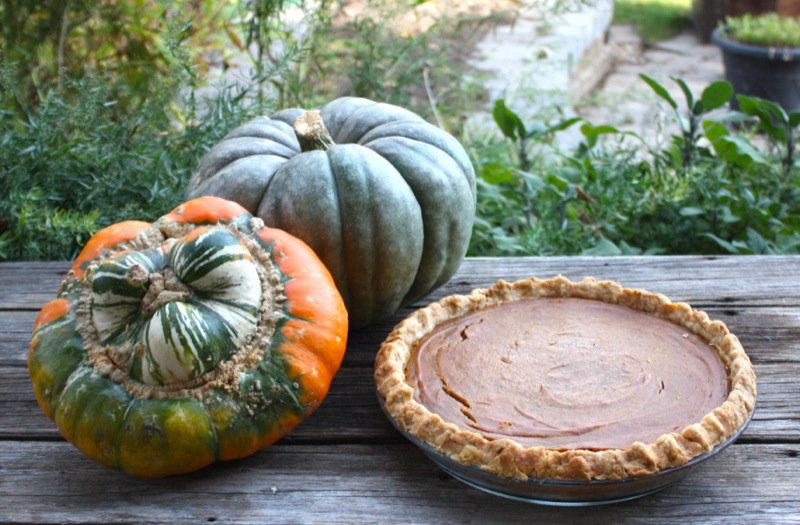 Like the opening of the meal, the closing is as creative. Homemade pumpkin pie is expected and will always be on the menu, but there is often a second little somethin' somethin', and maybe even a third. I often make 2 desserts and mom will always bring one.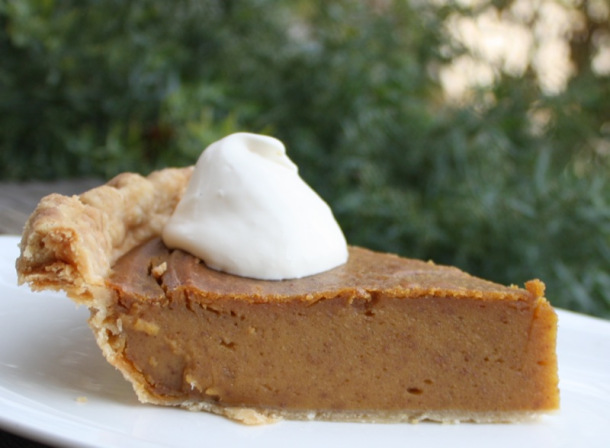 Nothing makes my dad happier than Apple Pie. One year I made Tarte Tartin and it was a great addition to the dessert table. Especially with a dollop of Créme Fraîche.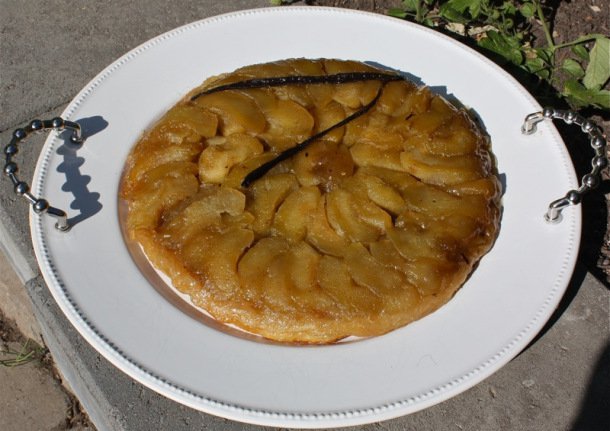 Créme Brûlée is another favourite this time of year and when I serve this, the pumpkin pie waits until a little later in the evening. It is scrumptious and a more elegant end to the meal so something I might make if having special guests.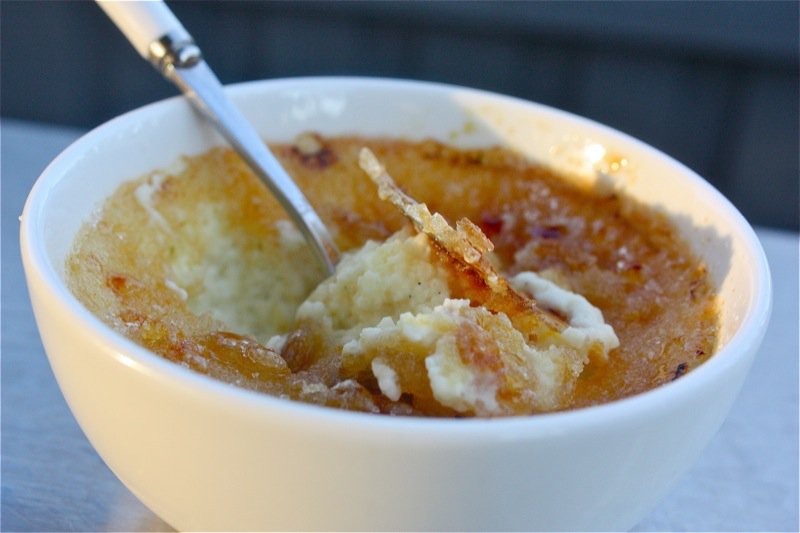 And this year… the meal will be different. A little. Vanja is in Europe with his family on "our holiday" and mom and dad eat very little any more. I cannot prepare an appetizer for them, or it will spoil their meal, so it will offer homemade cheeses. The meal will be the same. Just a smaller turkey than usual. Not sure about the pumpkin pie. I hope to get that done, but may not be able to swing it amidst all of our other balls in the air. Maybe there will be one on sale tomorrow at the farmer's market. Otherwise, this is the easiest meal one could ever make. I make the dressing the night before, stuff it and get it into the oven very early in the morning. Make the buns the day before… and usually the pie. The day of the dinner, there is only the salad and the vegetables to prepare while setting the table which is purely a pleasure.
So, tell me now. How is your traditional meal the same or different? And please, let me know what country and region you are from in your answer. I am so interested in traditions around food. Particularly Canadian food. Can you see me peaking over your shoulder? Yup. Curious and impatient. All of the time. Happy Thanksgiving!