Love in a bowl!
To say that this "soup" is hardy would be an understatement. There MUST be a lime wedge or three on the side of the bowl. The yogurt cheese, fresh green onion and fresh lime juice make all the difference with this dish.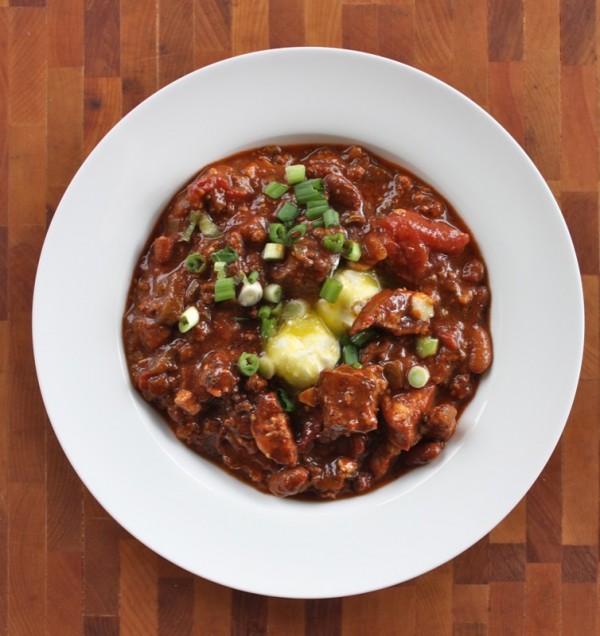 And it must be served with a crusty loaf of homemade bread for dipping. Ciabatta would be the perfect choice (post to follow early next week). This is a bread that is complex, chewy, and can be par-baked, frozen and in 12 minutes from frozen, you have a freshly baked delicious bread to accompany your meal: in this case, your densely delicious smoky chili soup.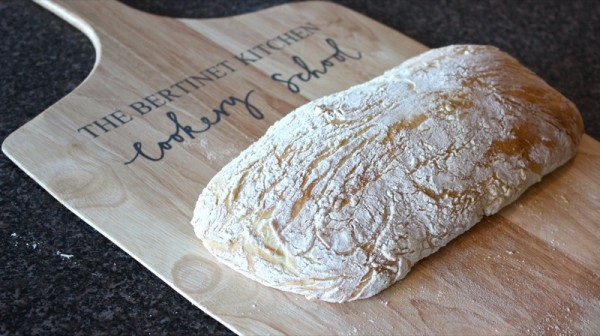 I have been reading a lot of chili posts lately, but the big chunks of steak and the lime wedges caught my eye on this one. Faith's food always looks so good and I have been working at making big batches of food that can be frozen for quick delicious meals and this fit the bill. (I have already put away individual packages of cordon bleu, giant turkey pasta shells, sarma, dolmates , lots of chicken soup stock and several loaves of par-baked ciabatta.) Look at the chunks of tri-tip and chirozo and there is also bacon and ground beef: now that is a carnivore's delight! The yogurt cheese balls just melt into the hot soup and with the lime and onion elevate this to a classy up-scale casual company meal. I like that!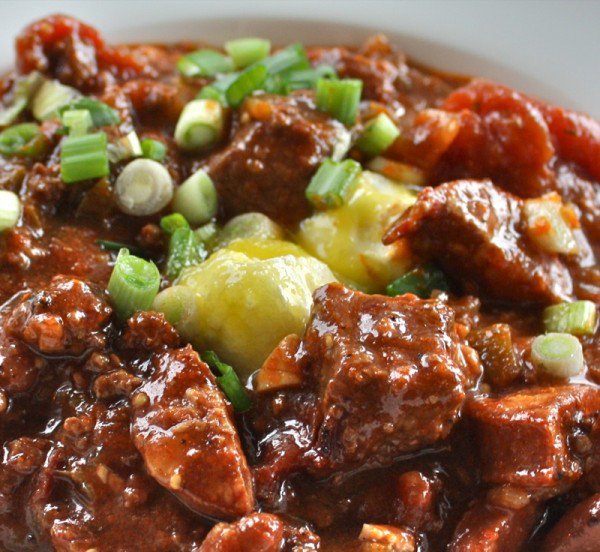 The night I made it, it was very soupy and the broth was deadly delicious, but not at all your standard chili fare. The next day, the dish was more chili or stew like, but there was still plenty of sauce for dipping. I used a can of tomatillos and wished I had two cans. One more would have been nice, too. Fresh would be best. Faith use Tomatillo Salsa. The original recipe calls for smoked pork hocks which would have made the dish very smoky. I found this not the case made with out the pork, so added the Sweet Smoky Paprika (which I love) and you may even want to add more. It is not such a smoky chili. It is a subtle and complex dish that absolutely needs the three garnishes and then it is spectacular! This is a dish lickin' bowl o' yum.
The recipe is long, but don't be discouraged. It is a very straight forward deal once you get your ingredients laid out. Thanks, Faith, for the inspiration!
Smoky Chili Soup (Inspired by Faye at An Edible Mosaic who was inspired by Cooking Light's recipe for Smoky Slow Cooker Chili from the January 2009 issue)
Yield: 8 hardy servings
Ingredients:
2 tablespoons olive oil
250g bacon lardons
1 lb lean ground beef
1.5 lb tri-tip, trimmed of fat and cubed into 1-inch pieces, seasoned and floured
2 bottle Guiness
2 medium-large onions, diced
8 large cloves garlic, minced
3 tablespoon Ancho chili powder
1 tablespoon Sweet Paprika (from Belgrade)
2 tablespoons Smoked Spanish Paprika
1 tablespoons cumin seeds
2 teaspoons dried oregano
1/2 teaspoon black pepper
2 bay leaves
1 teaspoon sugar
1 (6 oz) can tomato paste
1/4 cup Worcestershire Sauce
2 (28 oz) cans diced tomatoes (with juices)
1 (28 oz) can tomatillos
28 oz water
2 medium green peppers, diced
1 Anaheim pepper, minced
30 oz Barlotti beans, reconstituted and prepared for use
Homemade yogurt or yogurt cheese, for garnish
Fresh scallions, thinly sliced (for garnish)
Fresh lime wedges (to squeeze on top which makes the chili sparkle!)
Instructions:
In a 5-quart pot with a lid, heat oil over medium-high heat; add the lardons  and sautéuntil crispy (about 5 minutes)
Use a slotted spoon to remove; set aside
To the same pot, add ground beef; cook until browned
Use a slotted spoon to remove; add seasoned and floured beef cubes: brown all sides (about 2 minutes per side)
De-glaze pan with two bottles of Guinness, gently scraping the bottom of the pan until all flavour bits are freed from the bottom of the pot; reduce to half and then add to meat mixture
Add a bit more oil to the pan, sautéonions until translucent (about 5 minutes); add garlic stirring for 30 seconds, then add the chili powder, both paprikas, cumin seeds, oregano, and pepper toasting all for about one minute, or until fragrant
Add the bay leaves, the sugar, tomato paste, and Worcestershire sauce; stir
Add meat mixture back to the pot; stir to combine and add diced tomatoes, tomatillos and water
Bring up to a boil, cover the pot, turn heat down, and simmer 45 minutes, stirring occasionally
Add green peppers, cover the pot; cook another 30 minutes, stirring occasionally
Add beans during the last 5 minutes of cooking; Taste and season with salt and pepper
Serve garnished with yogurt, thinly sliced scallions, and lime wedges to squeeze on top with a crusty artisan bread on the side
Take a look at Valerie's version, from The Chocolate Bunny! She was inspired by my version and I was inspired by Faith's version. I love this hobby of mine!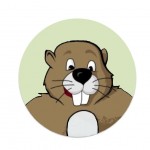 Subscribe to A Canadian Foodie so you don't miss a post! (top right)
Register for Christan Miller's Apple Pie Making 101 Class (only 2 spaces left!), February 5th, 2011 at 8:30am
Register for Allan Suddaby's Sausage Making Class February 12th in the evening: a really fun friend or partner's night out! VALENITNE'S Saturday!

Register for: Kevin Kossowan's Big Game Tasting and Cooking Demonstration Lunch February 26, 2011 at 11am
Register for:BénéGamier's French Tart Class: Sweet and Savoury SUNDAY, March 6, 2011 at 8:30 am
Watch for Culinary Tour and Trips in June to Niagara on the Lakes Wine Country and in September to Paris!
My first class was last Saturday and I had a great time with the wonderful gals that attended. I learned that I need clean up help, even with only six students! I will invite them to leave feedback about the class for you to read, soon. (We went over time… woops!)