Homemade Christmas Cookies: an endangered species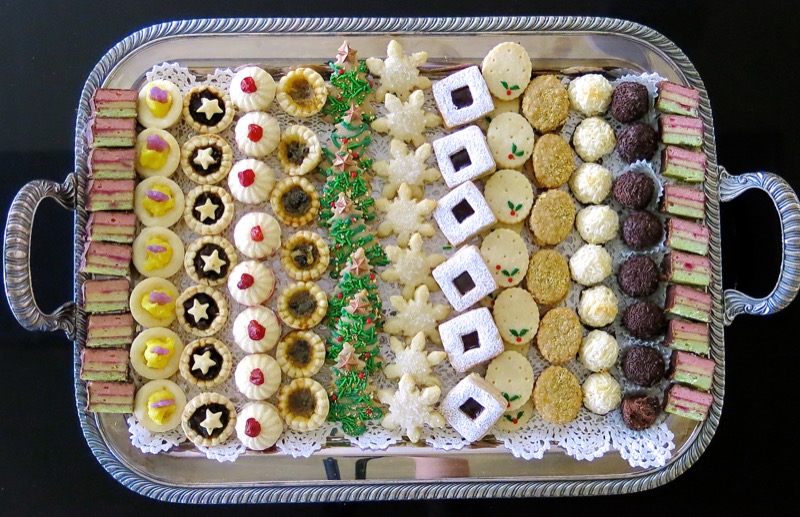 A Call to Action: Get into your Family Kitchens and Bake Christmas Cookies!
Join my annual quest to enable the survival of our Canadian Tradition. I love baking Christmas Cookies to share with family and friends every year at Christmas. We Baby Boomers most definitely recall the time when mothers everywhere would unite in their home kitchens from coast to coast in preparation for the season stirring and whirring and making and baking. Invitations for morning coffee or afternoon tea were rampant up and down the block once the cookies were baked and lined up on their platter, ready for showing and sharing. Oooo-ahhh! Ooo-la-la! There were certain invitations one would change everything to attend. Spying and tasting those cookies tied the neighbourhood together. Sharing the recipes and chatting about their families while nibbling and sipping was just what city moms and country moms did during the season. Certain cookies became legendary and would appear on everyone's platter the following year, and for years to come. Do you bake Christmas Cookies?
Join my annual quest to enable the survival of our Canadian Tradition. Do you share them with your friends? Do you have friends that share theirs with you? I think I am a little late on the draw this year, but let's plan ahead and do a cyber sharing next year. Mark the idea on your calendar about November 1, so you can participate and have some baking done to share during the month of December. That one Christmas Cookie that has to be on your tray would be the one; or, that first Christmas baking experience with your family if you haven't made any homemade Christmas cookies before. I will send out a reminder in October of next year.
Christmas Cookies 2016: What I made this year
Meanwhile, here are the cookies and tarts I made this year with links to each recipe.
Venetian Rainbow Cookie Bar
Lemon Tart
Mincemeat Tart
Shortbread Dome Tart with Sour Cherries and Cream: New for 2016 (an ACF Original Recipe) to be posted soon
Traditional Canadian Butter Tarts
The Happiest Christmas Tree: New for 2016
Sugar Cookie Snowflakes
Toasted Hazelnut Linzer Cookies with Homemade Seedless Raspberry Jam
Shortbread Cookies

new look for 2016

Glammas: Date Filled Oatmeal Cookies

new for 2016 (mom's recipe)

TuRaLuRaLuRas: Chocolate Bottomed Coconut Macaroons new for 2016
The Best Rum Balls you will every make (each recipe is "the best", of course!)
Christmas Cookies 2016: What I made this year not on the platter above
Last year was an odd Christmas. The first time only mom and Vanja and I were together. I didn't bake. Anything. This year, I went a little nuts. The excitement of the family coming home threw me into challenge after challenge until finally, I just said, "Thank you, Ragan, for being the best helper! But, it's a wrap for 2016!"
Almond Cherry Shortbread
Mom's Gingersnaps new for 2016, but not necessarily a Christmas Cookie (yet to be posted)
Rugelach with Preserved Sour Cherry Filling
Liz's Scuffles
Bourbon Christmas Fruit Cake

didn't make it this year, but served it as I still have some
And, a little off topic, but still keeping in the tradition of homemade preparations for the holiday season: I also made some homemade graham crackers, bacon buns, Big Fat Gingerbread Men, Stollen, Cinnamon Buns, Sticky Toffee Pudding with Caramel Sauce, Poppycock and my all too famous (the recipe on the side of the box in the 1950's recipe) Nuts and Bolts.
And, in the appetizer vein, as this year, instead of our usual and recently traditional Christmas Eve Seafood Dinner, we are doing Appetizers and Games:
Spanakopita: yet to be posted
Indonesian Beef Satay: yet to be posted
Miniature Meat Pies: yet to be posted
Parmesan Sesame Chicken Bites: yet to be posted
Deep Fried Shrimp: to be made at the last minute (everything else is made)
OK. Seriously certifiable. No need to get this crazy, but let's all get a little crazy next year!
Christmas Cookies 2016: What did you Make this year?
Meanwhile… I do know if you are reading this post, you are likely into baking and I would love for you to share a photo of your cookie platter or your favourite Christmas Cookie recipe with me! If you send a photo, I will be sure to post them all at the end of this post as I get each in, linking back to your site if you have one, or adding your name, if you allow me to.
The Canadian Christmas Cookie Project 2017: Mark your Calendars for November 1!
Let me know if you are interested in participating now, if you would like, and I will store your contact information. Otherwise, as it is a tad early, I will send out all the details mid-October for participation in the fun next December. I cannot wait.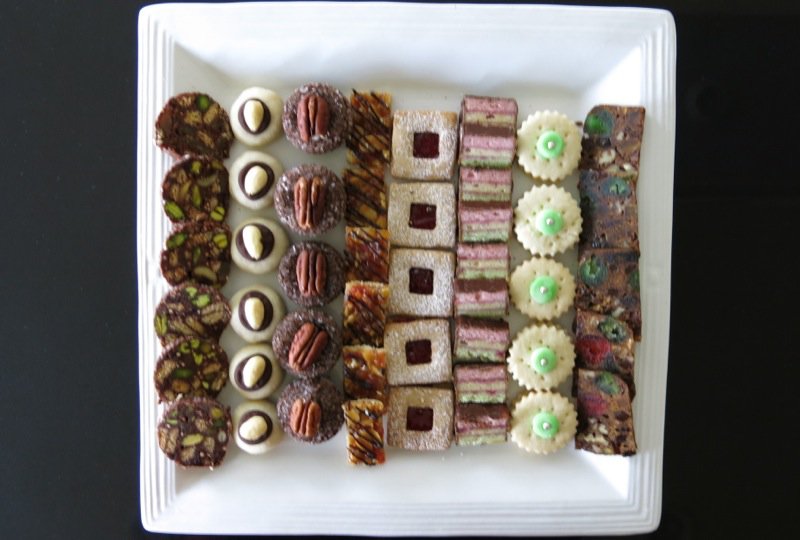 Above and below are the cookies and tarts I made in 2013: that post is here. Tough decision to not make my beloved Florentines (dad's favourite), the Red Deer Turtle Cookie, the Shortbread Cookie Sandwiches and the Chocolate Salami this year, but change is good.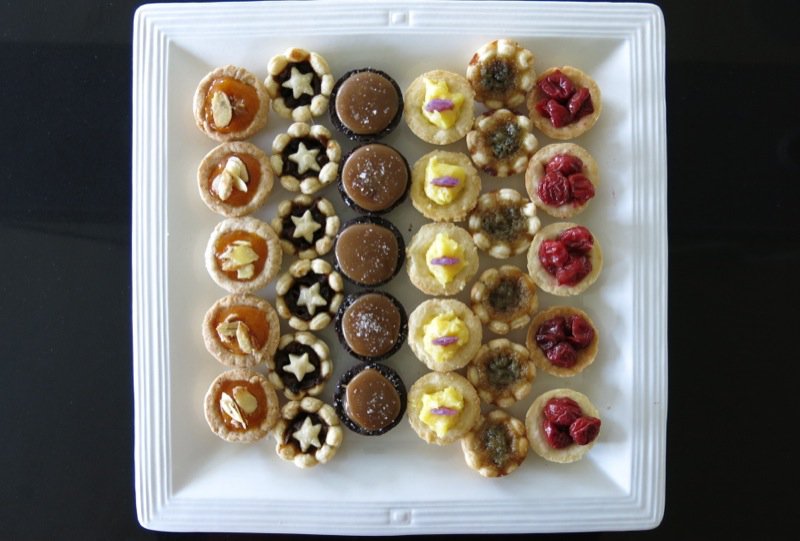 The Salted Caramel Chocolate Ganache Tarts were a tough "let go" this year, too. But, Ragan said, "NO!" So, not this year. Likely very smart as I love them.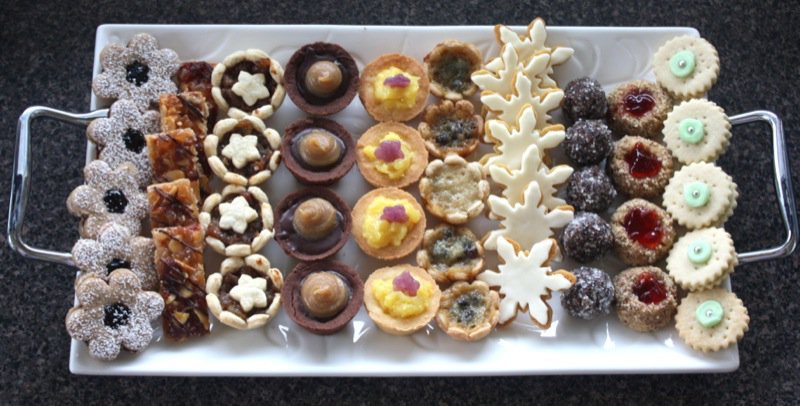 Here's my platter from 2012: head over to read that post and the post about the cookies that are almost always on our family platter here.
Merry Christmas! Happy Holly Jolly! Mwah!