For Gramsy's 60th Birthday!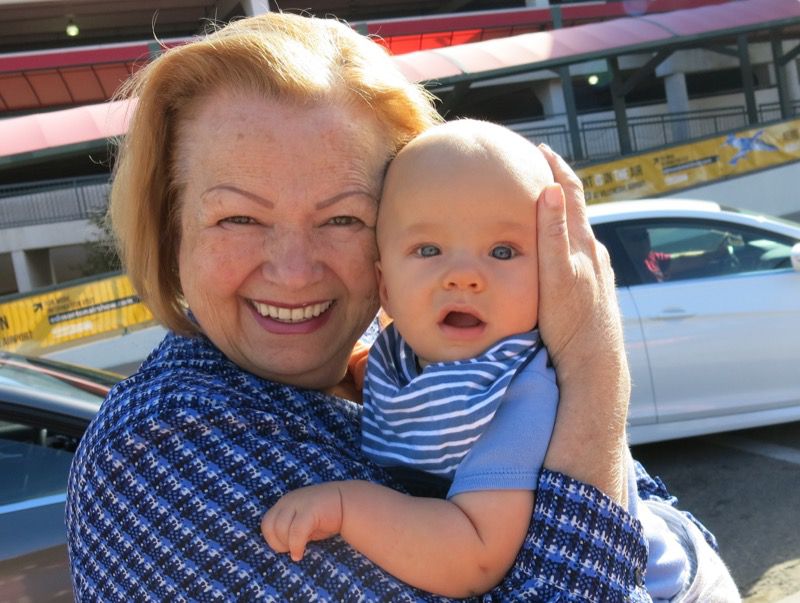 Prince William is the love of my life, next to Vanja, that is. (blush)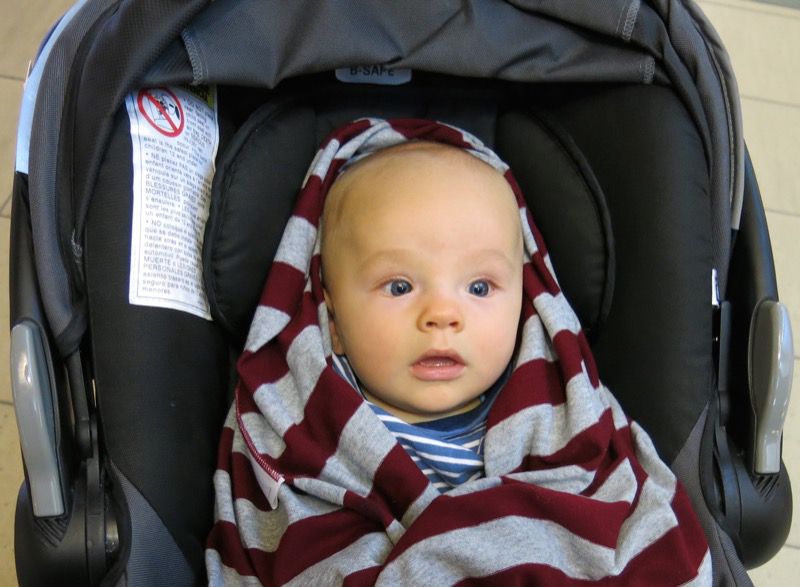 My darling 5 and a half month old baby grandson arrived a day late (darn United Airlines!) and more adorable than on Facetime! Oooh, how I had dreamt of that snuggle. It was as yummy as I had imagined.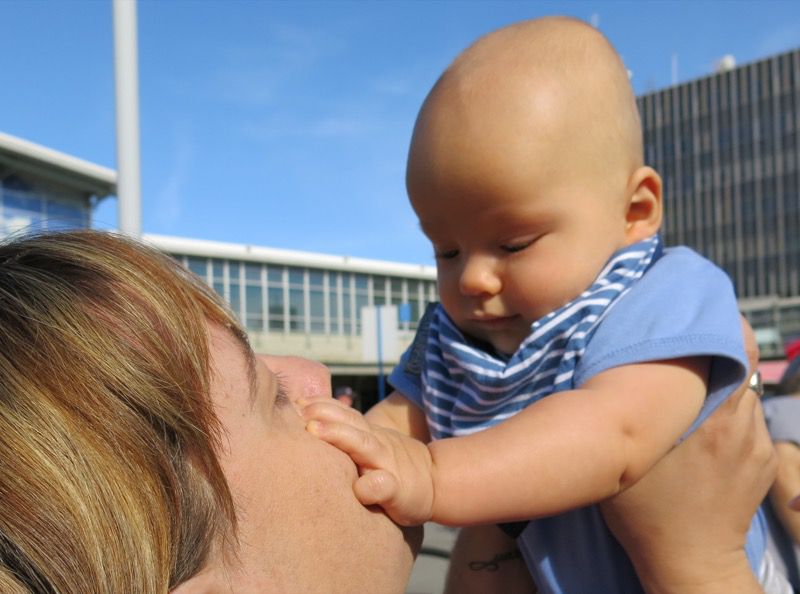 After 18 hours of traveling, he greeted Auntie Ragan with his hands to make sure everything was in place on her face.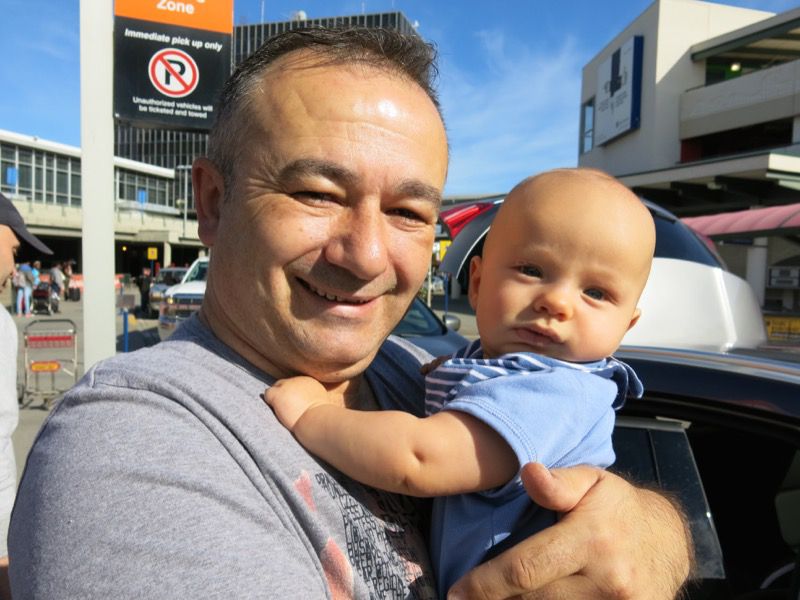 And Deda, like the little man he is: with a noble nod and grin, posing for the paparazzi. Into the car seat he went and we were off. I found out about my surprise a little early as I was about to book my next flight at the end of this month. Lauren and Aaron revealed they were coming to Canada for my birthday! I cried. Yes, I did. I never expected that. I truly did not. And, I had also made it very clear that I did not want any muss, nor fuss this year for my 60th. But, Vanja knew what the perfect surprise would be. Thank you, my Vanja, for this intuitive, brilliant and perfect birthday "fuss and muss" idea!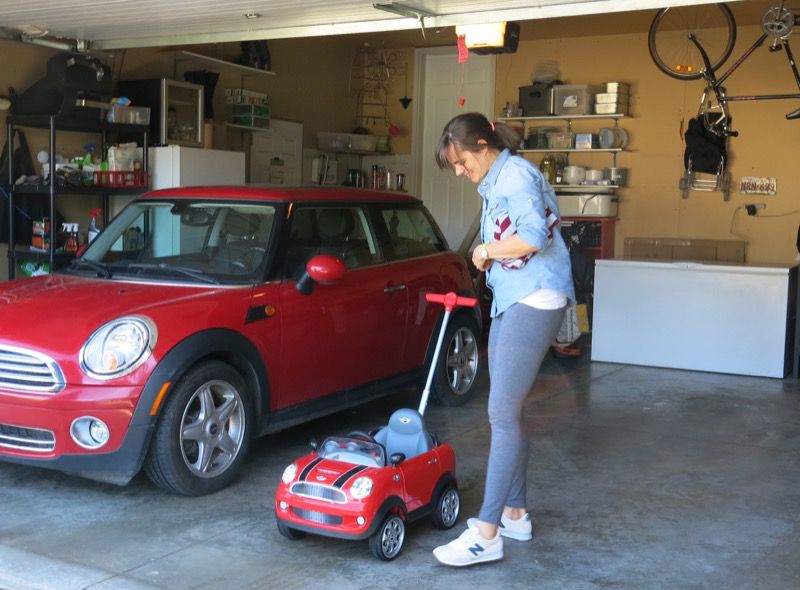 I was tickled pink, purple, blue, and fire engine red to get home. In our garage, parked beside the little red mini Cooper that I drive and adore, was a little red mini Cooper for Prince William. Let me preface this to say: I am very careful about entitlements, and spoilings. Stop laughing. This was for me. I saw it in Costco. Fifty dollars. Not two hundred. Not two thousand. Fifty. The door opens. The door closes. The horn toots. The engine roars. It has a seat belt. It was for Aaron and Lauren. It was for we adults. We could revel in the lavish foolishness of our own childhood dreams while being a part of this over indulgent gifting to my little baby grandson. So silly and such an electric thrill. Lauren giggled and inspected.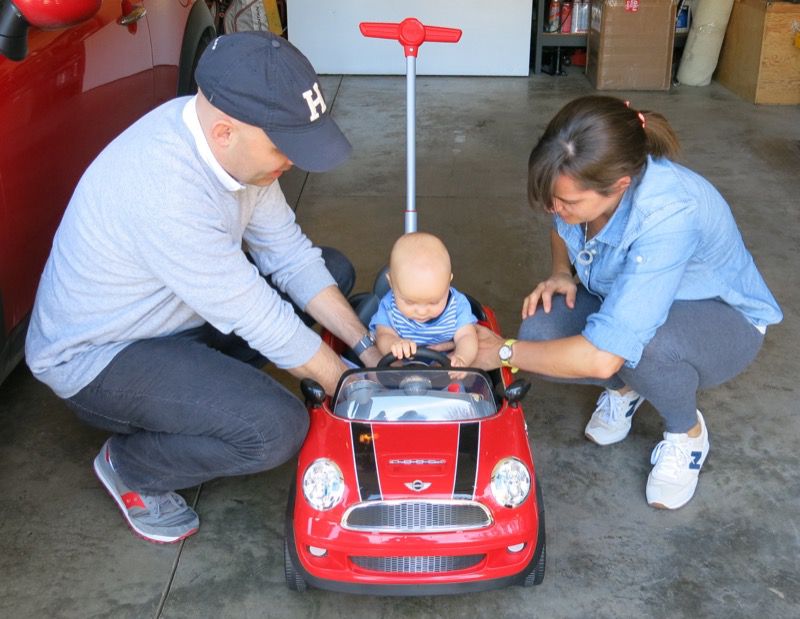 As soon as William was sat in the seat, his little chubbers went right on the wheel like he knew exactly what to do.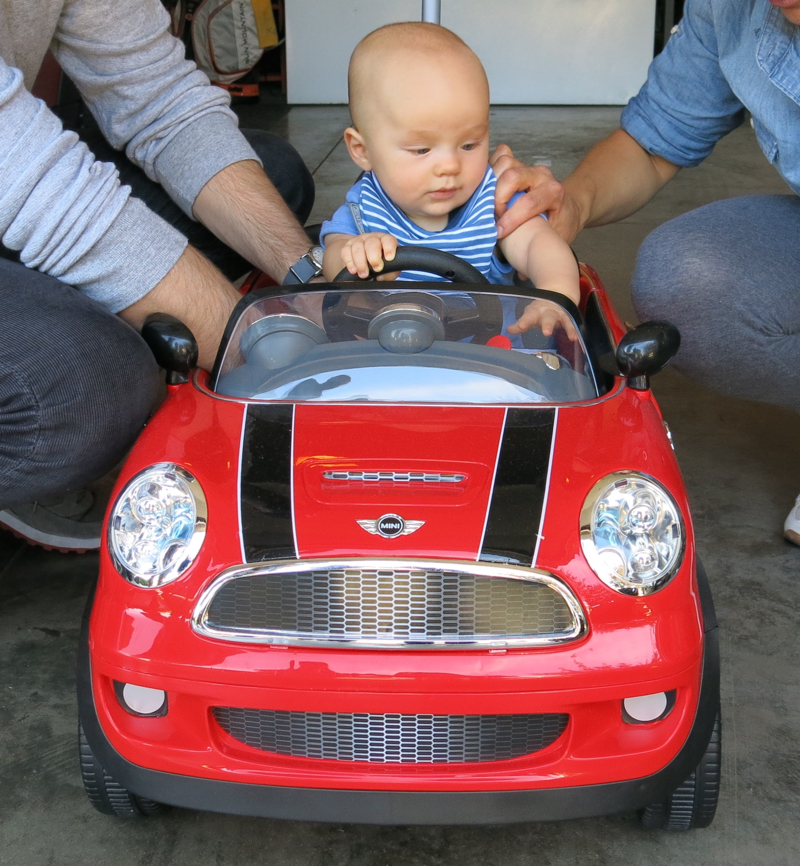 Do you see him reaching for the key and the vroom-vroom engine knob, just like he knew it was there?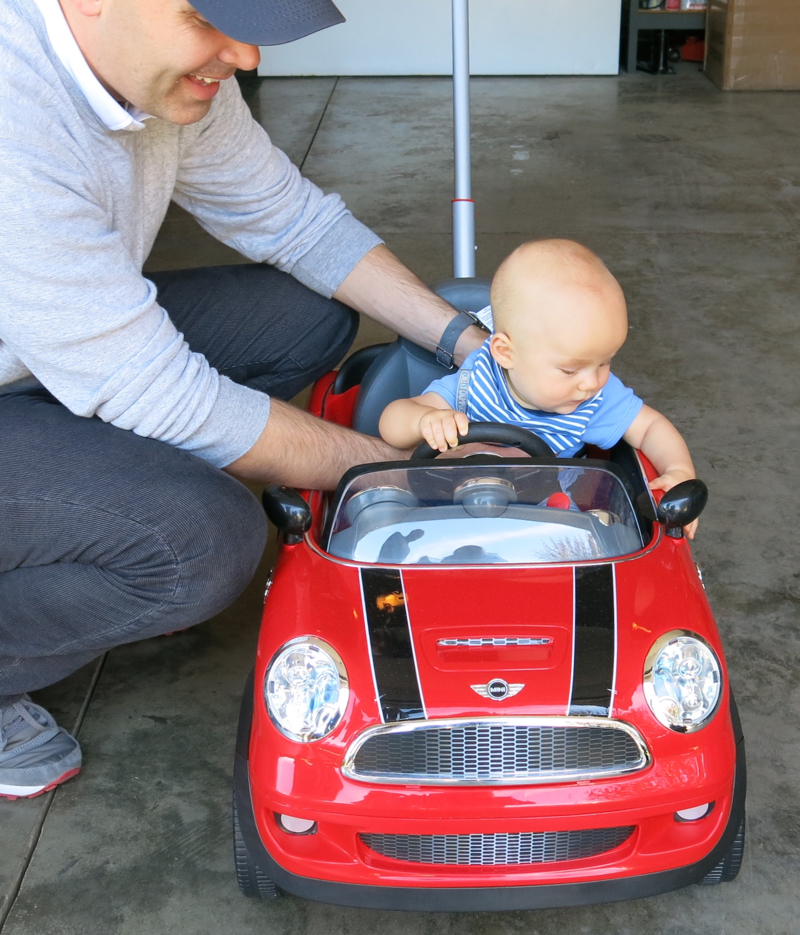 And seriously, testing the door before we even let him know it actually opens and closes. And "they" say, "Boys will be boys!"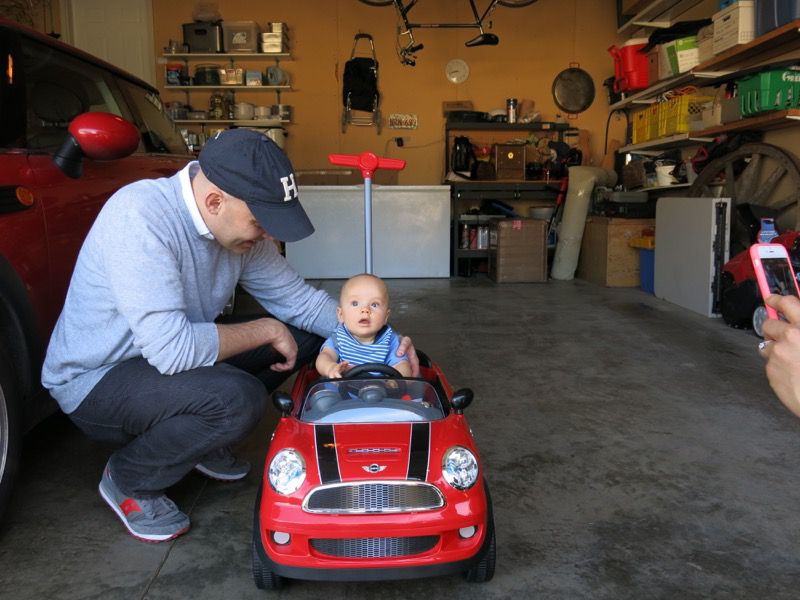 Of course, he is the smartest grandson in the universe. Duh!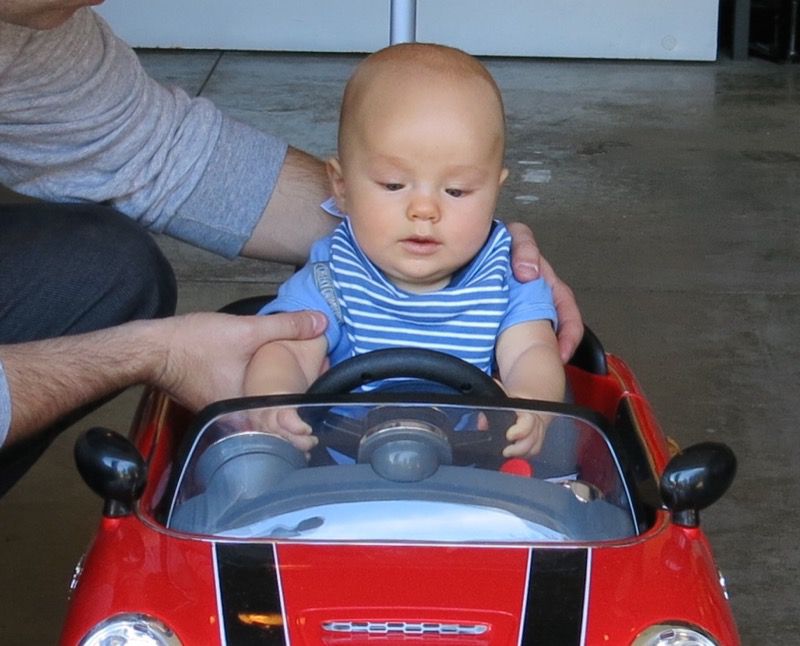 A little over the top, maybe? I could not resist investing in building a fundamental understanding about the importance of "keeping it small" within the environmental issues he will face within his lifetime. (You don't really believe that, do you? Didn't think so.)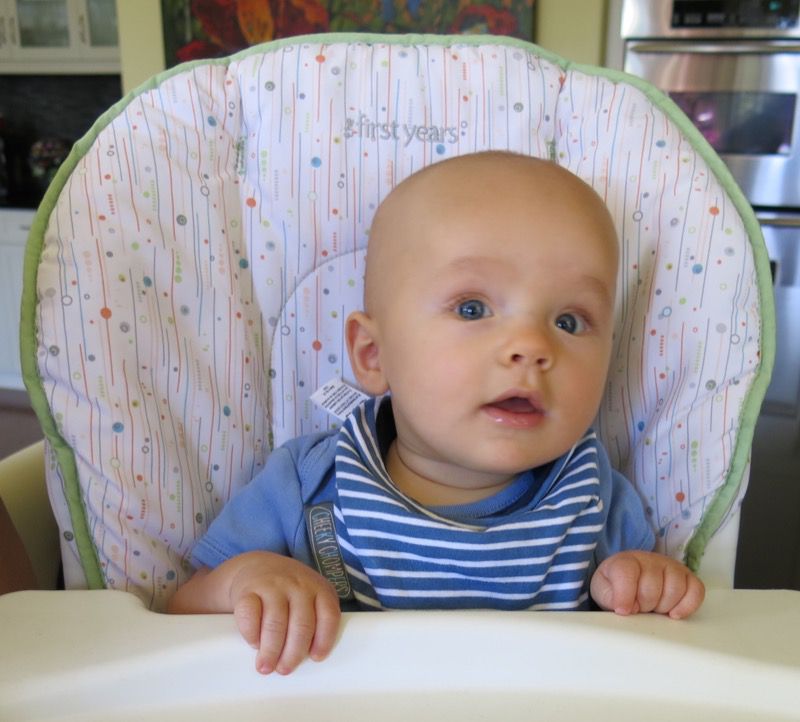 Thank you to Kelly, Kathy and Luciana for lending me "baby things" on the spur of the moment as Gramsy did not have her house set up for little William at all.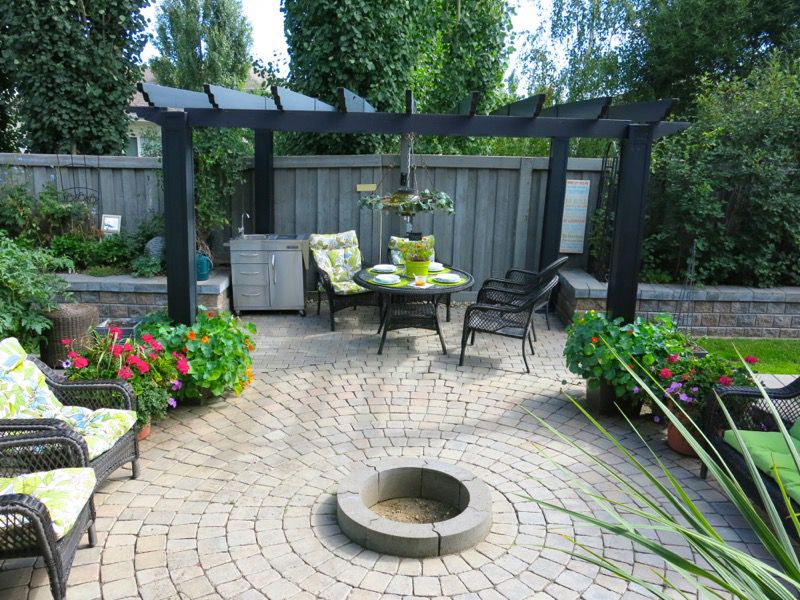 However, every corner of the house was spit and polished, the garden weeds plucked and the patio fountain converted to a firepit – all in time for this surprise visit, just days after "the big news".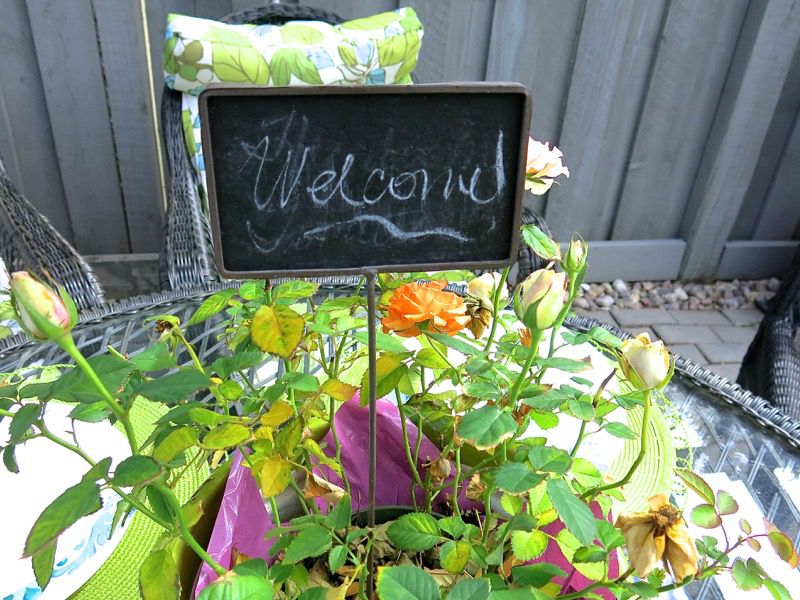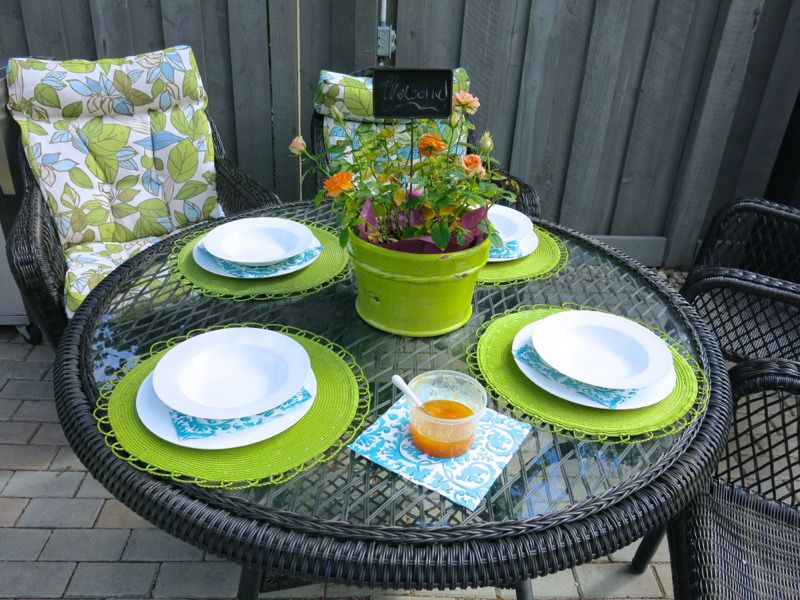 Table set for breakfast, instead of the initial midnight snack. Missing the connection from Calgary to Edmonton, we picked them up after a short reprieve in the Calgary airport hotel, momentarily refreshed.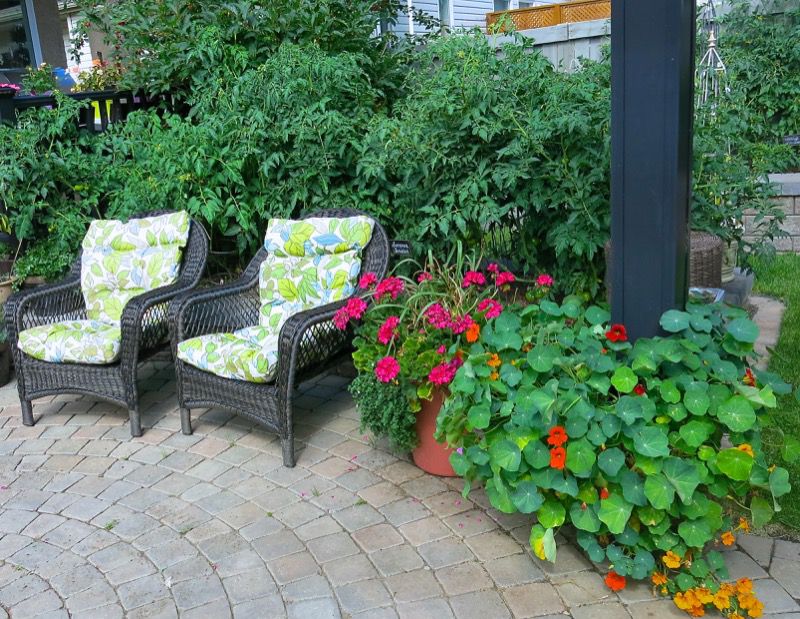 I was up at dawn, picking a bowl of fresh raspberries from our now depleting bumper crop. Meditating through my tomato bush forest, spiritually edified each dawn as I commune with my little wild tangle of edible greens stretching their limbs toward the rising sun. How I love my tiny urban garden. This is our first summer home since 2011.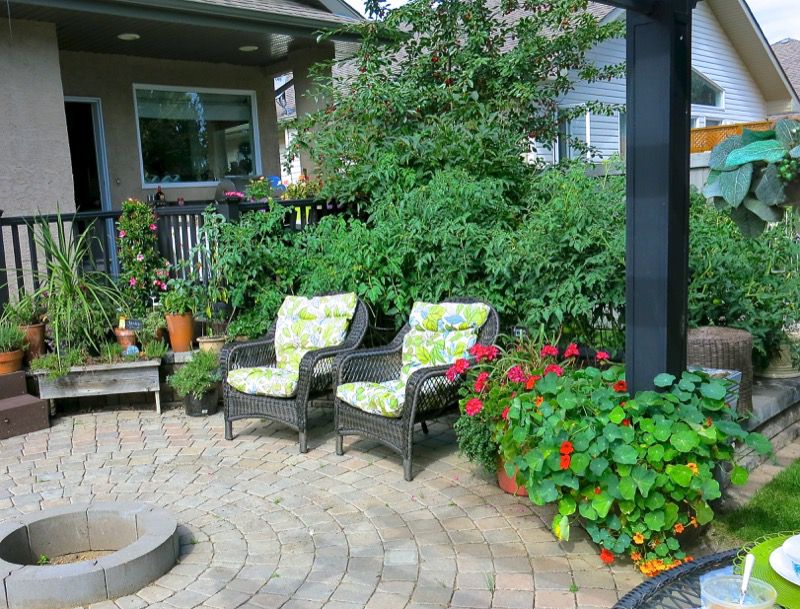 Most of the flowers are also edible. Last year, we extended the deck to fit a larger table nearer the kitchen. My kitchen garden and other plants are therefore in transition and all will be in its final resting spot (maybe) at the end of this season.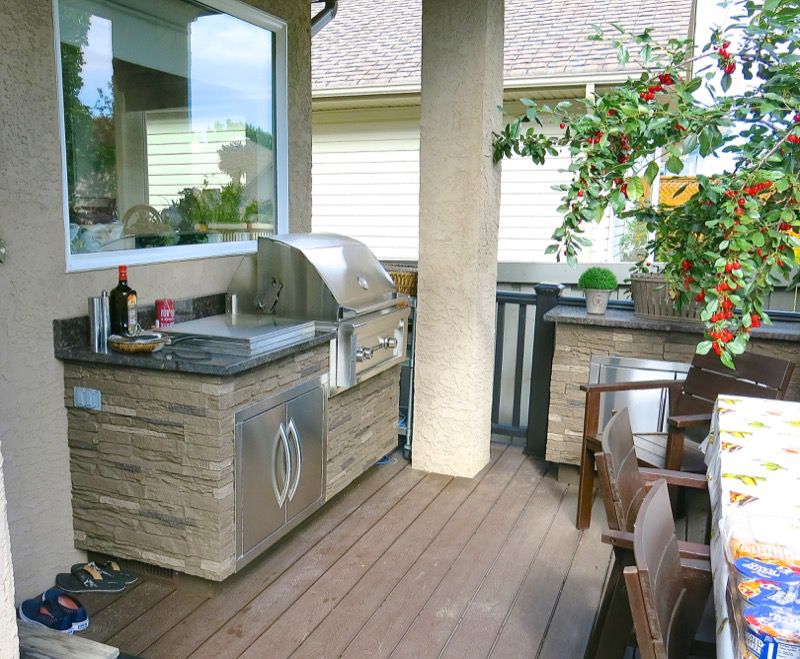 This year, it was our "outdoor barbecue project" that took our attention in early Spring. Our great cabinet maker built the two pieces we designed. We had another great fellow cut the granite for us for the top and my outdoor kitchen was good to go. What a gift. Just around the corner from my indoor kitchen, this is yet another dream realized for me.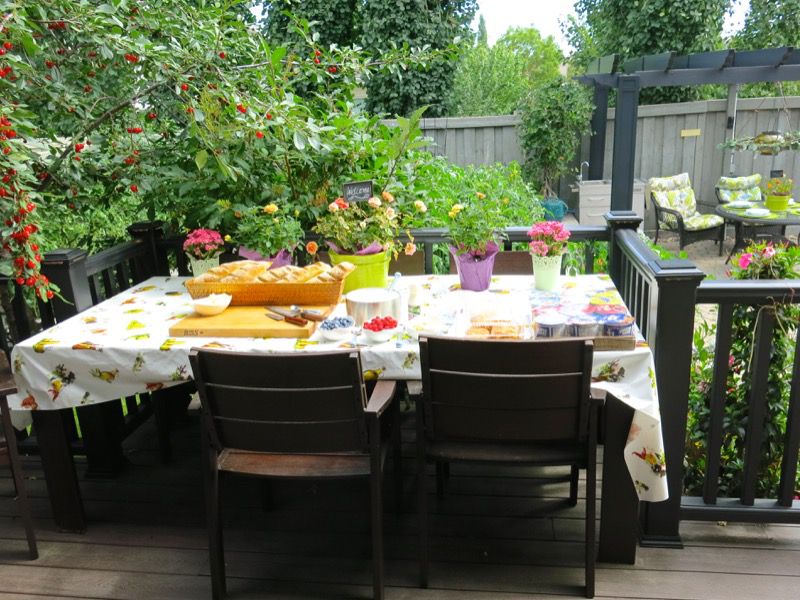 Dough prepared in the Thermomix was proofing when we left for the airport and ready to shape into lovely baguettes upon return. Breakfast is ready for our early morning travelers.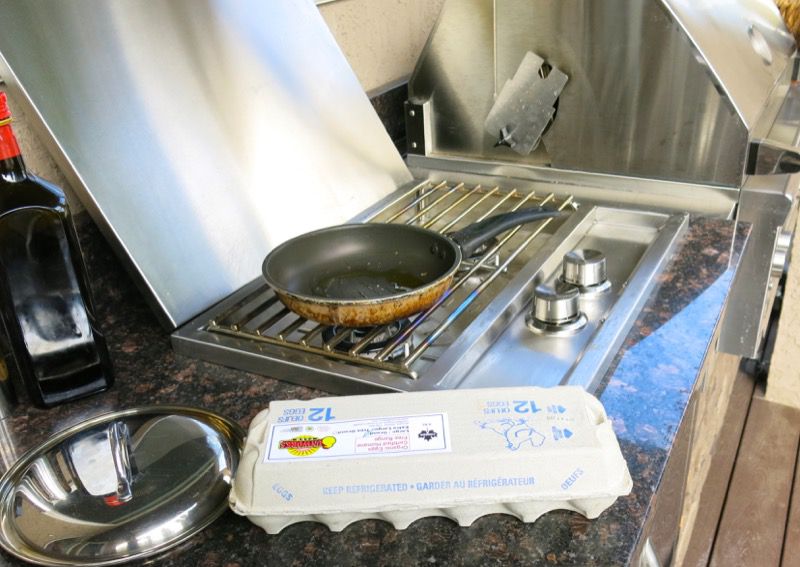 Farm fresh eggs from the market yesterday, fried to order.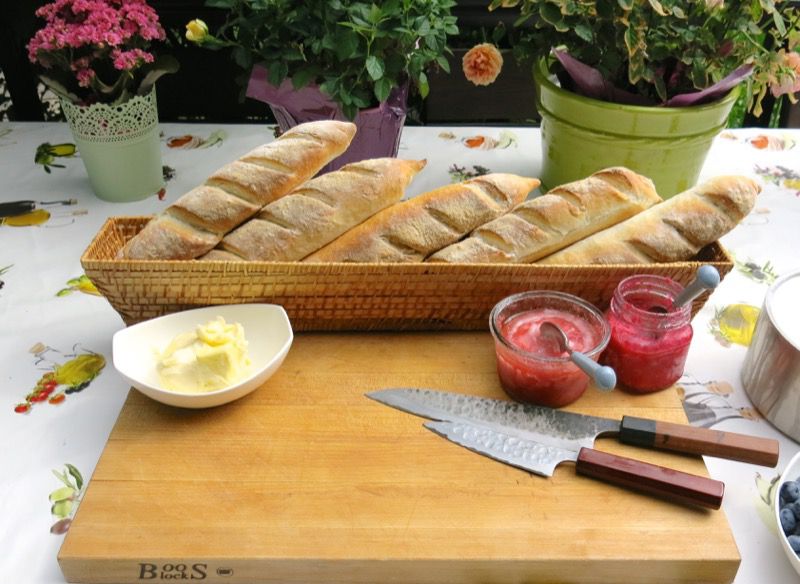 Warm from the oven Thermomix Baguettes with homemade freezer raspberry and strawberry jams.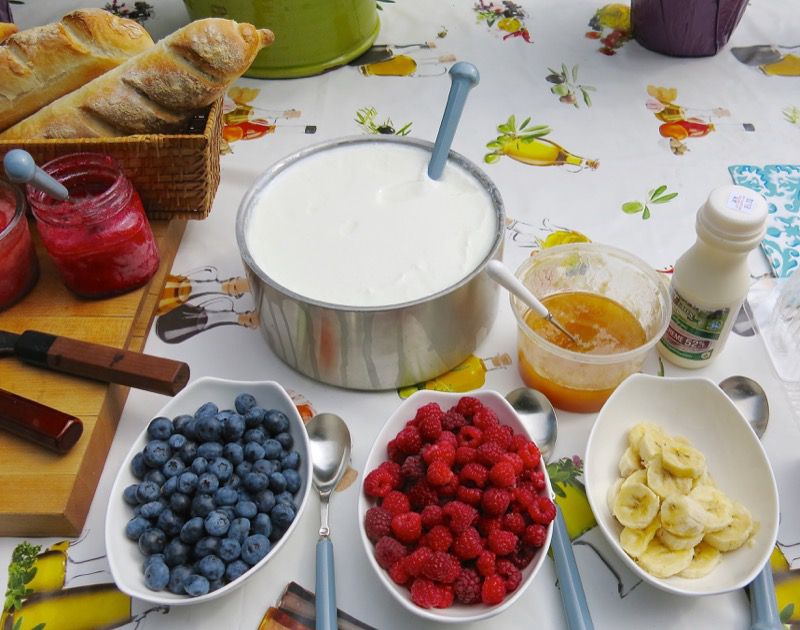 Homemade yogurt made just the night before, freshly plucked berries (and bananas) with crunchy cereal.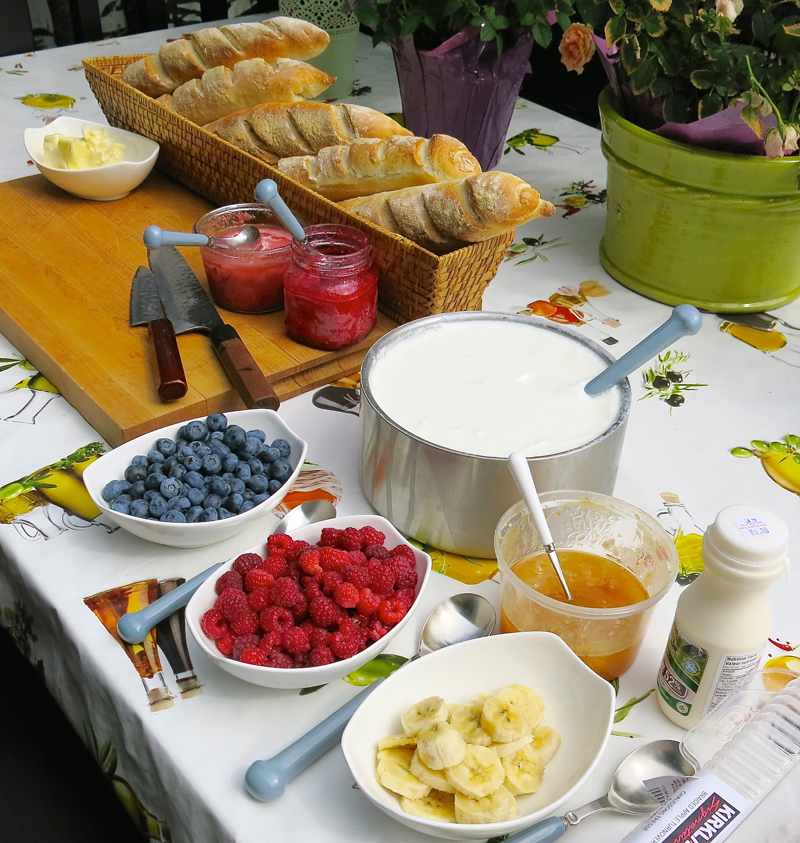 Raw honey on thick fresh creamy yogurt is a new favourite of mine since returning from Greece in June. And, thick fresh farm cream for the berries…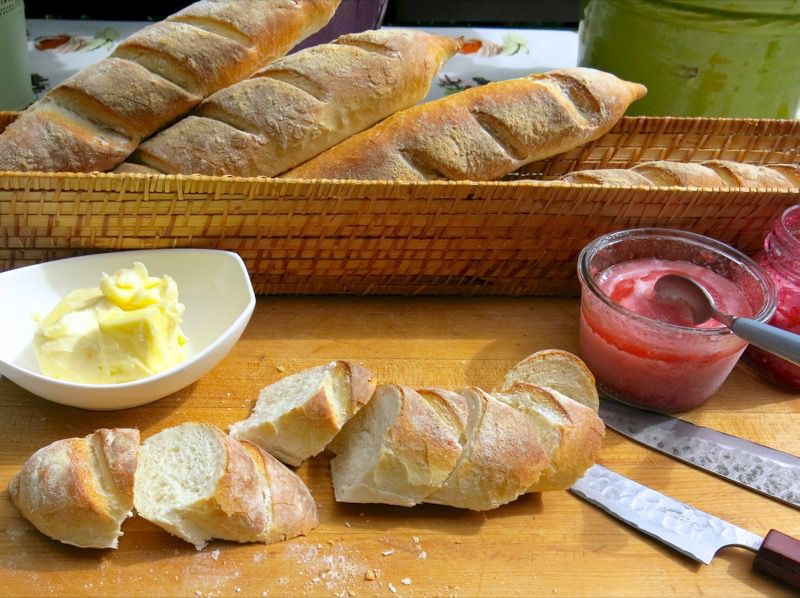 …. all home spun and homemade tastes to harken the family back and back and back year after year to the purest flavours of love worked into the food of home.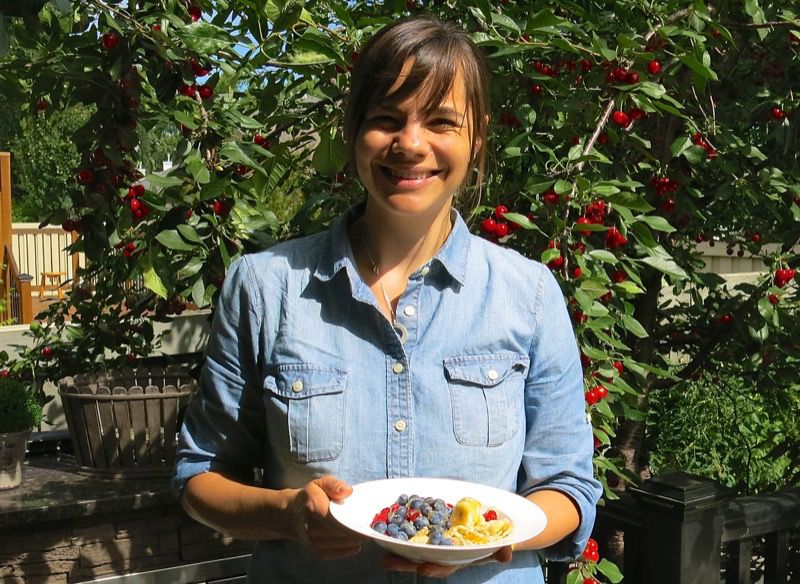 Lauren's fresh fruit and cereal drizzled with yogurt and honey.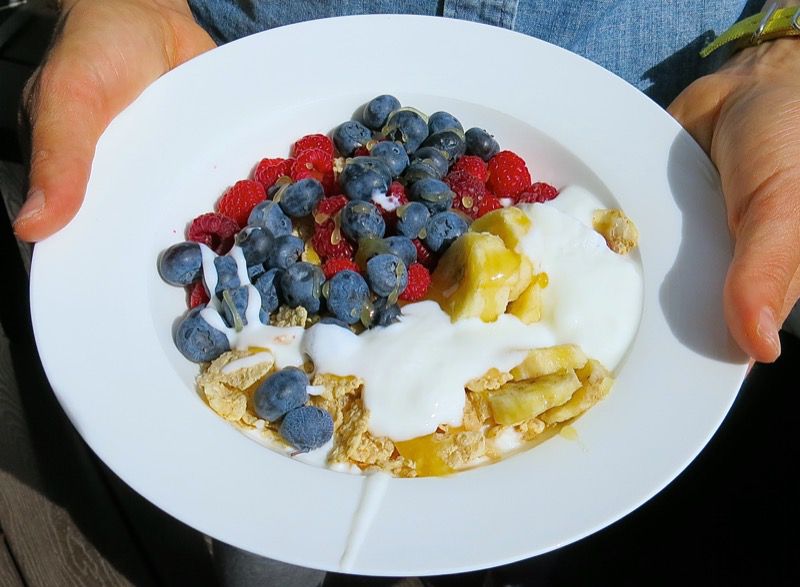 Good for the teeth. Good for the bones. Good for her heart – and mine.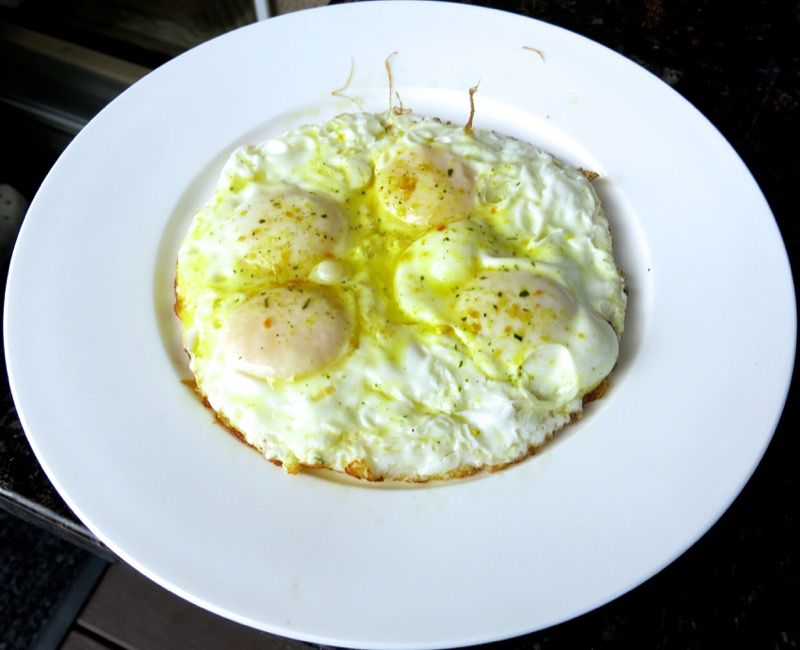 Everyone enjoyed the crunchy crackles of the crusty loaves sopping up the thick velvet yolks with the pillowy white baguette innards.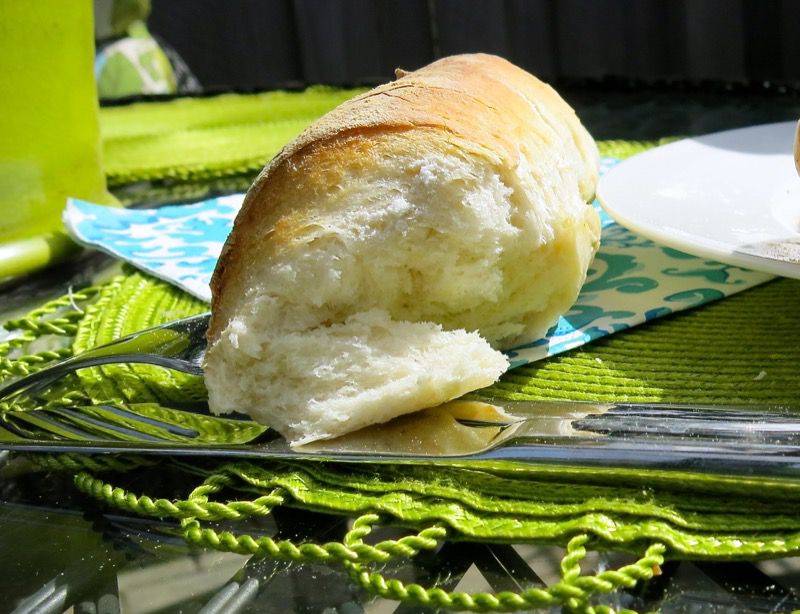 Sumpuousity. After breakfast, there was play time and nap time and this time and that time.
Time for a swim, too. First time.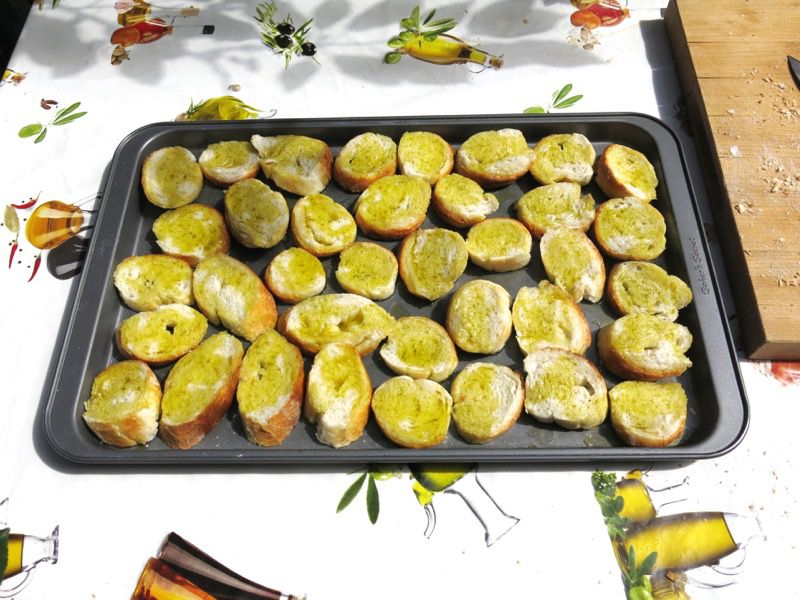 Because it is so easy to make in my little kitchen miracle, I will make more fresh bread tomorrow, and use the leftovers from breakfast for bruschetta for the evening meal.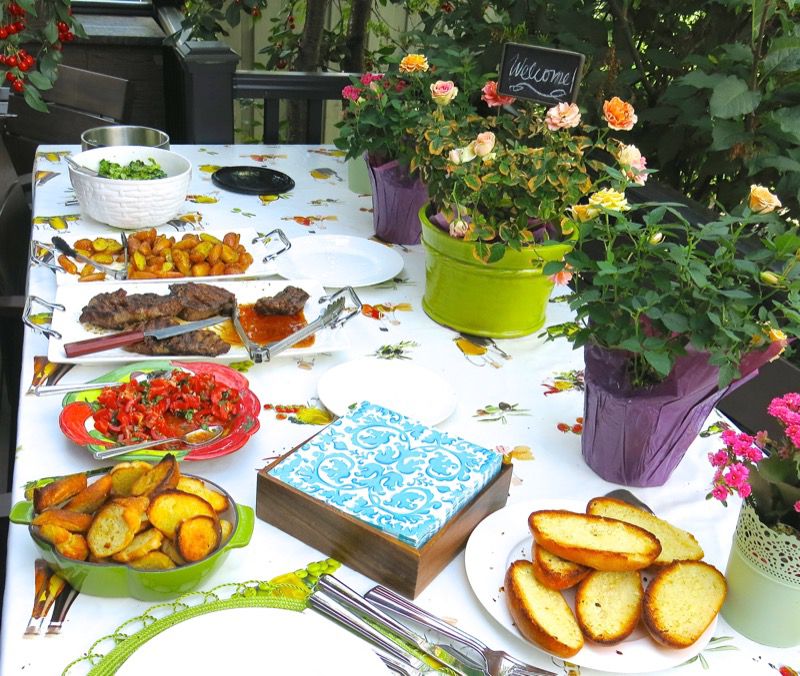 Time for more food. Dinner Time!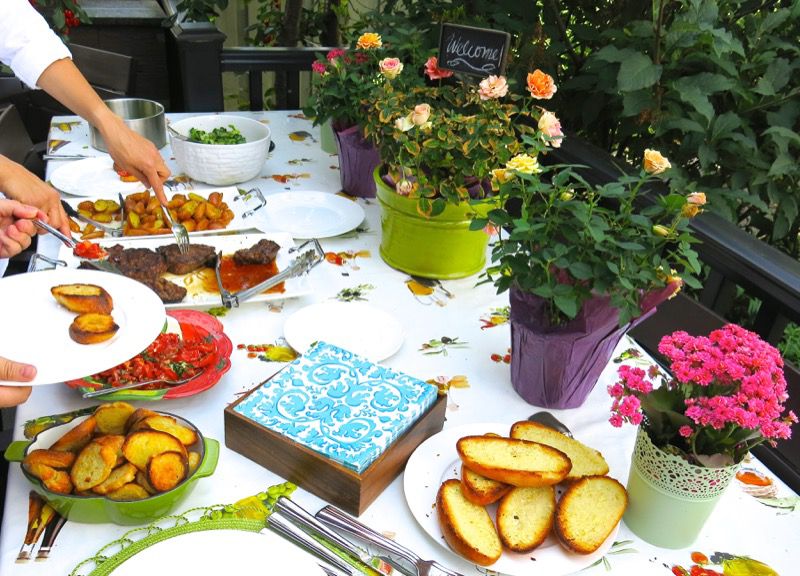 Our Welcome Home meal had to feature Alberta Beef, of course. Certainly, Lauren craves this whenever away and it is her first request when heading home.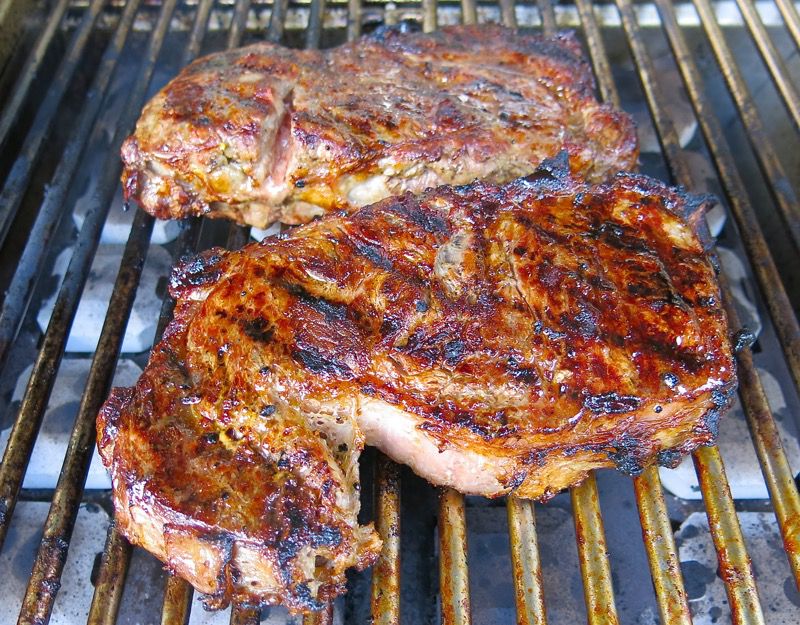 The new "state-of-art" sear feature on our grill worked like a charm. I thought I could grill a phenomenal steak before. These steaks were absolutely divine. Caramelized sear on the outside capturing the moist meaty juices and intensifying the flavour of the beef. Medium rare, of course.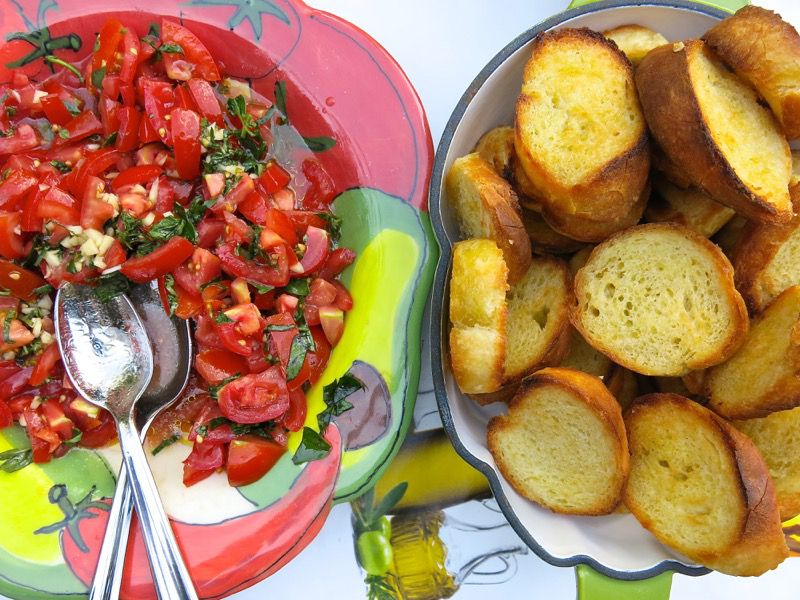 Though I love meat, it does not like me at all, so the bold fleshy tomato bright bruschetta spelled summer to me!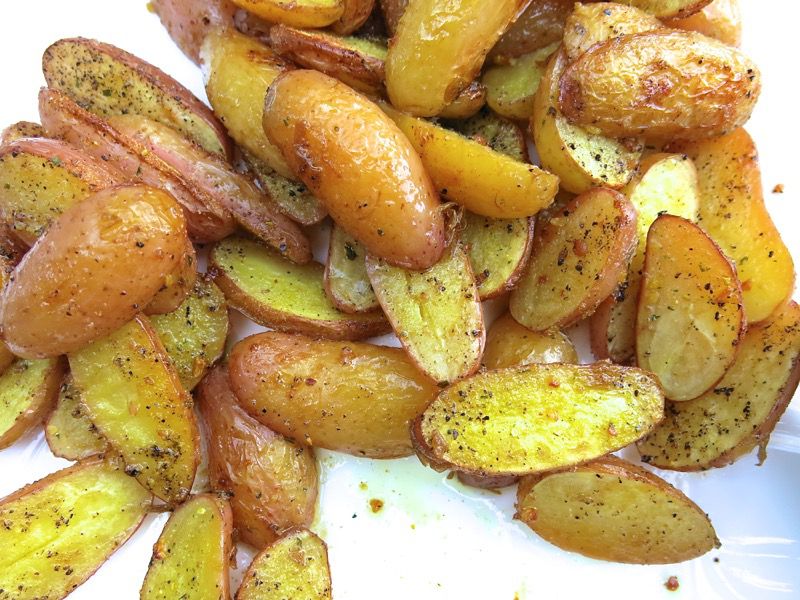 Red banana potatoes from Riverbend Gardens roasted in the oven are Vanja's ultimate "go with".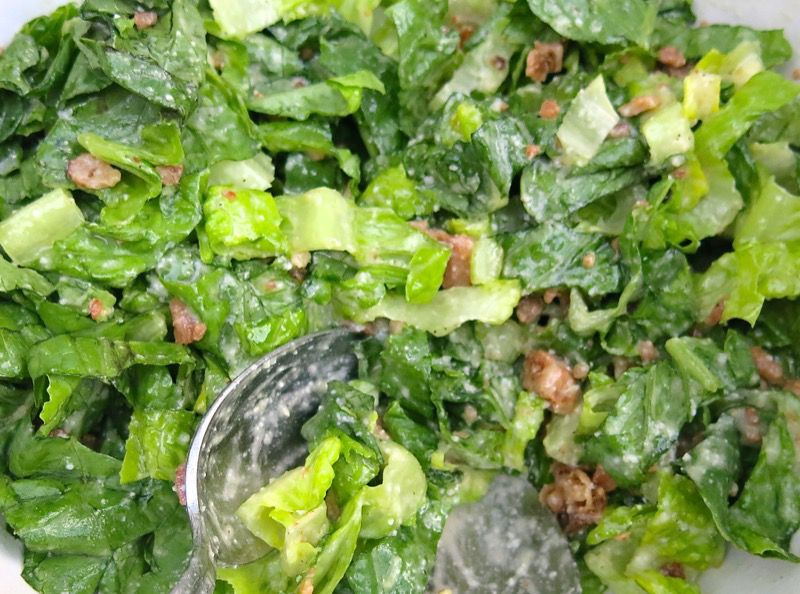 Caesar salad is mine. Call me old. Call me dated. Call me predictable. Just call me. I am a gal from the 70's, there is no denying that and you will consistently find a pucker perfect Caesar Salad with any steak grilled at my house. It is simply blasphemous to even think otherwise. Mom makes the best, I come in with a close second. Our family craves this as much as we crave our steak.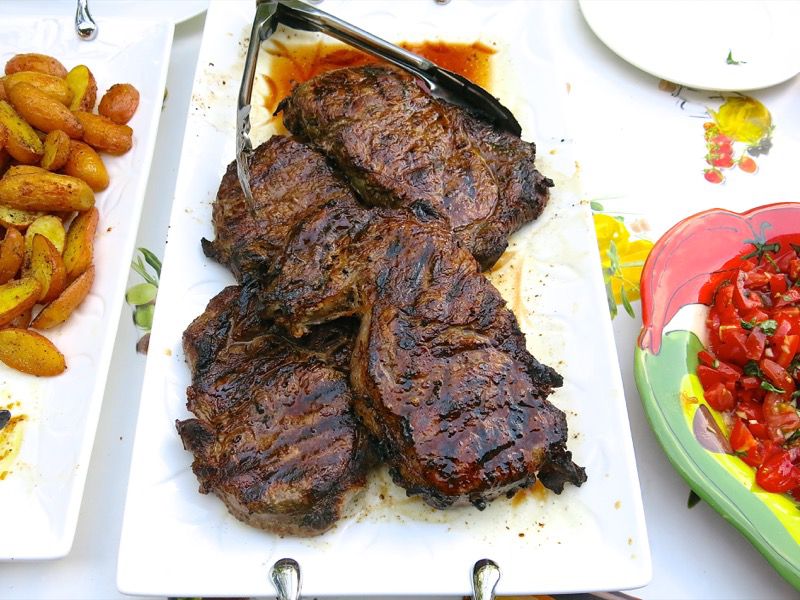 Did I say steak? You cannot even begin to imagine the mouth feel and irresistible pleasure that each of these "little" numbers offered after dancing a ditty on my new grill.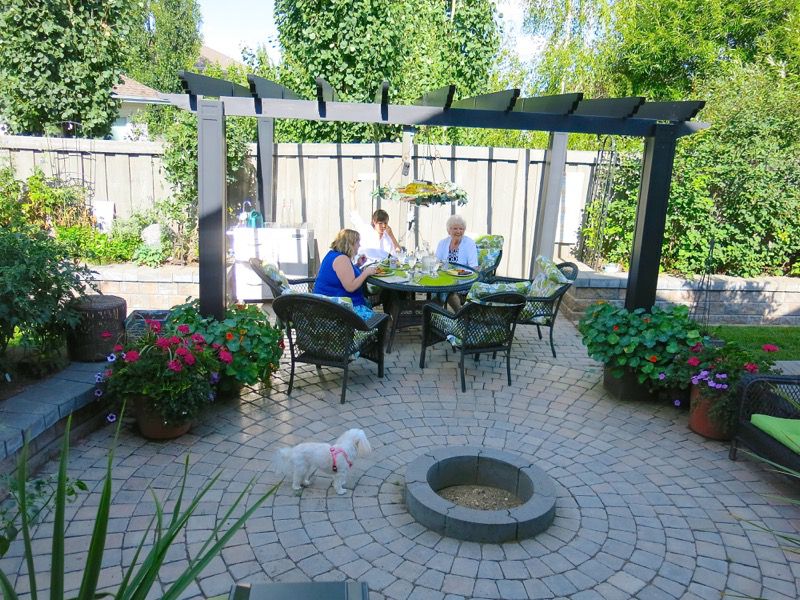 Together, in our circle, plates abundant with the goodness of this season.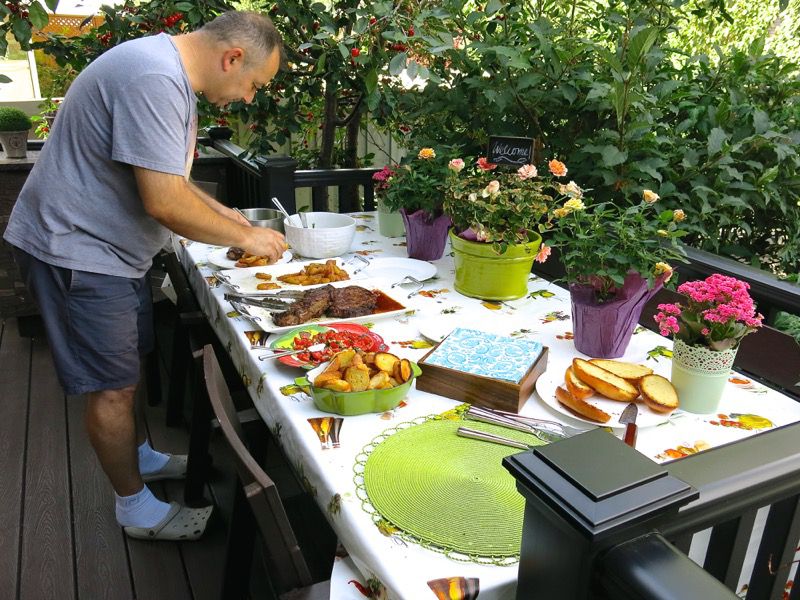 Chef Sous brings up the end of the line as he is my right and left hand when entertaining.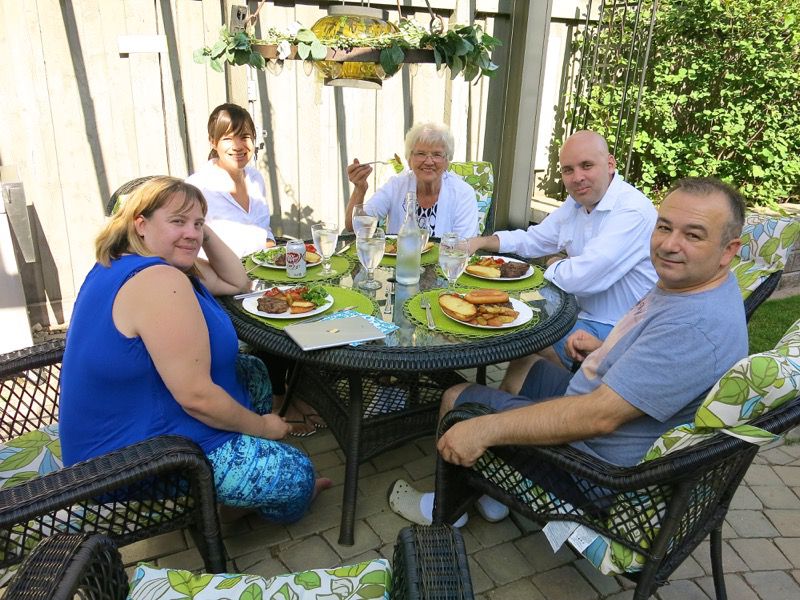 And so it is. Together again, and at last, for Gramsy's 60th. Each day of this week will be a celebration of togetherness as we build memories through the simplest of moments in time. Times like these.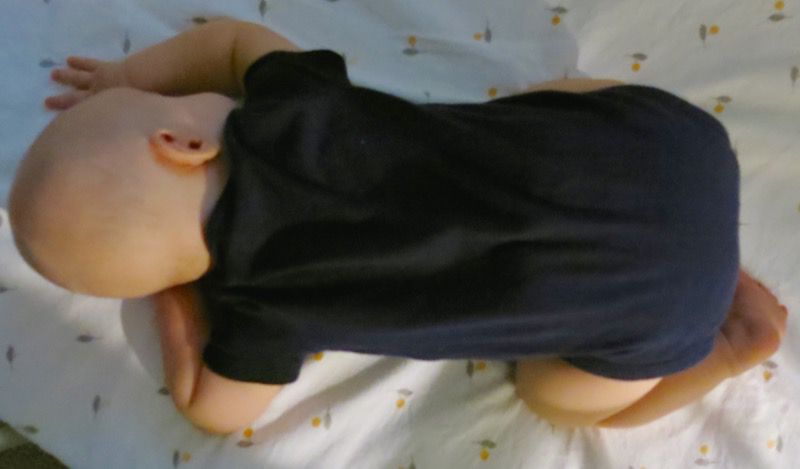 Where is Prince William, one might ask? Snuggled in his little bed, butt end up, perched ready for take off, completely exhausted, saturated with so much love. Sleep it off, little sweet man.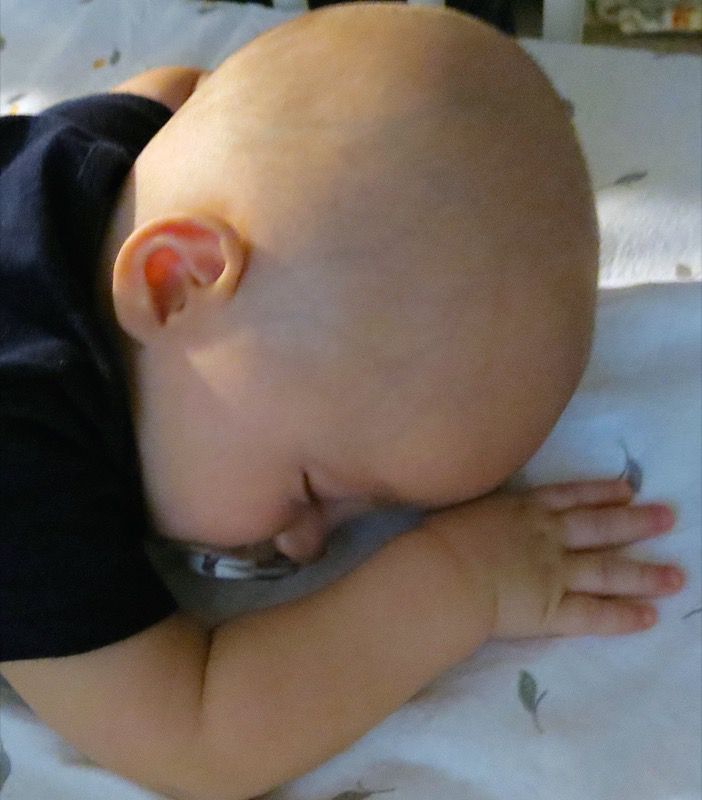 There is so much more to come. And, as I enter this new "Gramsy and 60" chapter of my own life, could I be happier? No. Could I want for more? No. Let me tell those of you reading all the way to the end of this post: At sixty years old there is a whole 'nother life waiting and I plan on living all the way through it to the next one!