A Toast to 2016 with Lavazza Coffee Liqueur: homemade love in a bottle!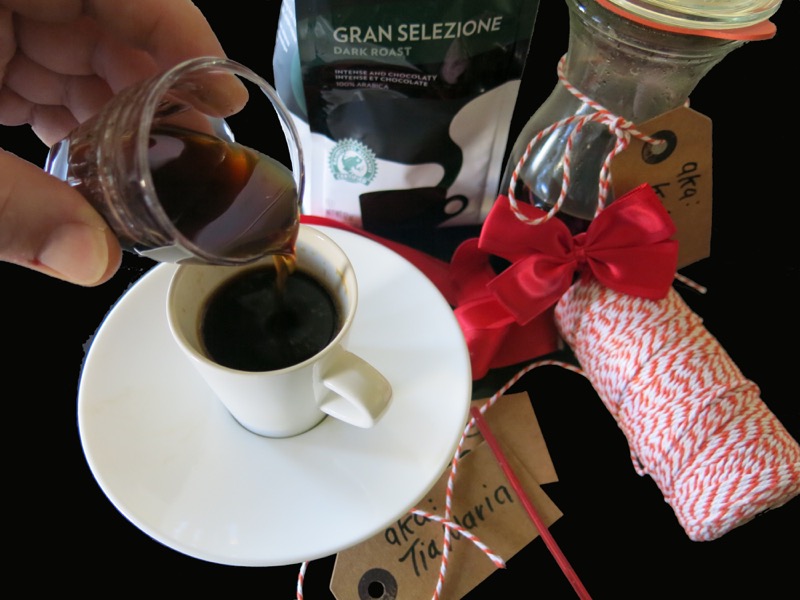 As my relationship with Lavazza draws to a close, I am sad. I have thoroughly enjoyed exploring all culinary avenues with coffee in my kitchen this year. This fall, I was a bit stifled by similar challenges focusing on drinking coffee. I had many more "out of the box" ideas to explore, yet most definitely obligated to stick with the topic, as well. In any case, the challenge was a blast. The coffee is delicious. The greatest impact of this project, for me personally regarding the Lavazza brand, was my trip to Greece in June. There was not a corner without a Lavazza sign and a cup of Lavazza available. Even in the most remote villages. I am so pleased this original Italian family business is working at consistent ethical work standards for their coffee growers, the production of their coffees, and the bean itself. That is key, to me. I feel a responsibility to showcase only companies who are careful and focused stewards of our global human condition.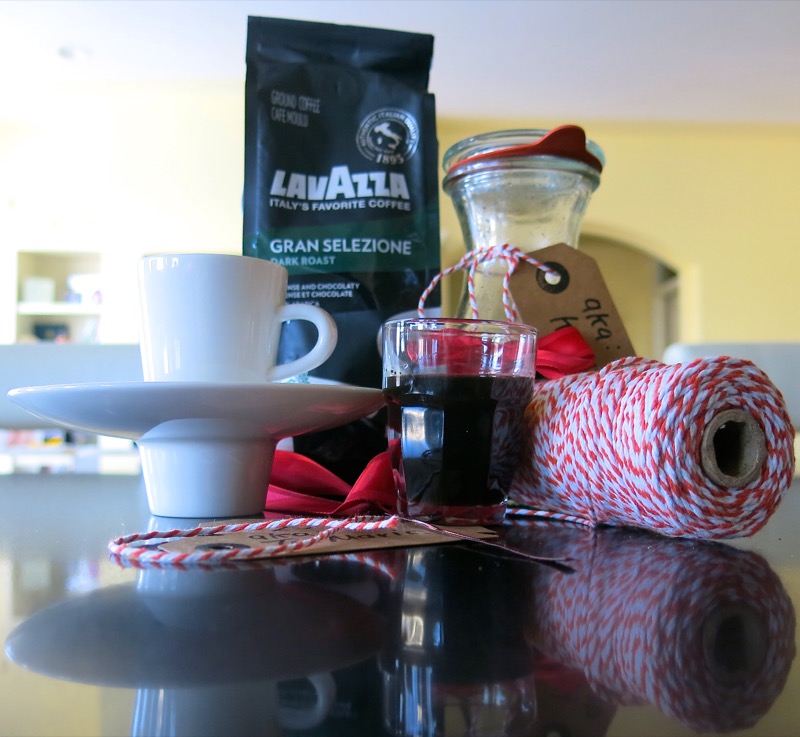 Ah, what will 2016 bring for the coffee industry? Certainly, as long as there is biodiversity in place within each plantation, there will never be a problem in this industry. Everyone all over the world is smitten with this dark fragrant intoxicating elixir. I recall my first caffeine awakening. I was sitting at the Celmainis house on an early Saturday morning in Red Deer, Alberta, my home town. I commented on how delicious the coffee smelled. Mrs. Celmainis (Linda) asked, "Would you like a cup?". I so enjoyed going through those growing up moments at the ripe age of 14. "Oh, yes, please."
Hot. Fragrant. Almost thick, but not. Deeply aromatic and complex on my palate. Mmmmmm. And perky, too. I had not experienced anything nearly as delicious called coffee. Within moments, I was definitely sitting up straighter and propped ready for take off. She poured it from a stainless steel elegant modern carafe accented with black trim so "sharp" for 1969, She had no time to sit with me as she bisied herself around the kitchen with her Saturday morning chores. I sipped. She talked. Oh, how I enjoyed her. She and her husband were boarding a young handicapped lad and employed me to tutor him twice a week. On weekends, he needed extra help, she would say, now and then. He came up from his room, freshly showered and spiffy, with a great deal of cologne. I took my tutoring seriously. I would talk to my teachers about how to reach him as week after week there just seemed to be no retention. I felt like a failure, but the Celmainis's were always very positive and encouraging. I later learned that they only hired me to keep him company and give him something to look forward to.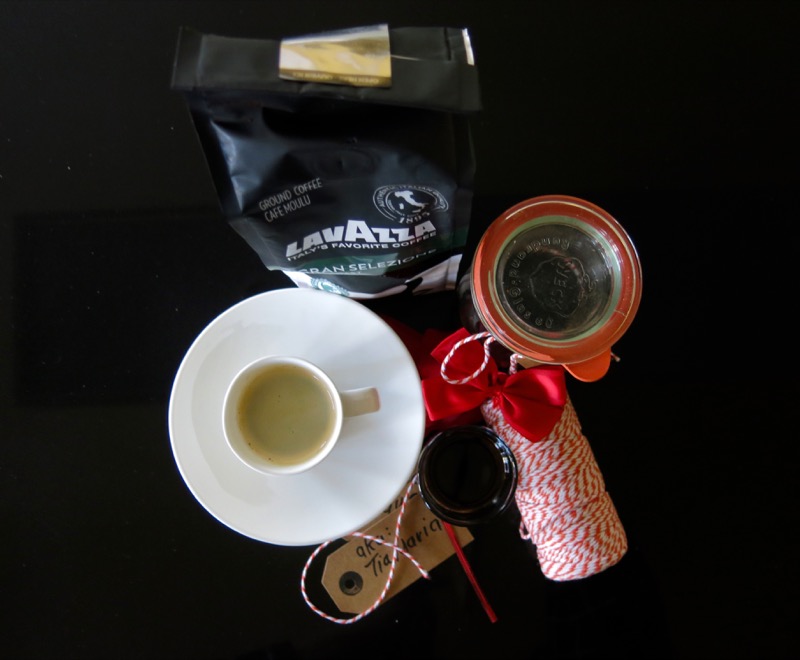 I got 5 dollars an hour, and worked 3 hours a week. In those days, that was unheard of. Un. Heard. Of. Babysitting was 25 cents and hour and 50 cents an hour after midnight. I never forgot their coffee. Latvian coffee. Still, to this day, whenever I have a really great cup of coffee, I think of her as at her kitchen table, I savored my first real cup of coffee.
The last time I saw Linda was many years later. Oh, how she still loved to visit. Her husband had passed. She was in her 90's and she came over to teach me how to make her bacon buns. We enjoyed a coffee together, but it was my coffee, not her coffee. I told her how I loved her coffee and she said she did, too, but rarely makes it anymore, as she is alone and "you need to make a pot" of it. I am certain that Linda would have savored this homemade coffee liqueur as much as I savored her homemade coffee.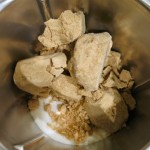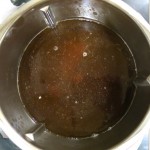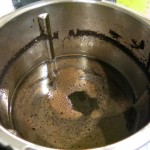 Let's start with the syrup. Brown and white sugars with equal weight in water. Cook down a quarter, add Lavazza espresso. Cook down another quarter to about half of the original volume.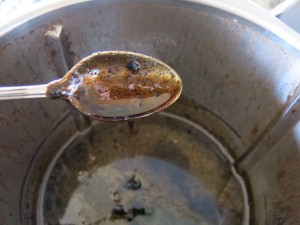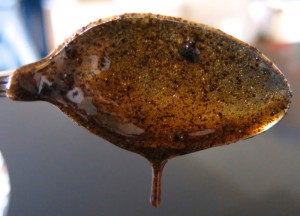 Mixture should be syrup-like, as in the photo. Obviously, it is very granular, due to the espresso.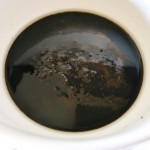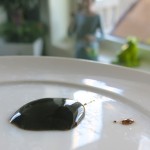 Pour the syrup into a bowl to cool using a canning funnel (left, above). Once cool, it will mound on a plate.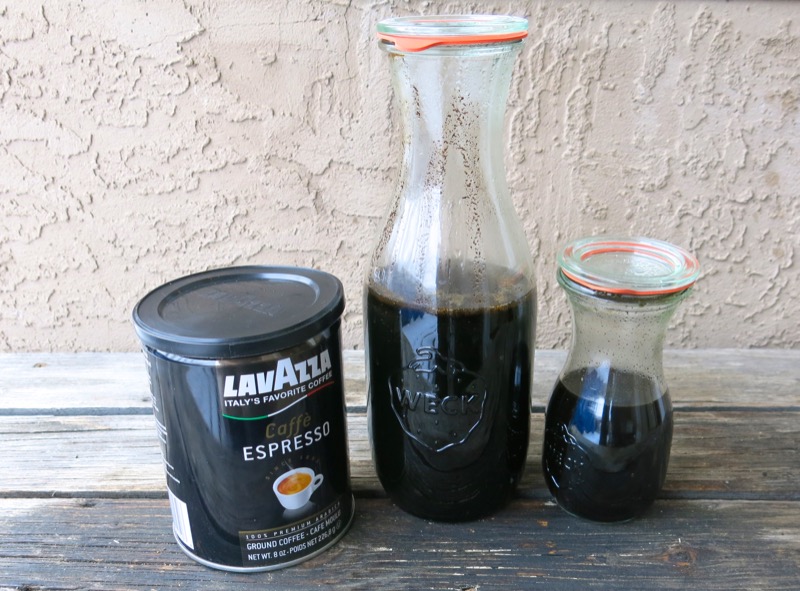 Divide syrup into two containers equally if you want to make both Tia Maria and Kahlua. Add vodka and vanilla to one jar and rum and vanilla to the other. I just made a little Kahlua to sample at different phases of the aging process. There are so many recipes and different aging advise, but most say, "It is good almost right away." And that is what I found. When ready to drink the liqueur, I put a cheesecloth inside of a strainer and strained the coffee from the liqueur. Then I would taste. I was pretty impressed the first day. Day two the alcohol was stronger. Day three, even stronger. So, I added more syrup and less liquor to the second batch. That worked better as it aged. It kept the flavours mellow and the liqueur smooth on the tongue. Surprisingly, I preferred the vodka version. The Tia Maria version dates back to the 17th century and the Kahlua version only to the early 20th century. I thought I would prefer the fruity notes the rum would add to the coffee… but, I did not care for it. What I liked, however, was making them both and tasting them both, then comparing them both to each brand name version.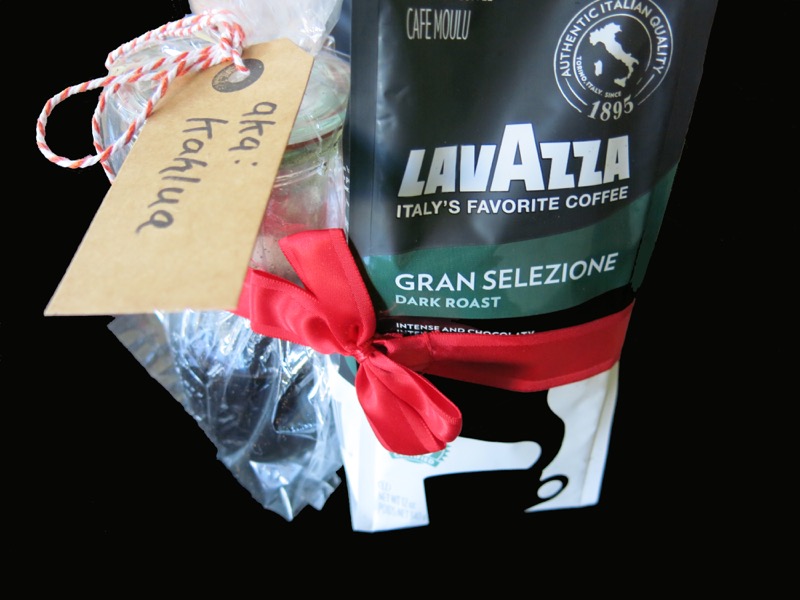 This is a lovely gift, especially with the recipe, a pound of Gran Selezione Lavazza for the perfect accompaniment and a container of each: the Kahlua version and the Tia Maria version so friends can also enjoy the tasting and learning experience. Along with the recipe, of course…. and a little history of each, maybe.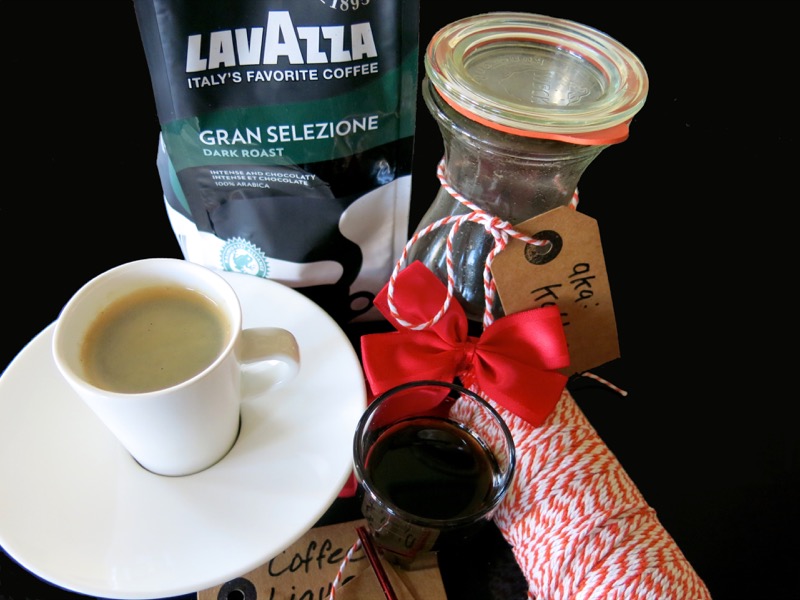 This was clearly the year for homemade liqueurs at our house! We made Homemade Irish Cream Liqueur that we really enjoyed. I loved the Homemade Advocaat. It is my favourite accompanied by an espresso, a little fresh nutmeg grated on top. And, I made Rumtopf, Homemade Kirsch and Homemade Pommette. Whew. A lot of liqueur and too tired to party!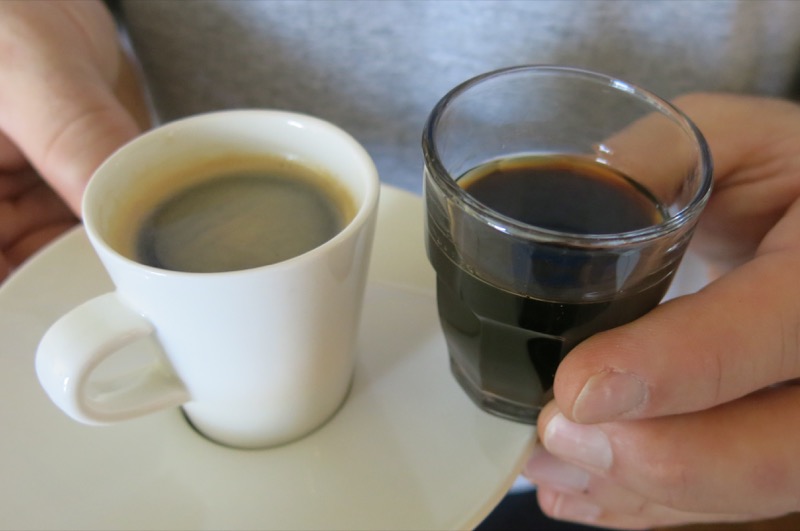 Yet, there is nothing more lovely than a quiet moment with my husband each morning, enjoying our steaming cup of espresso with a little nip of something on the side during the holiday season! After all, every morning, for his entire life, Vanja's father has started his day with a strrroonng cup of cooked Serbian (Turkish) coffee with a little glass of Sljiva alongside. Every day. And, we are talking homemade Slijva (Plum Brandy) that if you breath on the wrong way, it will catch fire.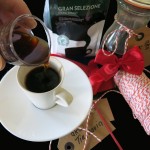 Lavazza Series 2015: Homemade Coffee Liqueur


Similar to Tia Maria with brandy, or Kalhua with vodka; whatever your preference, as this recipe makes both, you will have an exceptional homemade coffee liqueur to serve to guests and use to make homemade Tiramisu!
Cook Time
3
hours
18
minutes
Total Time
3
hours
23
minutes
Ingredients
1

litre water

420

grams

brown sugar

420

grams

white sugar

50

grams

dried espresso

250-300

grams

rum

250-300

grams

vodka

2

vanilla beans

, split OR 15 grams vanilla paste
Instructions
Weigh water and sugars into TM bowl; bring to a boil and simmer for 99 minutes, 100C, speed 3

Weigh in espresso powder and repeat for 99 more minutes; sugar mixture should be reduced by almost half and clinging to the spoon

Remove vanilla seeds from beans; add to the mixture OR add 1 generous tablespoon vanilla paste

Stir to combine; remove from heat

Divide syrup evenly between two 1 litre jars; cool completely

Add vodka to one jar and rum to the other; shake well to combine

Store well sealed in dark cook space for 1 to 2 weeks, depending upon taste and patience

Strain each with cheesecloth and strainer to remove espresso grinds and vanilla pods; pour into gifting or serving bottles

Enjoy!
Recipe Notes
Can be gifted at any time with storage instructions in a decorative bottle; Vanilla paste would have to be used for proper aging, instead of vanilla beans
A teaspoon of glycerine per bottle of any clear homemade liqueur will provide a welcome bit of body.
Rum or Vodka?
Homemade coffee liqueur that is similar to Kaluha should use Vodka; while the rum version will more closely resemble Tia Maria
I found it tasty and ready to drink the following day; the longer it aged without straining the syrup, the more bitter it became
WHO WON the Lavazza GIFT PACKAGE?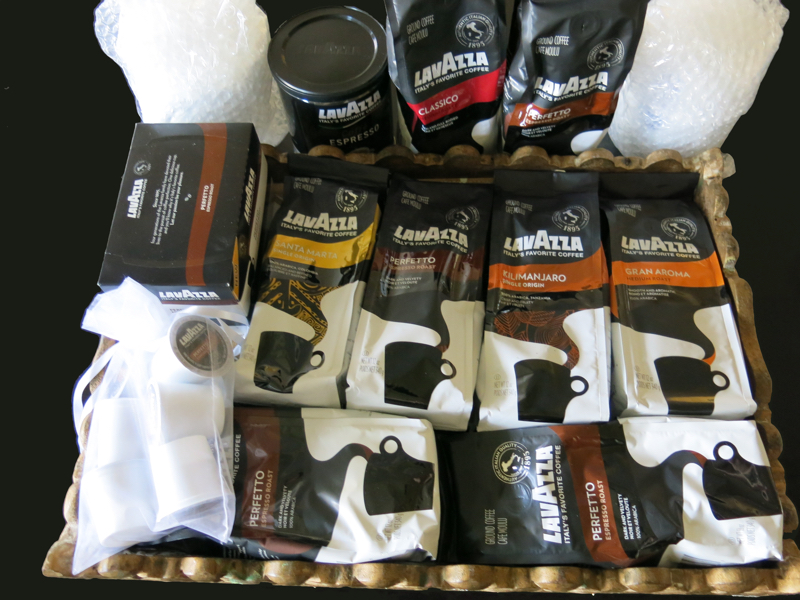 ANNOUNCING CONGRATULATIONS TO Annette Simpson!
Shop Lavazza!
Take a minute to browse the online store. Please use this link as it is designated to me for my US readers, and this link, designated to me for my Canadian readers (shop Canadian!) I am curious to see how many of my readers actually take the plunge and will investigate the offerings there. Their customer loyalty opportunity is a nice perk! (Don't even bother to pardon the pun!) But, please, do tell me if you have been there!
December is all about #LavazzaCheer: and gifting coffee treats to friends!

Share your homemade gift ideas in the comments section below; I would love to hear them!

Please tweet @acanadianfoodie @lavazza #lavazzacheer and with a photo of your homemade holiday gift!
Lavazza Series Posts:
This is my Eighth, and last post for my Lavazza Series 2015; I have thoroughly enjoyed each challenge!

Help me to say thank you to Lavazza and Happy Holidays to all who have kept up with this series!